When we spoke on the phone, violinist Ariel Horowitz (BM '17, violin) was in her first week of graduate school at Yale. Though she was preparing for an upcoming performance of Strauss' Ein Heldenleben—she's the concertmaster of the Yale Philharmonia—she was still processing an emotional, cathartic visit to the Auschwitz concentration camp where she and Sebastian Zinca (BM '17, double bass) had performed a few months earlier.
The Auschwitz trip had its origins in 2015, when Horowitz met a Holocaust survivor named Eva Mozes Kor. "She was talking about how she has chosen to forgive the Nazis as her own form of healing," Horowitz recalled. "It was her way of accepting that even though wrong was done not just to her and her family but an entire group of people, there's a chance for happiness after the evil." Kor, a Romanian-born Jew, was sent to Auschwitz in 1944, where the Nazis subjected her and her identical twin, Miriam, to heinous genetic experiments devised by Josef Mengele. After the war Kor founded CANDLES (Children of Auschwitz Nazi Deadly Lab Experiment Survivors); she calls herself a "public speaker, human rights champion, and forgiveness advocate" in her bio on Twitter, where she has almost 15,000 followers.
Kor suggested that Horowitz join her for one of her annual tours to the concentration camp and play a recital there in honor of those who died and as a means of global healing. Two years of organizational hurdles later—among them the fact musical performances are not permitted within the camp—Horowitz, Zinca, and Kor arrived. The performance took place just outside at the Altejudenrampe, the selection platform where arriving prisoners were unloaded from incoming trains. "It was a really special and quite haunting location to perform a concert," Horowitz said.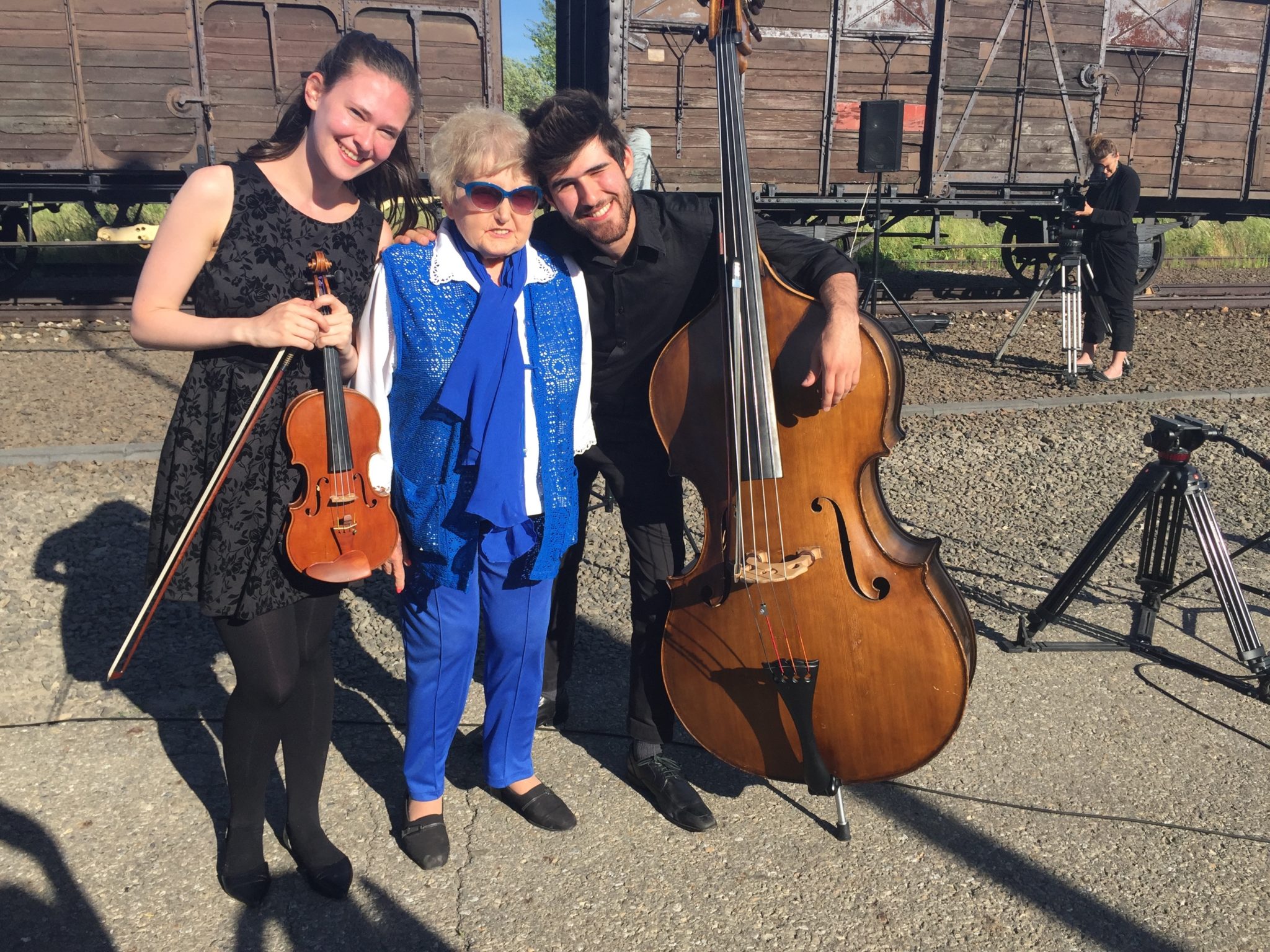 The focal point of the recital was a composition for double bass and violin that Horowitz and Zinca co-composed called Seed for Peace, named for Kor's belief that forgiveness is the seed for peace. Horowitz and Zinca had premiered it at the 92nd Street Y before the trip to Auschwitz where they played it for their companions in Kor's tour group and the 23,000 people who tuned in to the Facebook Livestream of it.
Horowitz found the emotional impact of performing at Auschwitz impossible to prepare for, especially since she and Zinca both lost family members in the Holocaust. "If we had performed that music for the first time on site, I don't know if it would have gone as well as it did," Horowitz said. But in the moment, she added, "we had a job to do—we were providing something for this incredible woman and for so many people who tuned in to watch. It was really positive that we were able to compartmentalize that and deal with our own emotions afterward."
Community engagement has long been a passion for Horowitz, who received the McGraw Family Foundation Robert Sherman Award for Music Education and Community Outreach shortly after we spoke in September. She credits her "very nontraditional, multiracial family" with instilling in her the values that motivate her outreach work. In high school, she volunteered in soup kitchens but "grappled with how to combine my activist and artistic identities," she said. "It wasn't until Juilliard that I started to realize that they could complement each other." During her first semester, she and some friends organized a food drive and recital to benefit the Food Bank for New York City. She then became involved with the Gluck Community Service Fellowship program and started The Heartbeat Project, through which she taught music at a day camp on the Navajo Reservation in New Mexico. Horowitz hopes to expand the project into a proper sleepaway camp and also to bring Seed for Peace to other sites around the world and possibly involve more musicians in the program.
"It's important for us musicians to remember that classical music doesn't exist in a vacuum," she said. "If we're going to survive as an art form, we have to make the effort to make it more accessible and relatable across the socioeconomic stratosphere, across racial boundaries, and across cultural boundaries."
Joshua Simka (BM '14, voice) is the assistant editor of the Journal
Click here to watch a snapshot of Ariel Horowitz telling how she used a Juilliard Community Engagement grant to bring her teaching project to children on the Navajo Reservation in Crown Point, New Mexico.