Early in 2017, President Polisi, with whom I created the Focus! festival in 1985, asked if this year's edition—his last as president—might explore music in China. Fortunately I had guides for my search—Wei He and Alex Brose, the recently named artistic director/dean and executive director/CEO, respectively, of The Tianjin Juilliard School—whose long experience with China was invaluable. They strongly recommended composer Qigang Chen as a primary contact, because, as director of several nationwide projects, he has encountered many gifted composers.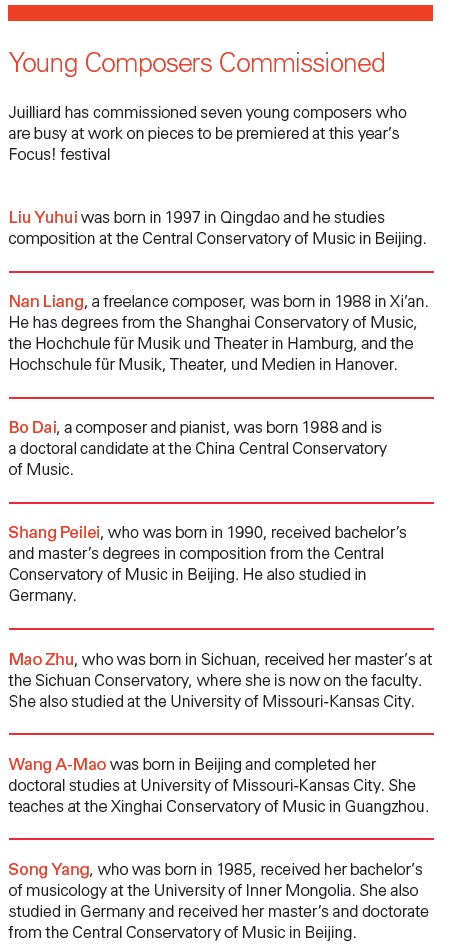 Since we wanted to commission some young composers, I sought suggestions from Chen, He, Brose, and composers I know personally, among them Xiaogang Ye, Wenjing Guo, and Sola Liu in Beijing; Daqun Jia in Shanghai; and Yi Chen and Yun Du in the U.S. Gradually a list emerged of some 30 composers born after 1980, seven of whom we commissioned. A second list of some 70 born earlier was the larger resource from which the programs were filled out. Indeed, the list was so rich that I eliminated all but one expatriate, Wen-chung Chou, a retired Columbia professor who did more for Chinese composition than anyone by creating a program to bring Chinese composers for advanced study in this country once the Cultural Revolution had ended.
I was especially curious about the oldest generation, composers trained before the Mao era. I knew of one superb composer, Shanghai's Jian-er Zhu (1922–2017). His majestic Symphony No. 5 (1991) will receive its first performance outside China on the concluding Juilliard Orchestra program. A chamber concert will include Night Scenery for violin and piano (1948) by Tong Sang (1923–2011), which astounded me because it sounded like Berg or middle Schoenberg. Later I learned that Sang had studied with two Schoenberg students who were among the European Jews rescued and relocated to Shanghai. We'll also have a chamber piece by Zhongrong Luo (b. 1924).
As this article is being written, in early November, the six programs are taking shape. We open January 19 with the New Juilliard Ensemble, which I'll conduct, and close a week later with the Juilliard Orchestra conducted by Chen Lin. Happily, she and I independently agreed on the essential composers for the orchestral program, which includes Qigang Chen's Luan Tan and Jian-er Zhu's Symphony No. 5 (1991) as well as Wenjing Guo's 2006 Concerto for Erhu and Orchestra, with soloist Wei-Yang Andy Lin (BM '06, MM '08, viola). In the opening NJE concert, we shall salute two composers who, through their tireless advocacy of the young composers of China, opened enormous opportunities to their colleagues and students—the aforementioned Chou and Ye, the vice president of the Beijing Conservatory and head of the Chinese Composers Association. We'll also have a new piece by Shuci Wang (MM '17, composition), who had already been selected to write for NJE after my annual competition. Another highlight of the NJE concert will be the premiere of Goose and Crane Calling, for virtual soloist and ensemble, which was composed for this festival by Sola Liu, a member of the first composition class at the Central Conservatory after the Cultural Revolution, who became China's first female rock star. Because she can't attend the concert, her singing will be filmed in Beijing and projected in New York with live accompaniment.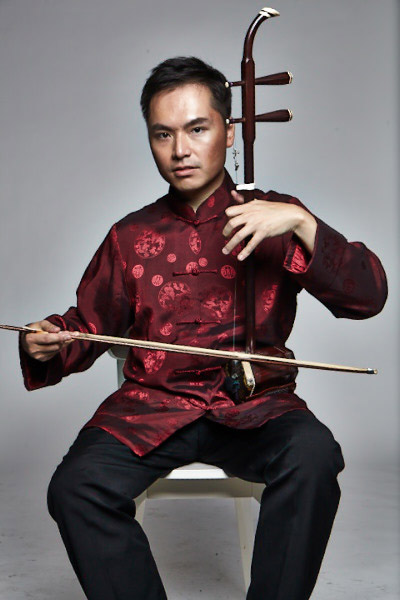 We have arrived at a festival that will be very revealing, and I consider it a warm thank-you to Joseph Polisi for our amazing collaboration of more than three decades.
Faculty member Joel Sachs founded the Focus! festival in 1985