Maggie Walters (Group 48), a fourth-year actor from Canada, talks about Wicked, her summer at BADA, and more.
Can you tell us about your first experience with acting and musicals?
I began acting when I was around 10. My family moved to a small town that happened to have a very busy theater scene. I always loved to sing and was very much in love with the idea of musical theater. My first performance was in Seussical the Musical, which was as ridiculous as it sounds! It was such fun and gave me the incentive to keep doing it.
You participated in a summer program at the British American Drama Academy. What was that like?
BADA was a wonderful experience for me. I think for any young person who is studying a certain subject as intensely as we are here at Juilliard, it is important to sometimes shake things up! In Oxford, I got to work with students and teachers who I did not know or have any relationship with, which was actually very freeing. There was no expectation or a sense of having to please anyone. Of course that's not the goal here at Juilliard, but it is something that naturally creeps in. So I had a wonderful time there. I learned a lot and got to explore England, which was a real blessing.
What do you find the biggest difference between your home country of Canada and here in New York?
There is a big difference. I come from a small, rural town. Lots of farmers and trees. This city is a busy place. I don't think I realized how much the outdoors and quiet means to me until I was well into my second year. It was an important realization for me to make.
If you were to take a reader to your hometown with you, what is something that you think they must experience?
I think I would take them for a canoe ride. The village I live in is on the edge of a lake. It's a beautiful way to see the trees, especially in the fall. After all, if you're going to introduce someone to Canada, you may as well do it in a canoe!
You did some work with Kristin Chenoweth. What was that like to be a part of such a special opportunity?
It was incredible. My older cousin had introduced me to Wicked when I was around 9 years old, and I couldn't get enough of it. I really think it was that musical that started it all for me. I was so wild about it as a kid, I saw it five times and would have seen it more if I could have. To be able to sing onstage with this woman who I really did idolize as a young person was just amazing. I wanted my 9-year-old self to be standing on stage with me because she would have been over the moon. Kristin Chenoweth is also such a lovely, generous woman. One of the songs we sang with her was called "I Am Here," and at the end of it, the phrase "I am here" is repeated multiple times. Instead of singing out to the audience, she turned to all of us, pointed to us all individually, and sang, "You are here." I think it takes a special person to do that—she understands what it is to be a young person hoping to be a performer, and she made us feel just as legitimate as she is. It was so special.
What advice you would give to future international actors who hope to further their training at Juilliard?
I would recommend really making sure that this is the city you want to live in. For some people, this is the dream, but actually living here day in and day out is a different experience. It's so hard to know that at the time but I think it's very important to think through the fact that you are going to be living in of one of the biggest metropolitan centers in the world and far away from your family.  For some people, this is not a hard decision but I really urge anyone to take that into account, particularly students who are thinking of pursuing their bachelor's degrees here.
You are a classically trained soprano. How has singing influenced your acting career?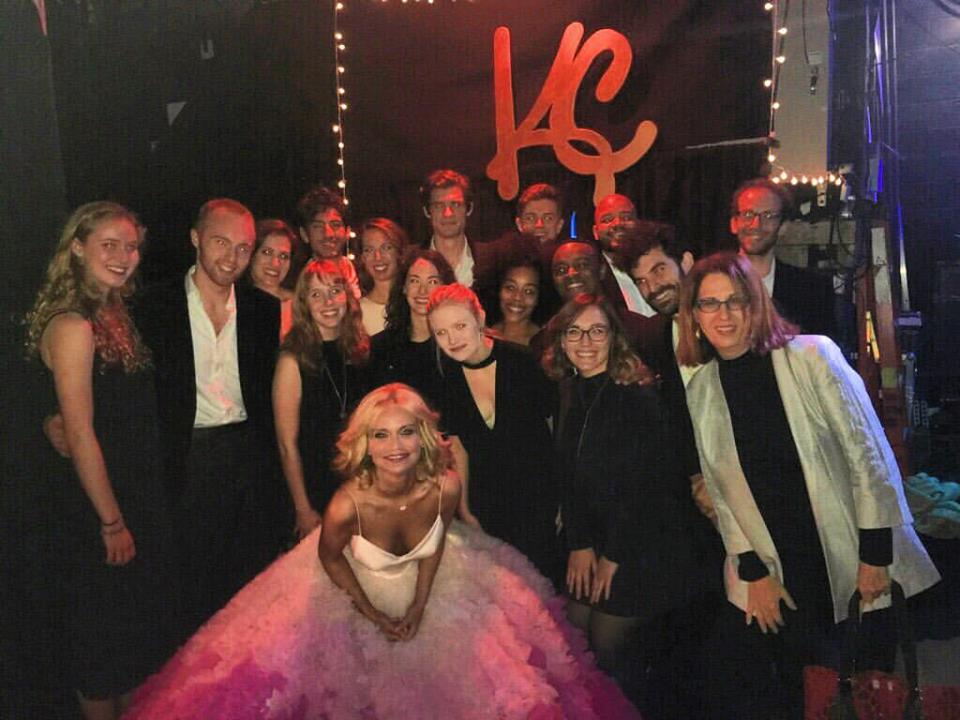 I've trained classically for nine years and by the time I graduated from high school I decided I didn't want anything to do with it, and only wanted to be a straight theater actor. Once I was in school and just acting, I realized how important singing was to me. I learned how much apart of me, not just as a performer but also as a person, it was. I've been lucky that I've been able to incorporate my singing into many productions I've done here and am so excited to be able to be in a musical again this coming December at Juilliard in Into the Woods. As an actor, I know how important language is, how important words are and what they can do to move people. But I also know what music can do. When words aren't enough, you just need to song. That's what I love about it.
From the pieces you have performed during your career so far, is there a favorite? Or is there a piece you felt really attached to while performing and developing your character?
In second year I played Masha in Three Sisters, a play that sums up how complicated and surprisingly wonderful life can be. I felt very connected to Masha: her fire, her cynicism, her real desire to be happy, her love for her family, her connection to the past, the language she uses. There is one line in the play in which she looks up to the sky and sees some birds flying and says, "They're swans. Or maybe they're geese. You happy things." That line just got me every time. I am so grateful I got to play her. I hope to again one day.
What would your dream role be?
Well, besides Masha, I would have to say Hamlet. Every actor may say that, but you can understand why! I saw Andrew Scott play him in London, and it made me realize what an amazing character he is. I think any one, no matter who they are, could sit down and watch Hamlet somewhere and find some way to sympathize or relate to the character, even if that just comes from one line of his text. Shakespeare has the amazing ability to make us go, "Oh I know what he means when he says that. I've felt that before." Shakespeare can put the things we feel into words; he clarifies the feelings that are often the hardest ones to articulate.