Celebrating 100 Years of Pre-College
In anticipation of the November 5 Pre-College Centennial gala—at which Emanuel Ax will be the soloist in Beethoven's "Emperor" Concerto—master's piano student (and Pre-College alumna) Angie Zhang sat down with Ax (Pre-College '66; Diploma '70, Postgraduate Diploma '72, piano) and her teacher and his longtime friend Veda Kaplinsky (Pre-College '64; BM '68, MS '69, DMA '73, piano), the director of the Pre-College division and chair of Juilliard's piano department.
Angie Zhang: How has the energy in the building changed since you started here?
Emanuel Ax: I had two years at the old school (on Claremont Avenue), which in its own way was fabulous. The rooms there were not nearly as nicely appointed. They had double doors, and if you were practicing, you would put a paper towel in the first door so that people would know the room was taken. The new building made Juilliard very much a part of Lincoln Center. I think that's an incredible resource, and I hope that the students are taking advantage of going to concerts and other performances here, though I have a feeling that in our time, people used to go to concerts more. I went to Carnegie three to four times every week. (There was a way to sneak into the dress circle—sometimes, we paid but not always). We heard all the pianists who came to New York City, which was everybody. I remember hearing Ashkenazy, Richter, and Horowitz all in one week— if that didn't make you give up the piano, I don't know what would! They were all fabulous in their own way and that's one of the greatest things about live performances.
AZ: What other changes have there been?
EA: Well, one thing that's been the same since 1969 is that I could never find a room then and I still can't! I remember my good friend Joseph Kalichstein (BS '67, MS '69; piano) running around and saying he was looking for the exit exams, not the entrance exams.
AZ: Is this your first time playing with the Juilliard Pre-College Orchestra?
EA: Yes, and I'm sure they will be totally brilliant—I hope I can keep up! I'm going to feel so old. Sometimes students ask which conductors I played with first after college, and when I tell them that I played with Eugene Ormandy, they look at me as if I knew Beethoven personally.
AZ: How did the two of you meet?
EA: It was sort of happenstance. My wife [Yoko Nozaki Ax (BM '70, MM '72, piano)] was studying at Juilliard at the same time, with Veda's teacher, Irwin Freundlich (Diploma '34, piano; faculty 1934-77). I used to come to studio classes to hear Yoko play and that was where I met Veda. We have been friends ever since!
Veda Kaplinsky: He was one of the nicest guys, and he hasn't changed one bit. He was such a regular guy—no airs about him, never tried to rise above the crowd, he was just happy to be around people and recognize other people's successes. And he was so self-effacing—that was unusual even in those days.
AZ: If you could impart one lesson to the students at Juilliard, what would it be?
EA: Make a lot of friends. For me, the greatest thing about being [at Juilliard] all those years was meeting some amazingly gifted people and learning from them. I learned from them at least as much as from my teacher. That's one of the really great aspects of Juilliard. The people you meet are so much better than you are, and that is a very healthy thing. A lot of them are such nice people too. Look to your left, look to your right, and make friends.
AZ: Do you have any audience pet peeves?
EA: One should applaud between movements—the music is meant to be heard that way. For example, it's so awful to hear someone finish the first movement of the Tchaikovsky Piano Concerto and during the silence, somebody coughs and another person shushes him. It's crazy! I think we need to change a little of this, and people will enjoy at least one aspect of going to concerts. We'll keep working on it.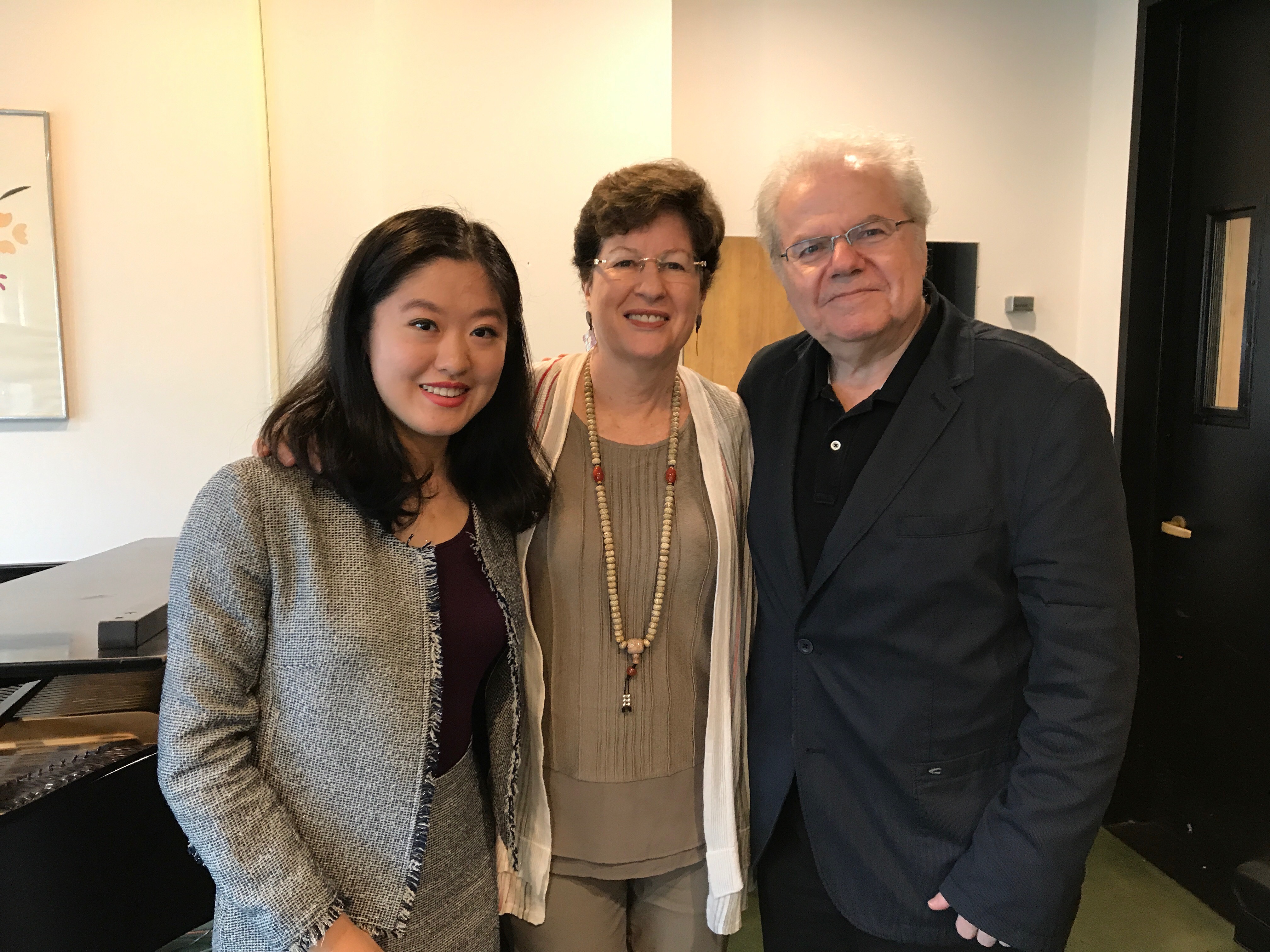 AZ: What are your visions for Juilliard Pre-College into the next 100 years?
VK: How about the next 10 years?!
EA: One great thing would be funding more "looking around" for people who might not necessarily know about Juilliard or instruments or classical music. People who might just be interested without thinking about having a career in music. I would love to see the Pre-College as a place for people who want to go into other fields like science. And I'm sure some of this is going on right now.
VK: Yes, about 50 percent of our graduates go to other fields. What we require is not necessarily a lifelong commitment to music—we actually actively discourage some people because we know that it is not right for them. But we do require them to work with enough commitment to measure up with the rest of the students so that the quality of the orchestra and piano performances is what we aspire to. Beyond that, if they want to have an interest in medicine or science or anything else, that's perfectly fine. And what you are saying is very similar to what our new president, Damian Woetzel, is saying. In all my conversations with him, he's been very interested in two things in particular: collaboration and inclusion. He wants to start all kinds of initiatives not only to spread the word about the Pre-College but also to train musicians from the ground up.
EA: The reason Damian and I agree on this is that we are both very good dancers [laughs]. In a way, it would be wonderful for kids to come here even before they have any lessons.
VK: We do have the MAP program [for more intermediate students], and I wish we could have tours from public schools, even though we're on Saturdays, to bring kids from the outside and let them hear what kids their age can do.
EA: So if you're asking for a wish list, it would be more of this. None of these ideas are original with me, but I would love to help in this.
VK: We tell so many students that regardless of what they choose as their career, their ability to play an instrument will be a wonderful force in their lives for recreation and relief from daily life. I have a brother who is the epitome of that. He was a violinist growing up and his teacher thought he really had the talent to go all the way. My parents thought they had the second Heifetz on their hands until he turned 18. But in medical school, he found a chamber music group and he found the love of his life.
EA: That's fabulous. When I go to Amsterdam, I always play chamber music with a quartet of four lawyers. And the first time I heard the Mozart G Minor Viola Quintet was with Nathan Milstein and four doctors.
VK: But that's on the top level of the age group. We need to somehow reach the children.
EA: Of course, and the other hard part is finding teachers who are good enough. If I have another wish, it would be to find people who are just gifted at teaching. Not even necessarily for music, just generally. We always mouth the platitudes that it's all for the kids but we don't usually support teachers very much.
VK: Not in this country.
EA: Yes, not here and probably in some other countries as well. But we are probably the worst. I would like to see this changed. If we identified great teachers for young kids, we should nurture them and help them become teaching stars. Because that's a very rare talent. When students come to me, 19-20 years of age, and they are basically professional pianists, for a lesson, I say "that's excellent" and "let me just check what fingering you're using so that I can copy that" so I don't need teaching talent on that level. My teacher when I was 12, Jane Carlson, was so gifted at teaching—she was a fabulous teacher. We should find more people like her.
AZ: Has the mentality changed in kids?
EA: Well, I see some people who are totally focused with blinders on. They don't have time for anything except getting really good at the keyboard. They are fabulous pianists, but I sometimes feel that they aren't having a nice enough life for themselves. But then you have people like [pianist] Conrad Tao (Pre-College '11), who does his own concert series, plays, and is curious about every piece under the sun. It's the time now for people to use all the social media that's around to figure out ways to do interesting things. And one of the things that Juilliard offers is that you have dancers and actors. I am ashamed to say that when I was at school, I never met any dancers or actors. I could have met Robin Williams (Group 6) or Kevin Kline (Group 1), but there was a total disconnect. That's one thing I think that Joseph Polisi did—he told the pianists that there are actors and dancers at school, and I'm sure Damian will continue to do great work in that vein.
Angie Zhang (Pre-College '13; BM '17, piano), a Kovner fellow, is a second-year master's student