Last summer, unsuspecting concertgoers passed through the main doors of Singapore's Yong Siew Toh Conservatory of Music—and found themselves seemingly in a church. For a concert celebrating 15 years of conservatory achievements, the conservatory's foyer had been transformed to look like a Gothic edifice. An image of stained glass was projected onto the uppermost wall and a portative organ by the Franco-Japanese builder Marc Garnier was placed on the second-floor corridor overlooking the foyer, resembling a swallows-nest organ.
The first half of the concert consisted of music from and paying homage to the Baroque era as well as an electronics-and-visual performance that would have captivated even the most inattentive parishioner. The second half was entirely dominated by the portative organ, which I played. The repertoire consisted of pieces for solo keyboard based on eight chorales from the magisterial third part of Johann Sebastian Bach's Clavier-Übung; they were each paired with a piece commissioned for this concert, written by an alumnus of the conservatory. Some composers took their cues from the chorale tunes that Bach based his pieces on. Others were inspired by the texts. One composer reimagined one of Bach's chorale preludes, writing as if Bach lived in present-day Singapore.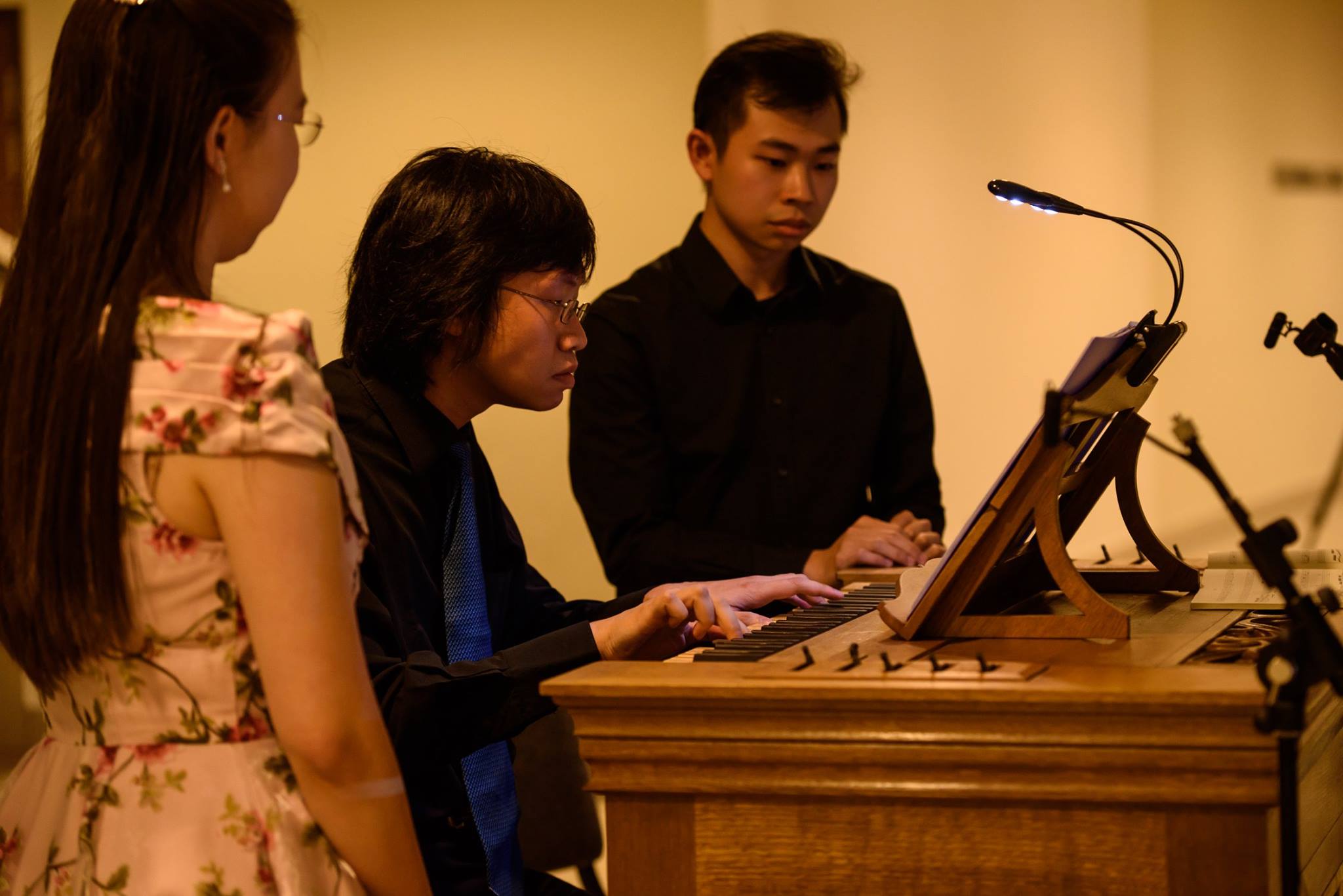 For all the composers, this was an entirely new experience. They had experience with Bach's keyboard and orchestral works but not necessarily his sacred organ works and the chorales they were based on. It was also their first time writing for the organ, albeit one with a single keyboard, limited stops, and no pedals. Nevertheless, helped along by a comprehensive handbook as well as guidance in the form of numerous texts, phone calls, and live demonstrations at the concert instrument, these rising composers added eight new compositions to the rich century-spanning repertory of Bach's magnificent instrument. Coming from diverse musical and religious backgrounds, the composers created music reflecting various styles, mingling Bach's musical experiences of 1700s Saxony with their modern Singaporean ones.
The high regard of one culture for the music of another culture many years away shows that the music we perform can still transcend the barriers of time and space. That it was done with an organ—an instrument played by Bach and which dates to antiquity—shows the enduring relevance of its mastery from age to age. And the fact that present-day composers reshaped the music of Bach just as he reshaped the music of a previous era shows that our collective inheritance of past music can go beyond temporal boundaries and continue to enrich our communities.
Phoon Yu is an organ doctoral candidate who holds a C.V. Starr Doctoral Fellowship