Taya König-Tarasevich, a first-year Historical Performance student, tells us about the differences between studying in different cultures, her secret life as a slalom snowboarder, and more.
How did you develop your passion for music?
Growing up in a post-Soviet society, we didn't have much, but one audio cassette of Mozart's music was everything to me. My experience of listening to it awakened me to delight and beauty that I didn't know existed in the world. This was the moment in my life when I realized that this beauty is something I want to be part of. Throughout my childhood, my home was filled with music: my grandmother sang folk songs with her sisters and my father, who taught himself guitar, would sing Russian bard songs at the campfire. The sincerity and pure way they expressed their emotions without a formal musical education was very touching to me.
How did you get interested in playing the flute?
It was a 5-year-old girl playing the flute in a big concert hall. I was outraged! She was only 5 and was performing in the Philharmonic in my hometown, but I was already 8 and was only in the audience. I told my mom: "I have to play the flute!" However, my mom had had a traumatic childhood experience at music school. In Soviet times it was common pedagogy to close the piano lid while the student was playing—if you hit a wrong note the teacher would shut the lid on your fingers. My mom denied my wish because she was worried about me having a similar teacher, one who would ruin my fascination and love for music. Two years later, when I turned 10, I felt like I was getting old; I was determined to go to the music school and I pulled my mom along. I was shocked when, after the audition, my examiner asked me if my parents forced me to come here. The opposite was true: it was I who forced my mom. I was accepted to the first music school in Siberia, which was in my hometown, Krasnoyarsk, and guess what—I never got a piano lid banged on my fingers! Indeed, I am endlessly grateful for my first teacher Irina Petrovna Ovchinnikova, who became my second mom. Not only was she supportive and loving, but also she put a seed in my soul and taught me how to grow that enchanted garden that I am still caring for to this day.
Tell us about your journey from Siberia to the west.
I love this Saul Steinberg drawing!
When I was 15, I decided to study in St. Petersburg, the cultural capital of Russia. As I learned later it was my mom's dream as well to go to college in St. Petersburg when she was young, but back in Soviet times they didn't have the freedom to choose. So she supported me and moved with me to this beautiful and historical place with the oldest conservatory in Russia. There I took lessons on modern flute with an accomplished professor who was a soloist of Mariinsky theater. Nevertheless, personal complications and a strong desire for further musical development forced me to quit the program prematurely. I decided to leave the country and a good friend gave me the hint to approach Renate Greiss- Armin at the Musikhochschule in Karlsruhe, Germany. At that point in time my language skills were poor, but my longing to improve was so strong that I wrote her an email in very bad English and a miracle happened—she replied and invited me for a lesson! Following her advice, I terminated my time in St. Petersburg and came to Germany. I worked as an au pair while taking private lessons with Renate's assistant, Mathias Allin, in preparation for the audition. While I couldn't speak German in the beginning, music was our universal language. Mathias not only helped me to achieve my biggest dream—to study with Renate Greiss-Armin—but also became my mentor in music and life. I feel fortunate to have studied with Renate before she retired and am humbly grateful that she made me who I am today. Renate is still the biggest inspiration for me musically as well as personally. She taught me a deep appreciation of beauty in every epoch of music history, starting from the depth of Bach's passions, through the tragedy of Schubert's Lieder, to the fascinating complexity of Boulez's Sonatina.
How did you get excited about early music and baroque flute?
Since Renate herself studied baroque flute with early-music pioneer Barthold Kujiken, she found it essential for her students to discover historical instruments in order to develop their musicianship. The moment I fell in love with the baroque flute was when my teacher Heike Nicodemus asked me to play Russian folk songs. This experience immediately made me feel at home on this instrument. Once, I heard Bach's B-Minor sonata performed by Karl Kaiser; it left such a deep impression that I knew that it was the truth I was looking for. Unforgettable concerts by the Freiburger Barockorchester, which Karl co-founded, convinced me that this approach to music is what I want to devote my life to. Their mentality—selflessly serving the music and seeking something greater—became my philosophy as well. Karl became not only my teacher in Freiburg, but also, so to speak, the missing cherry on the top of my black forest gateau. after all the great teachers I had the blessing to work with. I can't praise him enough for everything he has done for me, his encouragement and enthusiasm helped me to unfold and bloom.
You've studied in Russia, Germany, Michigan, and now New York. Tell us some of the biggest differences between each school and instruction you've had.
Living in different countries and cultures and working with people from all over the world formed my personality. I gained a cosmopolitan understanding for the world around me and learned that only through respect for each other's stories can we acknowledge and subsequently help one another. Furthermore, I was fortunate to study in these countries in the right order for me. The strict Soviet tradition of teaching—with absolutely no fun!—made me strong. In Germany, despite my having to deal with many rules, my teachers helped me to enjoy music and gave me a deep understanding of good taste. Finally coming to United States was the biggest cultural shock for me. People are incredibly friendly and are always happy to help. Musically, there is so much more freedom here, and the education that I was blessed to receive beforehand is now helping me to make musical decisions myself. Experiencing contradictions between viewpoints forces me to develop my own style and shape my own opinion and thus to be a true artist.
Taya by the numbers: you speak four languages and this is the sixth institution you've studied in. How did you learn all those languages, and what drives you to continue your education?
Learning languages is a pleasure for me because it is also learning about culture, the special ways people think and interact with each other. I learn a new language by going to a country and diving deep into their way of living. I observed how I adapt my personality while speaking different languages. It helps me to get to know myself better and integrate into a society. The rich international Juilliard community allows me to keep my language skills awake by speaking to my friends from all over the world in their native tongues.
My motivation for continuing my education is making this world a better place. I am always looking for the purpose and greater powers through which music can heal wounded souls and inspire people around me.That is why, in addition to performing and teaching, I write poetry, I engage in wildlife conservation, I am a compassionate women's rights activist, and I regularly practice yoga and meditation.
What is a big misconception about Russia in general and Siberia in particular that you've experienced?
I always get asked about vodka-drinking and balalaika-playing bears walking down the roads in Siberia. Of course, this is nonsense…the truth is, there are no roads in Siberia!
How has the Historical Performance department here at Juilliard supported your dream of connecting music to the world and bringing us all together?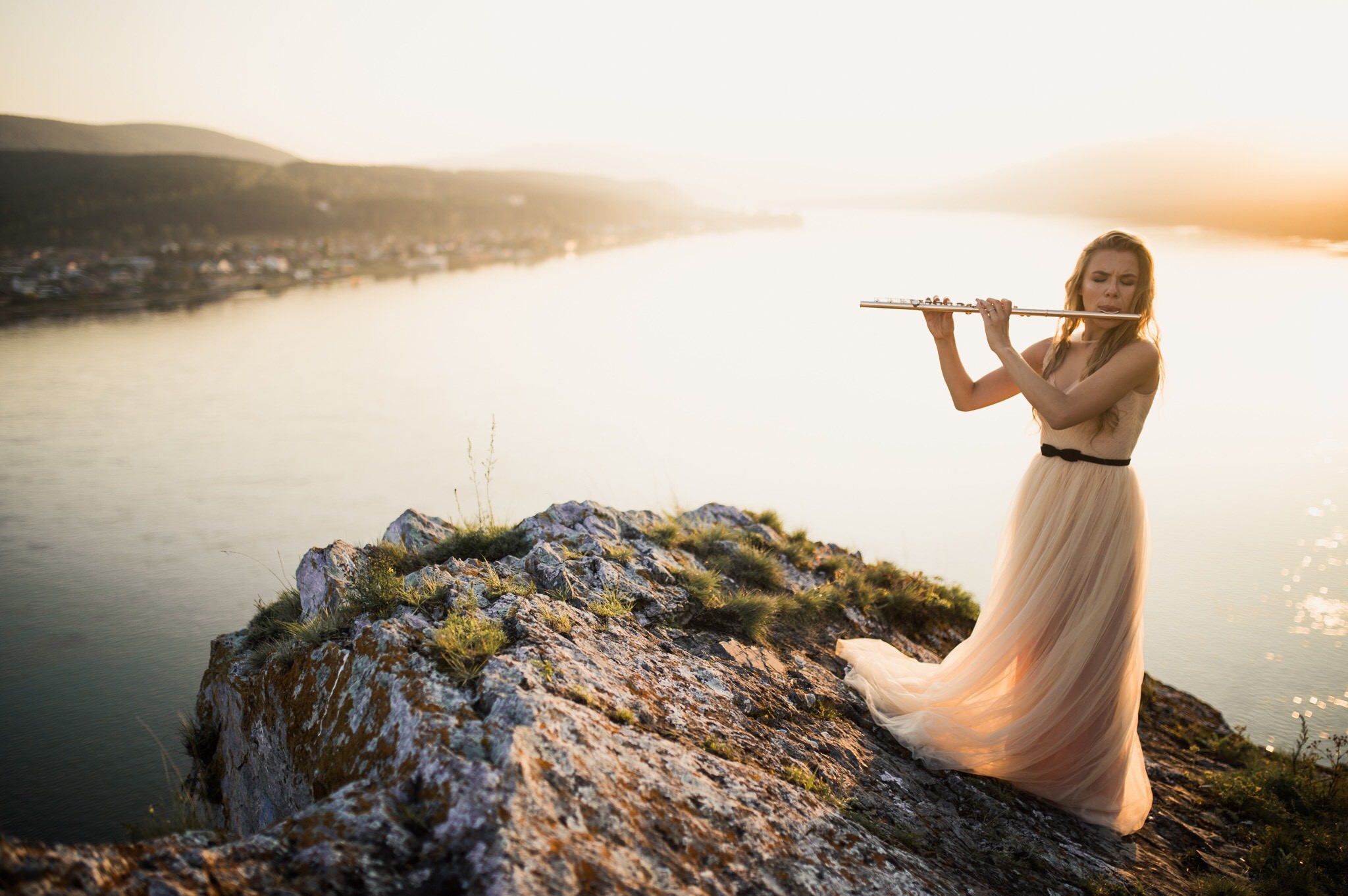 My dream is to bring hope to the world around me by playing my flute. It is my responsibility as an artist and a part of our society to spread unity and peace, love and support, and healing and hope through my music by crossing the boundaries of language, race, religion, and political geography. I love performing music from different social and historical epochs, connecting art forms, and integrating diverse styles of playing. Historical Performance at Juilliard is helping me to achieve my goal every day. For instance, as a baroque musician, collaborating with modern dancers, commissioning contemporary pieces for historical instruments, and working with people from all over the world brings us—musicians and audiences—all together on a deeper level.
Often, historical performance practice is devoted to early music. Do you believe that it deserves more attention also for different epochs?
Thanks to prominent pianist and universal thinker Jean-Pierre Collot, I am now involved in the translation of the memoirs and letters of Maria Yudina, who, under Stalin's regime, did not have the freedom I enjoy. As an global artist she had a holistic way of thinking: she felt like she was "a link in the chain of arts" and considered music, religion, philosophy, and life all intertwined. Yudina said that music, as one of the art forms, is only a part of something greater then us, and our musician's task is to introduce the listener to spiritual orientation. In this sense, contact with the music is an impulse to a new understanding for reality. Yudina's philosophy reminds me of the purpose of music making—she believed that in every music epoch lack of content is a sin that can not be hidden by sentimentality. Her never ending urge to push the boundaries of music and politics while risking her life needs to be respected and inspires me until this day. The connection between early music and new music is stronger then we would expect: it is the seeking what music wants me to do. Composers engage in one continuum throughout eternity, so I see no reason that historical performance needs to be separate from other practices at all.
Do you have any hidden talent you'd like to share?
In my parallel life, unbeknownst to my flute teacher, I was a slalom snowboarder. My trainer was the trainer of the Russian Olympic team! I loved playing flute and snowboarding so much that I devoted equal amounts of time to both. Of course, I was dreaming about winning the Olympics one day, but the flute took over!
When you first arrived in the U.S., and specifically Juilliard, how was your cultural adjustment? Can you share some examples of culture shock you experienced, if any?
My first stop in the US was Michigan, where I met Amy Porter and Joe Gascho and was overwhelmed by their love and support. It is kindness and generosity that makes life here so much happier. I remember asking myself "Why these people are SO nice to me?"
My second cultural shock was when I came to Juilliard; after six months of travel restrictions and uncertain waiting for my visa, I had to miss the beginning of the semester. You can imagine how happy I was when I finally got here. But the real surprise was that everyone at Juilliard seemed even happier then me: they gave me hugs and celebrated my arrival as if it was theirs! It is very touching to see how much compassion and empathy people feel for each other. For instance, Sandy Miller is an excellent example of a kind, generous, and deeply caring professor. She radiates warmth and respect, making my path feel safe and joyful far beyond music.
Juilliard is a place where everyone is respected as a human being as well as an artist. I feel very fortunate and blessed to be part of this great community of exceptionally talented artists and inspiring personalities.