A drama student searches for her alumna grandmother
If you were to Google my full name, Julia Latimer Warren, this is what you would find:
Julia Latimer Warren
Born July 8, 1922
Studied at Juilliard 1941-46
Oklahoma Jazz Hall of Fame inductee
Musical director for the U.S.O. touring company of Porgy & Bess
Civilian actress and technician based in Assmannhausen, Germany
Taught piano for more than 40 years at Latimer School of Music in Tulsa, Oklahoma
Yes, Julia Latimer Warren is my birth name, but the above information is about my late grandmother. The legacy that precedes my name has always been a mystery to me. Attempting to satisfy my curiosity about my grandmother's history, during the winter recess I reached out to my family in Tulsa to learn more about her and her time at Juilliard.
What was Juilliard like in the 1940s? Why didn't she stay in New York? How did she navigate the world as a black woman playing classical piano?
Though I wanted direct answers, I didn't get them. Instead, I learned an array of facts and personal memories about my grandmother's time at Juilliard and beyond. According to my father, "Her favorite composer was Handel—or was it Mozart? Whenever she played the piano, the whole room would sit at attention. If she practiced at home she made me turn the pages for her. I couldn't read the music and she would get mad at me if I wasn't paying attention. It used to drive her crazy when I wasn't paying attention. But that's how we spent time together."
My grandmother was born Julia Mae Latimer—she was also known as Julie Mae, and family and friends called her Judy. Born in Honea Path, South Carolina, she moved to Tulsa when she was a child and attended Juilliard on a full-ride scholarship after graduating from Dillard University, a historically black college in New Orleans. My legal name has taken on many variations, but it's refreshing to have this connection with her.
According to Juilliard's records, my grandmother studied piano with longtime faculty member Katherine Bacon and was enrolled in the Diploma piano program from 1941 until February 14, 1944, and then she returned in 1946 for the summer program and for the fall semester of the bachelor's of science in music education program, although she left after a semester. While there had been students of color at Juilliard and its forerunner institution (the Institute of Musical Art) since it opened, in 1905, there were never a lot of them. I would have loved to have known what it was like for her here.
What was Juilliard like in the '40s? Why didn't my grandmother stay in New York? How did she navigate the world as a black woman playing classical piano?
I do know from my dad that when my grandmother came to New York City for school, she stayed at the YMCA for two weeks because the school didn't provide housing at the time. [In subsequent years, until the Juilliard dorm opened, in the fall of 1990, many Juilliard students lived full-time at YMCAs.]
After Juilliard, my grandmother worked for the U.S.O. (the nonprofit that sends performers to entertain U.S. troops) as the touring musical director for Porgy & Bess. She eventually met my grandfather, Robert Warren, became pregnant, and moved back to Tulsa, where she taught in the music studio her brother owned for the next 40 years. While reflecting on this exploration of my grandmother, one thing I cannot shake is how long it has taken me to see an image of her during her time at Juilliard. When I saw this family photo of this glamorous black woman who is my namesake, I was stunned. People had told me we looked a lot alike and there it was.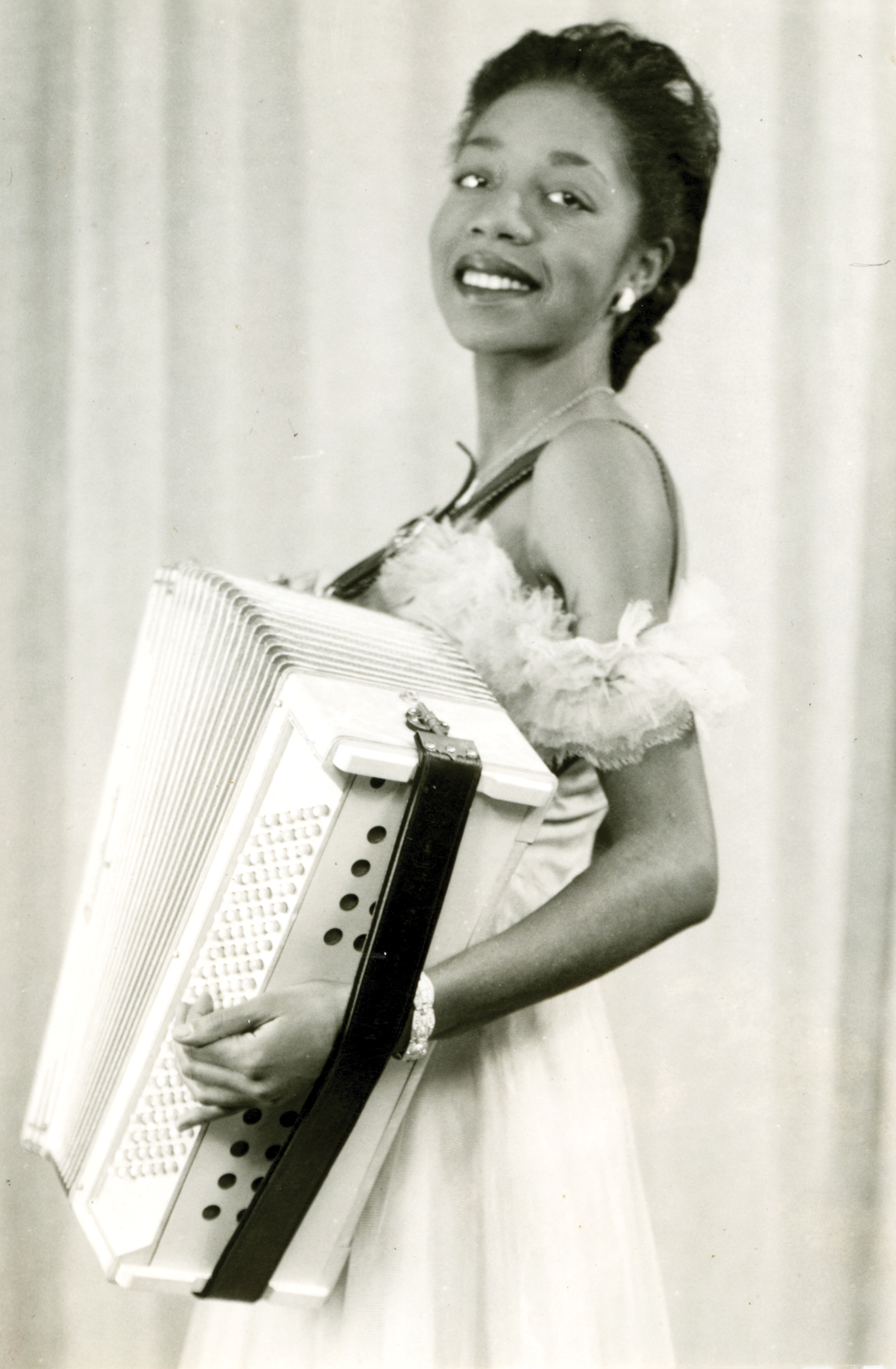 Damian Woetzel taught a class last semester called Arts and Society, and he invited art curator and Harvard professor Sarah Lewis to talk to our class about the power of images. She did an exercise with the class analyzing a photo of a small black girl seeing the recent portrait of First Lady Michelle Obama at a museum. The little girl's face was one of awe and amazement because she was seeing royalty reflected at her.
Looking at these images of my grandmother at Juilliard and abroad, I see myself. Now that I am a Juilliard student like she was, I feel a spiritual belonging in this institution and wherever my imagination tells me I can go. In these images, my grandmother showed me that my dreams are as boundless as hers. Following in her steps makes me believe that Juilliard and beyond have always been in the plan for me. I wish these photos and others like it were all over Juilliard. People of color especially need to know that this place has never been a far-off fantasy. It is our destiny, our legacy.
Actor Jules Latimer, a third-year BFA candidate, holds an Irene Diamond Scholarship as well as a James D. Rosenthal and Marvin Y. Schofer Scholarship