You aren't a true Juilliard student until you've met Yo-Yo Ma at the elevators.
The variety of celebrity sightings that you can encounter at Juilliard is truly remarkable and there are many different ways you can react to them. You could act like it isn't a big deal and pretend you're not excited about seeing these people, but the reality is that meeting celebrities just as seen on TV is always going to be really cool for most of us. I still get really excited every time I spot Itzhak Perlman rolling around Juilliard in his wheelchair as fast as possible (allegedly because he dislikes getting stopped for photos and autographs), and I have found myself fighting many times against my selfie hand, begging it not to ask for a picture because I feel that asking the Juilliard faculty for these type of things while being a student is kind of … odd, for some reason.
Among my favorite random encounters during this first year have been J.K Simmons, Yo-Yo Ma on multiple occasions, Danielle Brooks and Taylor Schilling from Orange Is the New Black. And those are just the ones I saw! It is also quite amazing to know that some of these people were at one point Juilliard students that return to give back to their old school. In all, seeing known faces come to our school is an experience that fills us with pride and is humbling simultaneously. Sightings of distinguished Juilliard alumni inspire me particularly because it makes me think that if people like that came out of my school there really isn't anything that I shouldn't be capable of accomplishing. They were all at one point in the same position that I find myself in today, after all.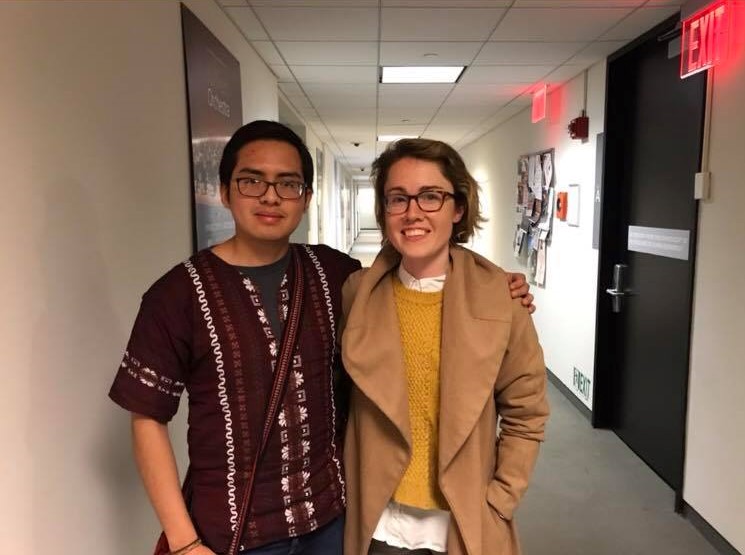 However, the encounters that are even better are the ones that we get to have through the school. We have master classes, Lunch and Learns, talks, and guest speakers that come to our composer forums. I can honestly say that I have had several life-changing moments in these talks because the guests that they bring in are usually outstanding professionals and orators. One of the most memorable happened recently when Wu Han was invited to speak to us at our Entrepreneurship in the Arts class. First of all, she has a famously no-nonsense attitude that makes you see immediately that she means business. She came in and was refusing to begin her talk before the front-row seats were filled up because she argued, "you are artists! You should be putting yourself out there, and the first step is for you to plant yourself in the front row. That way I might remember who you are." She then proceeded to give a really inspiring talk about what it means to be an original and that entrepreneurs need to learn how to help themselves.
A Lunch and Learn that really inspired me and that I've previously written about was when we met Brad Bird and Michael Giachino, who talked to us about the importance of collaborating with your friends and the benefit of growing as artists together instead of becoming obsessed with working with the big names at a young age. Some of these thoughts were supported as well by a later guest that we had during spring break, the composer Nicholas Britell (Moonlight, The Big Short, 12 Years a Slave) who gave a three-day intensive course on the process and intricacies of scoring for film. This series of master classes were particularly life-changing because he showed us the real process of collaborating with other creatives on a big project as well as giving us insight into what big-shot Hollywood composers really do.
As composers, we get fantastic guest lecturers to our composer forums every other week, which have included visionaries and creative such as John Adams, Caroline Shaw, and George Crumb. All of them come and really give us a chance to engage in meaningful discussions about their music, their careers, and general advice that they share with us.
I believe that the most important and valuable thing about these amazing people that come to talk to us is to learn how to not only see them as the inspiring human beings that they are but also that they can be resources who are willing and quite capable of helping us out if we are strategic and proactive about attending these talks.
I can't wait to see what other adventures Juilliard is preparing for us next fall!