On Constitution Day, September 17, I was honored to speak along with my wife, Lesley—Juilliard's chief operating officer—at a special naturalization ceremony in the federal courthouse in Brooklyn. Sixty new Americans were sworn in from several dozen countries. Middle school and high school students from three schools also attended. Chief Judge Dora Irizarry and nine other judges presided over the ceremony.
We were the featured guest speakers as a result of several judges having attended my jazz opera, Dear Erich, which was premiered in January by New York City Opera at the Museum of Jewish Heritage. Dear Erich tells the story of my father's escape from Nazi Germany to the U.S. Tragically, the rest of his family did not make it. Among the opera's themes are the immigrant experience, the push and pull of building a new life in a new place while staying connected to a painful past, how much or how little a trauma survivor shares with his children, and survivor guilt.
A little background: In 2015, I was invited to my grandmother's hometown, Bad Camberg, Germany. The local Hebrew school had been reconstructed by the historical society to commemorate the town's Jewish community, which had been destroyed by the Nazis. I mentioned to one of the volunteers, Peter Schmidt, that after my father died, in 1995 I had come upon a box of letters in German from his mother, a grandmother I'd known nothing about. Schmidt volunteered to translate the letters, perhaps not realizing there were more than 200 of them!
Thanks to Schmidt, my grandmother's letters started coming back over the Atlantic Ocean, translated. They opened a world for me, with vivid depictions in her personable voice, of family, friends, people, and places that were part of my father's life in Germany. The letters continued week-by-week from 1938 until they stopped abruptly in 1941. Through them, I could feel in starkly personal terms the institutionalized hate that befell my family members, their frustrated efforts to emigrate, and the walls of persecution closing in. Although my grandmother's words were understated (whether due to her wry sense of humor, concern about censors, or not wanting to alarm my father, I'll never know), her letters filled in many holes about my family history. The revelations from these letters and learning of family history inspired me to write Dear Erich.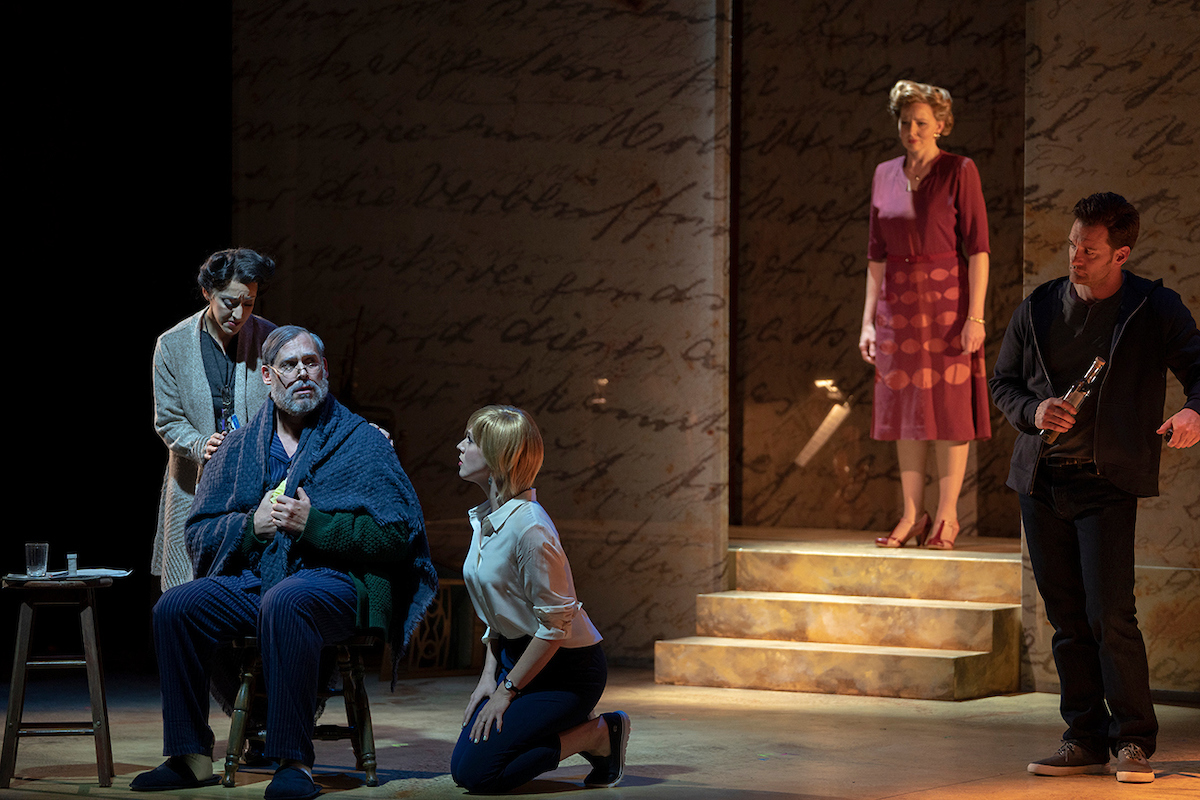 The artistic process of creating my first opera was completely absorbing, intense, and thrilling. The learning involved in putting it together was a true artistic journey: countless conversations with mentors, collaborators—including my wife and co-librettist, Lesley—and people in the opera and theater worlds who pushed me in new directions. This was quite a different process than preparing for one of my jazz trio performances! The personal nature of the story made it even more intense.
The invitation to participate in a civic ceremony in a majestic courtroom, with judges in robes and new citizens at rapt attention, gave the artistic experience another dimension. Lesley and I individually addressed the full courtroom. I spoke about how Dear Erich probes the feeling of survivor guilt—can you be able to live and enjoy life fully while others close to you are in harm's way and ultimately cannot be saved? How much can you do to help another in need? And how much of your past should you share with your children? The opera's scenes of immigration and refugees in crisis also raise moral dilemmas that resound to this day. Finally, the work stands for the power of remembrance, not just to honor the past but also to root us in the present and chart our future.
Lesley spoke about the importance of immigrants and immigrant communities contributing to New York City's—and the country's—artistic life. She encouraged the new citizens to tell their stories through the arts and to keep their rich cultural traditions alive in their new country.
Following our remarks, New York City Opera mezzo-soprano Sishel Claverie, herself an immigrant from Mexico, reprised her role of Carmelita and sang "Children of America" from the opera. Carmelita, an immigrant nurse, has forged a bond of trust and understanding with her patient Erich, also an immigrant, and explains to his American-born son the immigrant's dilemma of wanting to look forward to a new life rather than sharing a painful past. Focus on the words, I told the audience, and you will hear her steadfast refusal to upset or burden her children by sharing the details of her painful past. But if you listen to the music, it tells a different story: the truth of her longing for, and enduring connection to, her native country.
People were visibly moved by the performance. The ceremony culminated in the new citizens stepping up to the judges to pick up their certificates of naturalization. They were now citizens! Lesley and I participated by handing out copies of the U.S. Constitution to each of the new American citizens as well as to the students in attendance. It was a day I'll never forget and one that made me proud to be an artist and a citizen.
Pianist/composer Ted Rosenthal joined the jazz faculty in 2005