As the application deadline tie draws nearer, I wanted to share experience in applying to Juilliard.
For some of you, auditioning for an acting program might represent a total shifting of gears in your life: a road map to a new path. This process can make you feel very naked while battling your fears with raw vulnerability. These are some of the elements that allowed me to breathe throughout the journey.
1. Having the Guidance of a Mentor
I was a second-year journalism major at the University of Puerto Rico when I decided to take acting as an elective, with a professor who was recognized for her passion and rigor. Educator, director, and actor Jacqueline Duprey has set an example for me of courage, soulfulness, discipline, and respect for our craft. I am forever grateful for her teaching and her support. When I finally decided to risk it all and audition for grad school, leaving my career in journalism behind, she coached me and helped me prepare my monologues in the aftermath of hurricane Maria, the natural disaster that struck Puerto Rico in 2017.
2. Choosing Monologues That Connect With the Soul
After reading multiple plays and considering multiple pieces, I ended up choosing monologues that had been close to my heart before this process started. For my classical monologue, I chose the speech that made me fall in love with Shakespeare, no matter how risky it was: Constance from King John (Act 3 Scene 4). For my contemporary, I wanted a piece that related to my story, to home, and to dreams, so I went for Cuban playwright Nilo Cruz's Two Sisters and a Piano. My chosen four (including David Ives' Venus in Fur and Shakespeare's The Comedy of Errors), allowed me to access different parts of myself and to truly explore language and behavior.
3. Submitting a Truthful and Authentic Essay
I never thought about what the people on the other side of the table wanted to hear. Think about the essay as a channel to really express why you have taken this decision at this stage of your life and why you're drawn to theater, to arts, to storytelling, to whatever it is that makes your heart beat faster in this beautiful craft. You can share anything, but I invite you to share an honest piece of your soul. Your unique story is an essential tool of your artistry.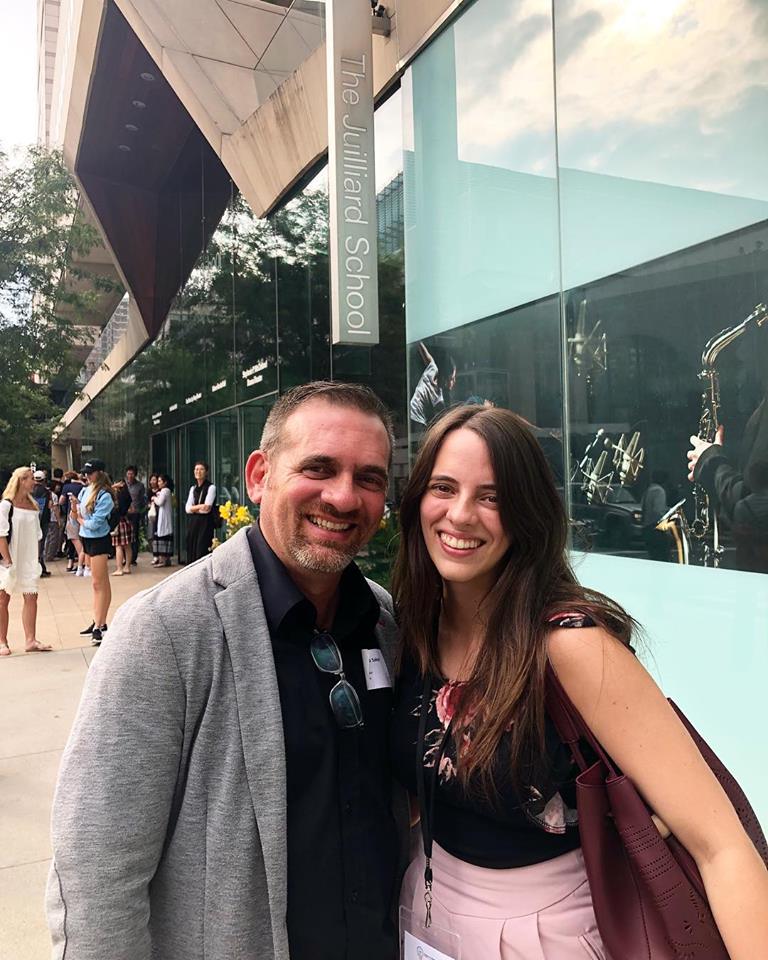 4. Organizing All the Paperwork
All the deadlines, requirements, and paperwork can get a tad crazy, so I strongly advise you to create a document where you gather all the necessary information. I created a chart and assigned to myself small tasks that I could complete weekly, so I wouldn't go crazy the day before deadline. All the creative work thrust in the monologues in preparation for auditions will take most of your focus, so it's best to make sure the bureaucratic aspect of this process creates as little noise as possible.
5. Having Family Support
My father is that unique parent who advised me to study acting for my bachelor's degree and I chose not to; he saw where my passions were before I did. My mother, who lives in Cuba, has never seen me on stage, ever, but she's supported me every step of the way as my biggest fan. My stepmother gave me an extra push to aim higher than I ever thought; for her, there are no limits. My boyfriend encouraged me to risk it all to pursue my dream; he ended up moving to New York with me! This incredible support system inspired me every step of the way, and I am forever grateful for their love and generosity.
6. Auditioning With Friends
In January 2018, three young women flew from Puerto Rico and rode the subway together to auditions. We trained together, traveled together, wiped away each other's tears, and pledged to step into those audition rooms with no expectation but being true to ourselves, to our stories, to our lives, and to where we came from. With my two extraordinary friends, who are currently studying in Yale School of Drama, I felt an army behind me in every audition room. It's beautiful what happens when colleagues truly support each other; we celebrated each other's successes with genuine, ecstatic happiness.
I am sharing my experience to the best of my recollection, but this is not a recipe. If your family doesn't support your decision, if you haven't found a mentor in your journey, if you don't have friends who share your dreams, it's okay. At the end of the day, you have your courage and your authenticity. Your hard work, your discipline, your commitment. Everything is in you already, inside you, in the depths of you. Reach out for it, and with passion, conviction, and an open heart, you will find your way.
College applications for fall 2020 are now open.