One of the reasons why I gravitated toward coming to Juilliard was because it wasn't strictly centered around the art of classical music but rather as much a home for jazz, drama, and dance too.
This aspect lets students, teachers, and mentors collaborate and come together with each others' passions in a way so unique it cannot be bought. If I had attended a conservatory that solely revolved around classical music, I would perhaps be much more closed off and oblivious to the other incredible forms of art that I am fortunate to embrace every day at this school. Being able to witness my colleagues from different disciplines perform is already amazing, but getting to learn and work with them on a frequent basis is a blessing that I don't take for granted. On occasion, my friend Rachel (dancer) would improvise while I'd improvise to music in the dance studio and my friend Reed (vocal artist) and I would randomly sing duets in the practice room, and honestly, I can't think of anything more stress-relieving than that on a Sunday night.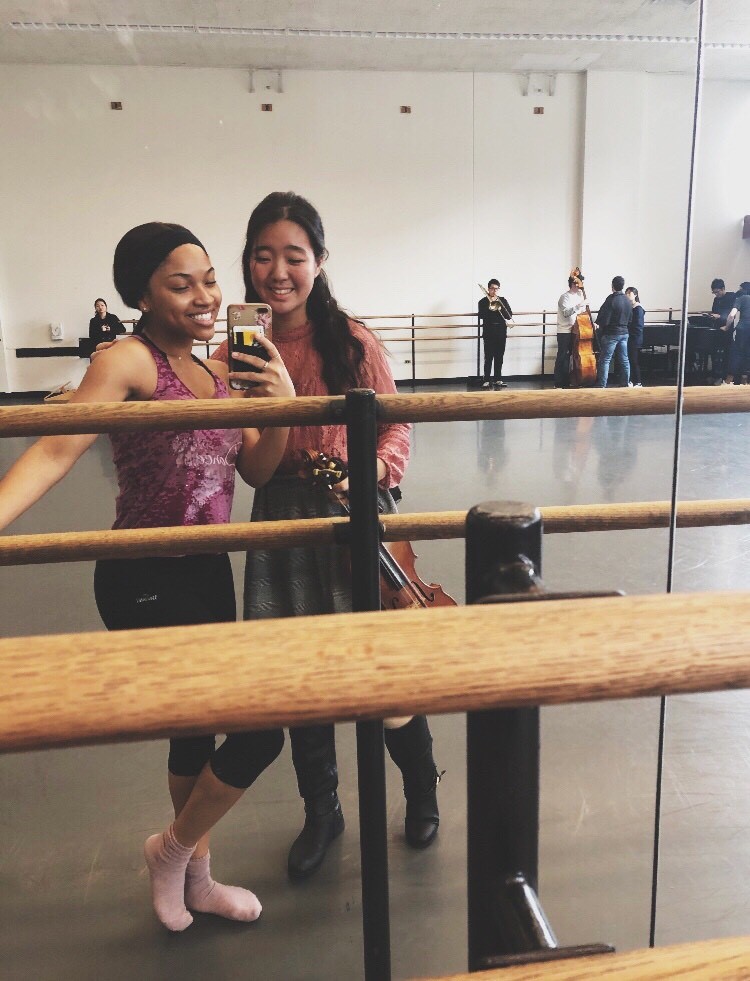 If there's one thing I've learned during the three months I've been here, it's how powerful it can be when artists come together and create works to send a positive message to the world.
Earlier this year, I signed up for the mentor program and was paired with Jerome Begin, a fantastic composer who has written extensively for theater, dance, film, and installation, among others. I gravitated toward dance, as I have been in awe of people who can move their bodies in uncomfortable positions yet look so graceful at the same time ever since I was (gently) encouraged by my teacher to accompany dancers at a Colburn performance last year. Jerome offered me a ticket to go see his performance, which was a modern take on a Korean dance, where his wife was the dancer and choreographer and Jerome composed the score as well as played the electric keyboard. It was absolutely incredible.
It was during that show I was stepping into the elevator to leave when I came across another dancer who manifested an aura of familiarity and warmth. Her name was Shoko Tamai. We exchanged pleasantries, and she proceeded to mention that she had dreamed of a violinist the night prior and that she was looking for one to perform with her at a light show the following week. It was the man next to her who mentioned that I was a violinist, and that's when things seemed to click. I probably seem a little crazy at this point, but something in my gut was telling me that there was something about this lady I had never met before, yet I couldn't put the finger on it. We exchanged numbers, and I left to catch a train.
The next week, I came to the Plaxall Art Gallery, where the performance was to take place extremely nervous and unsure of what I was doing. I saw Shoko, and again I felt relieved. We put together a plan within an hour of the performance, and it was mostly improvisation, which scared the living daylights out of me because I had never improvised in a performance before. However, as soon as we started the actual performance, I felt an instant connection with her that felt both timeless and magical at the same time. This wouldn't have happened if I hadn't attended my mentor's show, and definitely wouldn't have happened if I didn't have a mentor in the first place.
The point is, I am even more in awe of my colleagues and teachers here, but this aspect of our school has created lifelong friendships and connections that I will treasure.
Attend a student performance on campus.