"This year contains an ending for you all, but it also contains many new beginnings."
Our teacher and mentor, Risa Steinberg, stood at the front of the classroom in September and uttered this to me and my dance peers. She guides us through a class called Senior Production, which essentially teaches us to turn our artistic endeavors into marketable, financially sustainable products. We go through the steps of advertising, producing, and fundraising for our culminating performance in April (also called Senior Production), which is a six-show series consisting of original works choreographed by a handful of senior dancers. The remaining seniors, as well as the third-year dancers, perform these works. It is a magnificent creative project that allows us soon-to-be graduates to leave our legacy within the Juilliard community. But questions remain. How do we raise the money? And how do we engage with our community— both inside and outside of Juilliard— so that we can receive both emotional and financial support?
For the Juilliard Class of 2020 (#2020Vision for short), part of the answer lies in a photo book. Senior Production requires us to create and sell some sort of merchandise, which has traditionally been a calendar. But when Risa asked us what our vision was, we wanted to put as much of our passion, creativity, and honesty into this product, and what better way to display it than in a 60-page book, chock-full of photographs, text, and illustrations? The title of the book is Create Your Vision, See Your Vision, Be Your Vision. All of the content you will see was created by the 19 members of the class. Each dancer provided an intimate insight into their own artistic vision, all of which compose the unique mosaic that is the class of 2020. Our intentions are to portray community, individuality, and inclusion.
As pre-professional artists and students, we have found the process of envisioning, designing, and marketing this book to be an invaluable learning experience. At the very beginning, we asked ourselves: What are the qualities that are unique to us? How do we want to present ourselves? Who are we trying to reach with our product? From there, we developed our hashtag (#2020Vision), book title (Create/Be/See Your Vision), and a cohesive set of values. Then, we began to create. The day of our photo shoot was unforgettable. Our studio was laden with lights, poles, wires, backdrops, bags of clothes, and, most pertinently, good vibes! Many of us had ever participated in, let alone directed a project on this scale, but that fact didn't hinder our excitement. Within eight hours, we captured nineteen feature shots for each one of us, plus several group photos. We wanted each image to reveal a different shade of our personalities. From joyous, to vulnerable, to strong-willed, to hopeful, the voices of #Vision2020 are strong, eclectic, and refined.
After reviewing the photographs, some of us offered personal pieces of writing to accompany them, and my ridiculously talented roommate, Lua Mayenco, drew several black-ink illustrations to really tie our work together (such as the one below).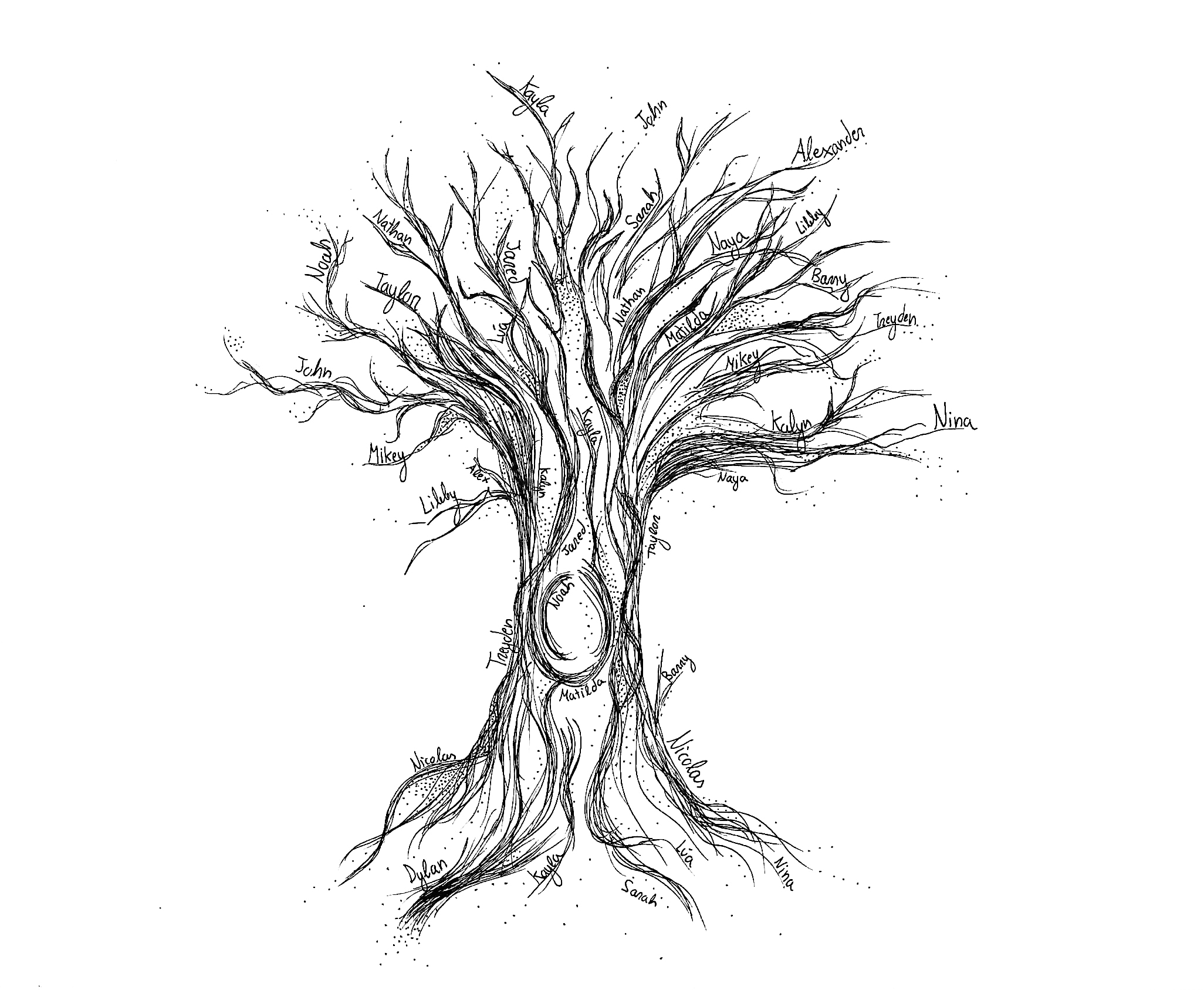 When I look back on the thrilling journey through Juilliard that I have taken side-by-side with these 18 individuals, I feel so proud of, thankful for, and amazed at the family we have become. I say "family" in the fullest sense of the word— besides my parents and brother, I have never spent so much time with another group of people. The wonderful thing about the dance program here is that it is a shared experience of growth. As you change, struggle, acquire new information, and evolve, everyone around witnesses you, and you witness them in turn. By senior year, we have developed a profound admiration for each other as both dancers and people. We hope to take the love we have fostered together, and cast it out into Juilliard and beyond.
Create/Be/See Your Vision is a culmination of our pasts, a record of our present, and the seed of our futures. We cannot wait to share it with you! (If you are interested in purchasing one, please email me at [email protected].
Attend a student performance on campus.