Operations Manager, Juilliard Orchestra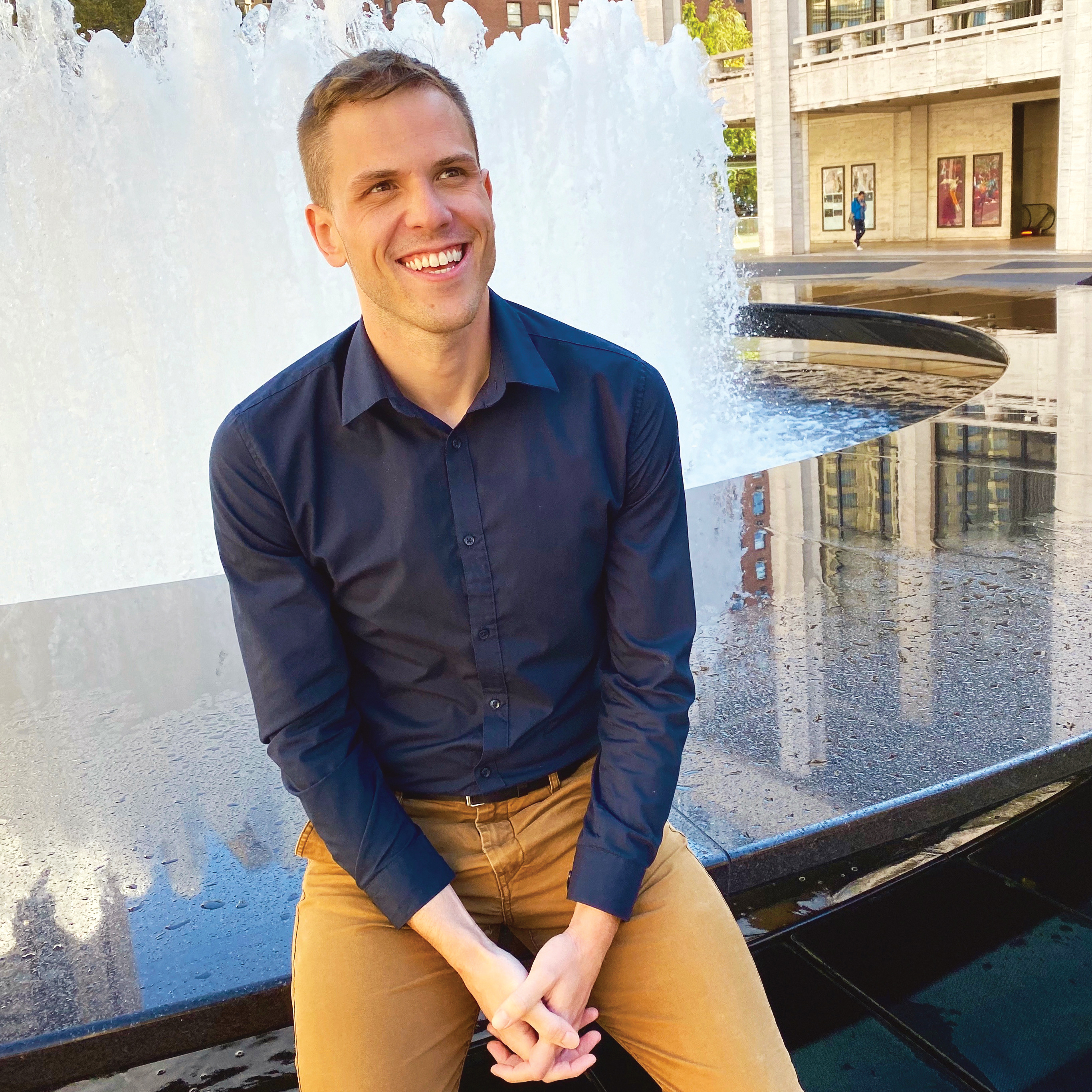 Chicago native Matt Wolford's (BM '10, trombone) introduction to orchestral operations was on a work-study crew that set up and tore down chairs and music stands for orchestra rehearsals. After getting his master's from Northwestern, he had a stroke of good luck when a new position was created at Juilliard just as he was starting to explore career options in orchestra management. Six years into his job, Wolford spends a significant portion of his time overseeing the work-study crew he'd been on as well as helping manage the infrastructure of the orchestra program, including making stage diagrams for concert halls and managing concerts from backstage. He also manages AXIOM, the new music ensemble.
How did you come to know you wanted to be a musician?
In kindergarten, I became obsessed with the tuba in Big Bird Discovers the Orchestra—I thought the sound was hilarious. So several years later, I signed up to play tuba for my junior high band program. Over time I switched over to bass trombone because, being a teenager, I wanted to play a louder instrument.
What are your nonmusic interests or hobbies?
I've always been curious, so I'm a big reader. I firmly believe that, with the right book and author, just about any topic or story can be fascinating and potentially life-changing. I don't discriminate between fiction and nonfiction as I learn just as much about the human condition from an amazing novel as from a psychology textbook. I do have a daunting To Be Read list.
What would surprise people about you?
I look vastly different now than when I was studying at Juilliard. After graduating, I had realized my health had rapidly deteriorated and that I had to make some serious changes. I'm now about 160 pounds lighter than when I was a student, which has led to some confused looks when I run into people who haven't seen me in a long time.
What's the most memorable job you've had?
In 2011, I worked on the stage crew for the Tanglewood Music Center and stayed in the old groundskeeper's house, which was adjacent to the main lawn. I'll never forget waking up to Earth, Wind & Fire's sound check.
What's the weirdest thing you've had to deal with as operations manager?
An operations manager for an orchestra helps make the physical reality of a composer's vision possible. For a Mozart symphony, this is generally straightforward as the instrumentation is small and conventional. However, for more modern works, more planning and effort are required. In 2015, the Juilliard Orchestra performed Pierre Boulez's Rituel in memoriam Bruno Maderna in David Geffen Hall under David Robertson. It breaks an entire symphony orchestra into eight chamber groups spread throughout the hall, and we had musicians on every tier and in every corner. The planning was extensive, but the end product was amazing.
Any meal, prepared by anyone, what is it?
Sushi. I discovered my love of sushi by, rather dangerously, eating at a dingy all-you-can-eat sushi place in Midtown the night before my audition for Juilliard. Since then I've become more discerning. My favorite sushi restaurant in the city is Marumi, a cozy and unassuming spot near NYU. The sushi is reasonably priced and always fresh and delicious.
What are you reading?
I'm inhaling Ronan Farrow's Catch and Kill, which details the exposure of Harvey Weinstein and Matt Lauer as sexual predators and can read like a thriller.
When I was a student, it was difficult to find time to read outside of required readings for humanities courses. In hindsight, I wish I'd prioritized reading for myself more. Reading freely and widely not only helps you learn more about your interests but also discover completely new interests, which ultimately makes for a more enriching life.
What question do you always get asked?
"Can I borrow an instrument from the Orchestra Office?" Juilliard is fortunate to have an excellent auxiliary instrument collection for woodwinds and brass that students can borrow for orchestra concerts and auditions.
Any advice for current students?
I vividly remember at times as a student feeling like I was drowning and not keeping up with the high expectations I'd set for myself. My instinct was to isolate myself from others and turn inward. In hindsight, this was the opposite of what I should have been doing. Engage in conversation and collaborate with students from other divisions. Go to whatever the latest fun activity the Student Affairs staff has cooked up for you. Attend as many Juilliard performances and recitals as you can. I promise this will give you some much needed perspective on how you are exactly where you are supposed to be and that you're a worthwhile addition to the Juilliard community.