As my last days here at Juilliard approach, I want to reflect on the amazing work, across all divisions, that has driven and will continue to drive my artistry. Here are my top five all-time favorite Juilliard performances:
DRAMA: Appropriate by Branden Jacobs Jenkins
I have always admired the practice of Juilliard drama students. They arguably have one of the busiest schedules on campus, spending hours honing their diction, physicality, and hundreds of other skills I can't even fathom. In their first two years, they do not perform for the public or even for the Juilliard community, so when they finally make their debut in their third and fourth years, audiences are left awestruck. Such was the case when I saw the fourth-year production of Appropriate, written by playwriting alumnus Branden Jacobs Jenkins. The plot itself is thrilling and darkly comical: it depicts the reunion of estranged siblings in their deceased father's home in the American South, where they must decide how to divide his estate. They unearth some disturbing relics from his life and must confront his tarnished legacy as well as their own interfamilial wounds. Every actor in the play developed their characters with both eloquence and guttural human instinct. They felt so unbelievably real, like I had met them before. I left the performance with a newfound admiration of my drama colleagues.
MUSIC: Flight by Jonathan Dove
I must confess that I know very little about opera—I'd never even seen one before I came to Juilliard. The first one that I saw, as part of my freshman Colloquium class, was absolutely outstanding. Called Flight, it's by Jonathan Dove and it's unique in that it's both modern and written entirely in English. It takes place in an airport, where an array of peculiar traveling characters cross paths—including a refugee, the tower controller, flight attendants, a married couple, and a pregnant woman. The plot is dramatic (as is conventional with operas) but also witty, comical, thought-provoking, and absurd at times. I was astounded by how the singers so expertly conveyed a narrative, both linguistically and emotionally. Their voices were powerfully angelic. Additionally, the live orchestra—the Juilliard Orchestra—played phenomenally. The sound ventured far beyond traditional opera music, with sharp percussion and energetic rhythms. Flight was a beautiful intersection of tradition and innovation.
DANCE: Por vos Muero by Nacho Duato
Because dance is my home turf, I have seen almost every Juilliard dance performance in the past four years. There are so many standouts that I could have written about, but I have decided to go with Por vos Muero by Spanish choreographer Nacho Duato, which was performed at the Spring Dances concert in 2017. "Por vos Muero" translates to 'for you, I die,' a line from a poem by Garcilaso de la Vega. Nacho gathered de la Vega's romantic pieces, along with some hauntingly melodic songs from 15th- and 16th-century Spain, and created an ensemble dance around them. There is the constant presence of duets in the work, with super intricate lifts and maneuvers. The dancers must draw from their ballet and modern technique, partnering skills, and dramatic intent in order to convey this gut-wrenching depiction of love. My peers brought Por vos to life as you would expect professionals to do. They impressed me deeply, and I'm still reeling over this piece's excellence (you can find part of it on YouTube if you're curious).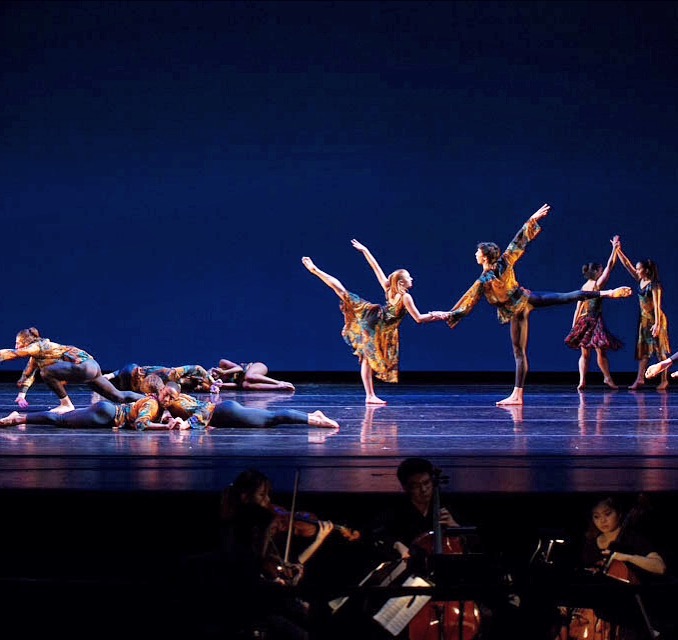 DRAMA: Cabaret
Another drama highlight is the annual third-year cabaret. I love this event because it presents the actors in a different light than traditional plays, giving them the opportunity to sing, dance, and convey narratives in new ways. They perform in an intimate drama studio that is arranged into a makeshift cabaret theater, with round tables, food, and drink! Some of my favorite numbers from the past few years include "I Won't Say I'm in Love" from Hercules , a modern rendition of "Anything Goes," and an original rap/song performed with piano. It's just another reminder of how versatile and talented the drama students are.
MUSIC: Juilliard Jazz Ensembles Performing at Dizzy's Club
One of my favorite Juilliard music experiences actually happened five blocks South of campus, at Dizzy's, one of the venues at Jazz at Lincoln Center. It contains that quintessential New York City jazz vibe, with dim lighting, a stunning view of Manhattan, and of course, amazing musicians. My roommate and I went one Saturday night when our Juilliard Jazz friends were performing a set. It was so inspiring to see them, as young, talented students, playing a professional gig for a packed club. They played magnificently, which was no surprise, but what struck me most was the band's sense of togetherness. They breathed together with a synchronicity that I aspire to do with my dance peers. Jazz music fosters a major sense of community— an important reminder that I take into my own practice.
Attend a student performance on campus.