We just finished our third-quarter rehearsal project: a storytelling project about our heritage.
Led by Israeli artist Ruth Kanner, we brought stories from our families, communities, or histories and shared them using diverse storytelling techniques. A lot of the work arose from improvisation. Together, we discovered gestures, sounds, rhythm patterns, images, and words that eventually made it to the actual showing.
From this process, something I will remember vividly was the work that would prepare us for the exploration of the texts. Our director would not call it a warm-up but rather the actual work. We would walk through the space; change directions; shake areas of the body that hold tension; explore density, weight, and speed; and liberate impulses. We not only did this work to unlock the stories in rehearsal, but it also to take us to our seats to start the showing.
In doing this project, for the first time in my life, I did not feel performance anxiety. Maybe it was because the material was so close to me—I shared real stories from my family—but I also think that shaking the body, releasing tension, and focusing on the contact of my feet with the ground let me discover another way of entering the space and being ready to work.
Nonetheless, dealing with performance anxiety is very personal. So, in order to share more insight, I asked my classmates to reveal some of their practices. These are some ways we transcend our nerves so they do not become obstacles to storytelling.
Know that you put the work in: This is a very important step. If you have done all the work, have fully engaged your imagination with the world of the story, the circumstances, the actions, etc., then you probably have a solid "playground." Now it's time to stop thinking about the structure of the playground and just go out and play, face the unknown and have fun.
It means you care: Make friends with your nerves. My classmate Jesse Epstein shared a beautiful insight: "I tell myself the reason I have performance anxiety is that I care." That liberating thought carries her through those long minutes before starting and puts her in a place of openness to target and receive her scene partners.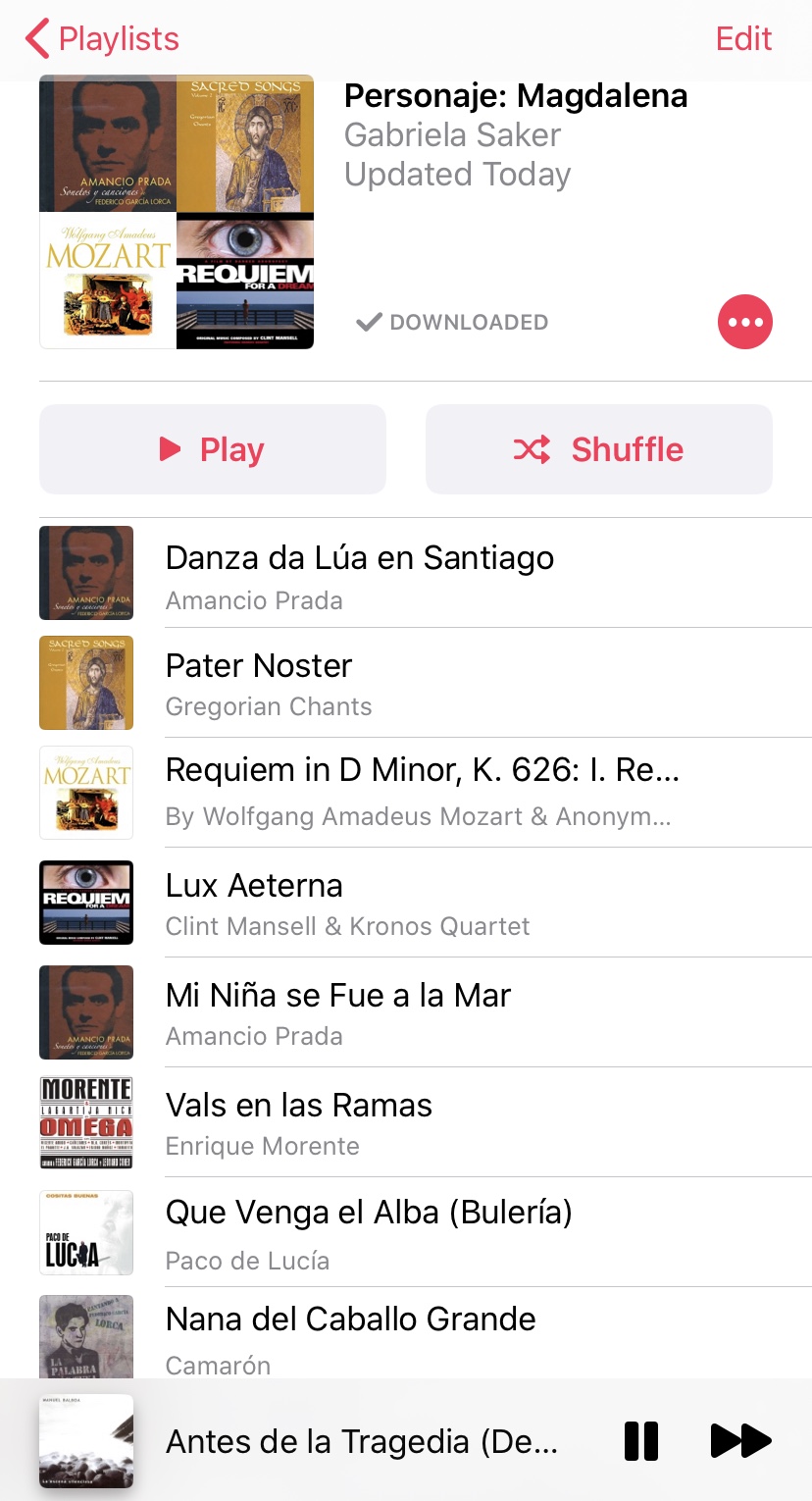 Put on some music: Whenever I listen to music before a performance, it's mostly related to the world of the play. I create playlists for my characters: songs that either meet the given circumstances of the play (time period, cultural context) or that resemble journeys or symbols that trigger connections to the play and allow me to ground myself. But you can listen to anything. If you struggle with anxiety or high-level energy, I would say that, based on the feedback from my classmates, icalming, soothing music might be the best bet. Or if you like to get hyped, a Beyoncé track can do the job.
Engender belief in the world of the play: This has worked for me in some projects in the past, especially when they're grounded in psychological realism and the given circumstances of the play are vivid and specific. In those cases, by the time I go up, I have done previous imagination work. Then, I just connect with whatever elements permit me to engender belief with the world of the play. It can be a small object, a piece of furniture, the texture of a skirt, the dimensions of the space, the eyes of a scene partner. This allows me to activate and inhabit this specific world and worry less about the nerves and the actor insecurities.
Clear your mind: If you worry about overthinking or focusing too much on what needs to happen in the play, you might want to follow another classmate's advice. Before going up, he tends to empty his mind as much as possible, so everything is unexpected. He sometimes even does it by playing video games—anything that can distract him from the demands of the play.
Connect with your body: Most of us agree that in order to ground ourselves, we need to come in contact with our bodies. That can mean working out before the call, so you can feel your energy pumped. Or it can mean stretching, lying on the floor, feeling each vertebra, freeing the neck, and lengthening the spine.
Meditation exercises: Another classmate's secret is a visualization technique that makes her imagine she's walking through fire and activating all her powers. This gets her in a place of readiness to face anything. Energy work, meditation, and visualization techniques can all be very effective and expansive.
Breathe: Before each of our showings, we get together in a circle and breathe. We lock eyes with each other and feel our ribs expanding. This practice really helps us settle and start the work, trusting the ensemble.
Attend a student performance on campus.