Juilliard dancers show their choreography at Dance Theatre of Harlem event 
By Alexandra Tweedley
Juilliard's dance program has many connections to Dance Theatre of Harlem (DTH). Robert Garland (BFA '83, dance) is the company's choreographer in residence, several Juilliard faculty members and alums teach there, and Alicia Graf Mack, dean and director of the Dance Division, is a former DTH principal dancer.
Throughout its 51-year history, DTH has been presenting the work of guests as well as their own artists to the community through its Sunday matinee performances as part of its social justice mission. Typically these are held in-person, but this year, the works and Q&A sessions with artists have been held over Zoom.
For the February 14 Sunday matinee, DTH is honoring ties with its alumni, and it's through Graf Mack's connection that three current Juilliard students will take part. First-year Isaiah Day and second-years Amari Frazier and Haley Winegarden will present filmed works they created for Juilliard's November choreographic workshop, which was held online. I spoke to them via Zoom to talk about their works and this opportunity.
Tell us about your piece and your inspirations for it.
Isaiah: 10th Ave. on October 10th was about me coming to school here, but more specifically, leaving my mom and Goddad in Chicago. The music ("Godspeed" by Frank Ocean) inspired me the most. My Goddad said the song really resonated with him and made him okay with me leaving and going to school. It brought him some peace.
Haley: I felt a drive about being back dancing and performing, and I wanted to set that tone for the rest of the year. It's a gift that we get to do this, and I wanted Returning to be exciting and get people motivated to be back to see art again.
Amari: As a dancer, there's a lot of struggle with proving yourself and being the best you can be, but through my piece, I was talking about the experience of being a Black dancer. I knew that my cast members have had those battles because we share the same experiences being Black and dancers. That's why I titled my piece make it enough.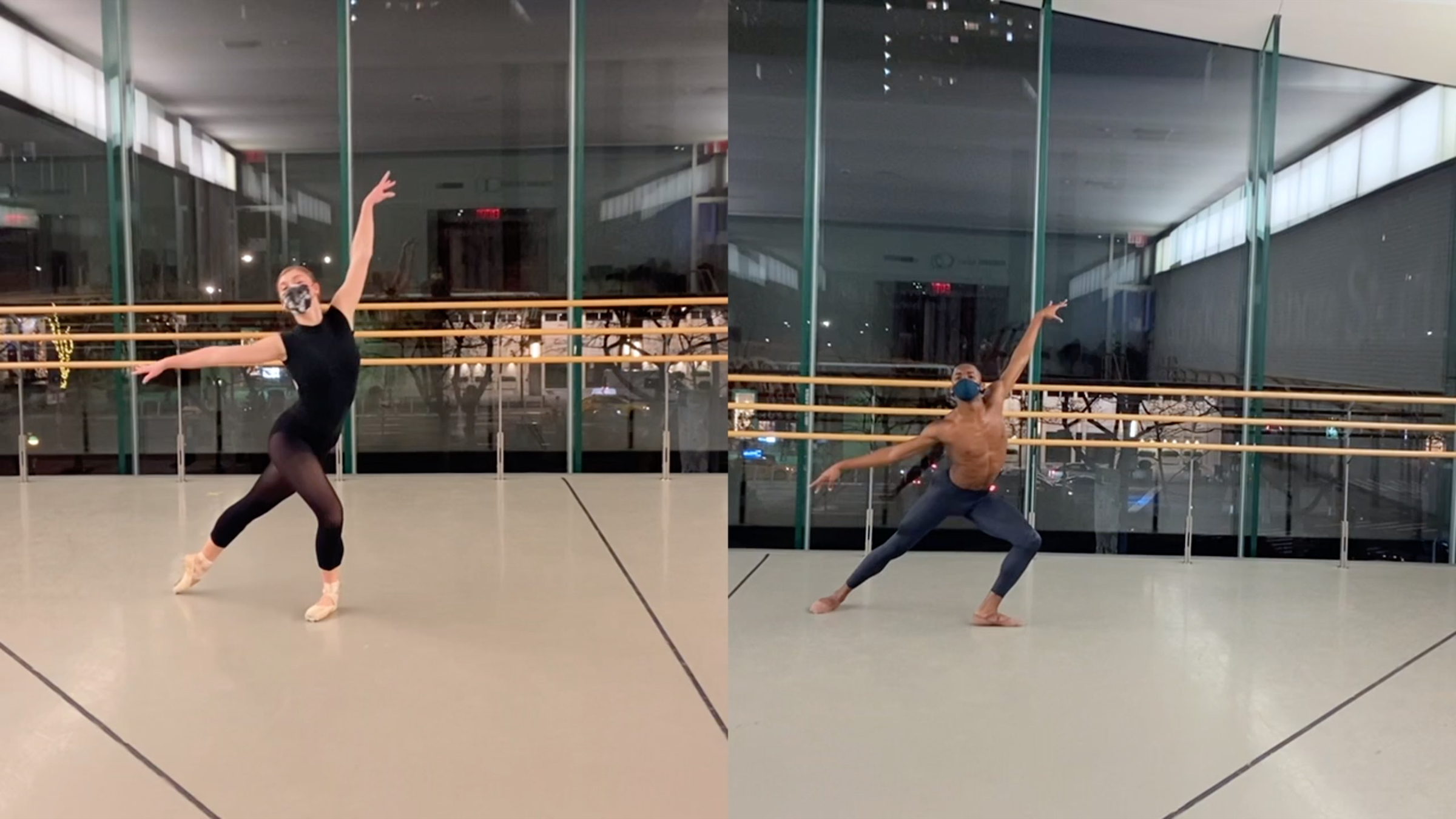 What was it like to choreograph for camera? How did it compare with choreographing for a live audience?
Isaiah: It was harder to choreograph for film because I wasn't sure if my message would come across clearly or if the audience could see or feel what I was feeling. But it was also easier as far as stamina because I didn't have to get onstage and do a full-length piece—I could break it up into segments. It was also fun to find places to film outside—it was cold but we made it work! And it was fun from a director's standpoint asking my [fellow first-year] Mykiah Goree, who helped me film, to film this way or pan that way and get that kind of experience—who knows when I'll have to use it on a larger scale.
Haley: I tend to make my film work like it would be onstage. The studio was sectioned off with tape, and during the first rehearsal [second-year dancer Jamaii Melvin and I] realized we could play with that and use it as measuring points for social distancing. I wanted the whole piece filmed in one take originally, but it turned out that's very hard in terms of stamina, so we ended up doing separate takes. I always kind of struggle with film work because the beauty of a live audience is that you can just lay it all out there and whatever happens, happens. If you fall, at least you were in the moment, whereas when you're doing film, it lives on. So you want it to be the best it can be but also feel authentic. It was definitely a learning experience—difficult but rewarding.
Amari: When I was filming Haley's piece, it was amazing because I got to see a live performance for the first time in a while. I filmed it after I finished my piece, and it helped me realize what I could have done better. I hadn't choreographed my own piece to be filmed outside; I did it originally for a live performance setting. Then I noticed how beautiful outside was and how that could really just be another layer in the video, so I changed and had to figure out locations that made sense to film. It was a learning experience, but it really helped that I let my ideas change and didn't just stick to what I started with.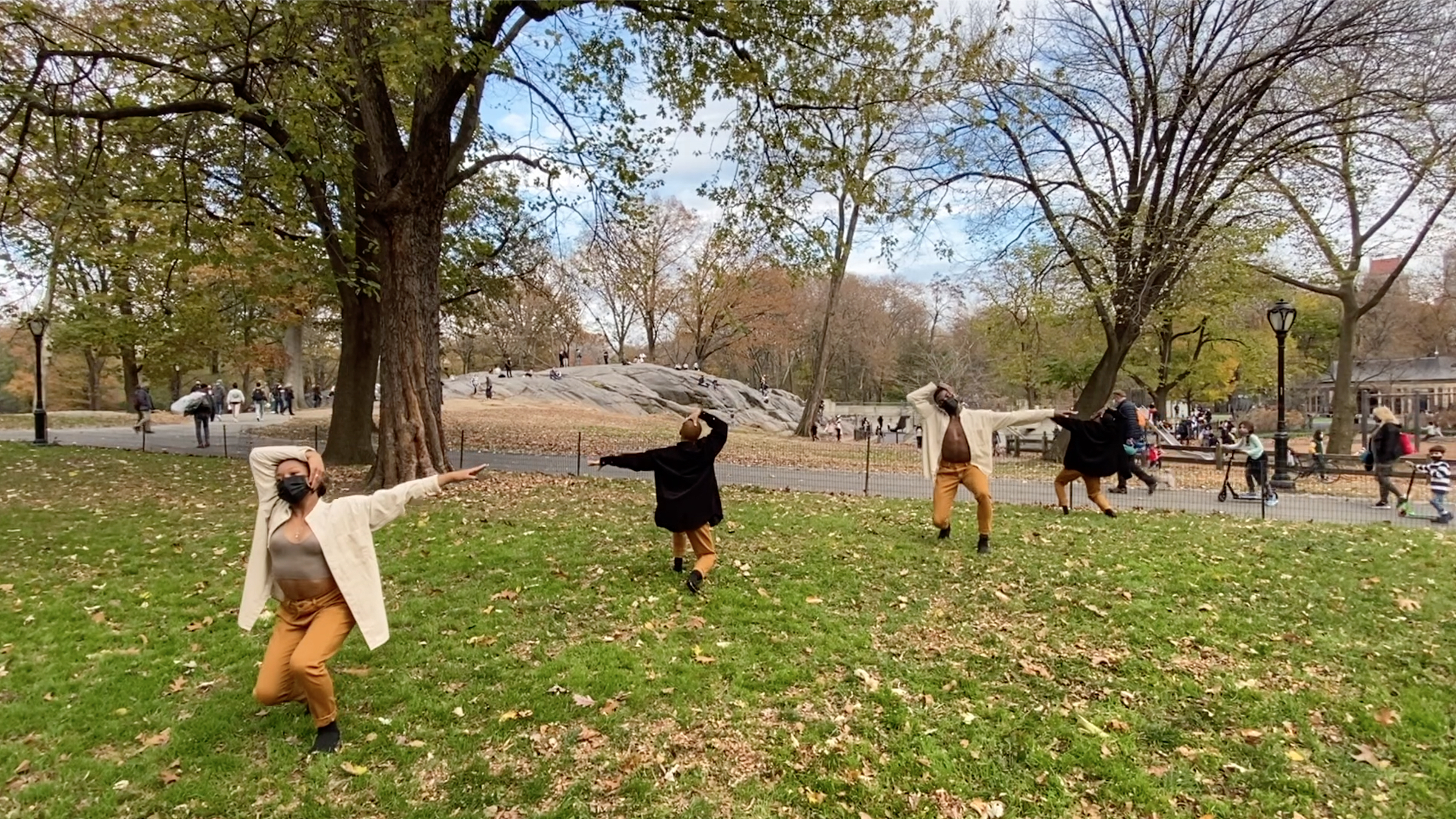 How does it feel to have your work be part of DTH's legacy of presenting New York City artists to the community? Haley: It's such an amazing company and an honor to get to have my work presented on their platform. I'm so new to choreography—the first full piece I choreographed was when I was a senior in high school—so just being at this point is such a testament to what a blessing this is from God. I'm so honored to have been given this gift.
Amari: I agree with Haley 100 percent—it's such an honor. I grew up watching DTH and looking up to those dancers, so having this recognition as one of my first works—it's just a wonderful experience that I wouldn't have thought I would have had, especially now.
Isaiah: I'm also super grateful for this to be the first thing that I've choreographed at Juilliard! I wasn't sure if I should do it because as a first-year, it's really nerve-wracking, but I put myself out there and did it. To have this kind of reward be the outcome is incredible. And to hear everything about DTH—how far it reaches back and what [founder] Arthur Mitchell did and stood for—and know that my work is going to be placed on this platform—it's just incredible. It makes me speechless.
Alexandra Tweedley is events and projects coordinator for the Dance Division
>You can purchase tickets ($7) for the February 14 Dance Theatre of Harlem Sunday matinee Zoom here