Return to Performance
By Noémie Chemali
In the fall semester of 2020, Carol Rodland (BM '91, MM '96, viola; faculty 2017–present), launched a collaborative project in which six of her students were paired with six composition students to premiere six new viola works. The violists and composers worked closely all year to deliver a recorded performance in May. For Professor Rodland, creating opportunities for her students to become engaged in the collaborative process with their composer colleagues has been a priority since she began teaching: "Since our repertoire is not as vast as that of our violin- and cello-playing colleagues, violists have a tradition of asking their friends to write pieces for them." It is in this spirit that these six new works were born, each differing greatly in style.
I played a piece by fourth-year composer Cem Güven, Reflections for solo viola, which symbolizes the mirroring of musical gestures and elicits extremes in sounds and textures of the viola's variegated color palette. When I received the score, I was excited to see that Cem used quarter-tones to add ambiguity to the melodic lines of the piece. This was something we bonded over as we discovered that we share a passion for Eastern musical idioms characterized by quarter-tones, which are common to his Turkish and my Lebanese heritage.
Second-year master's violist Carolyn Farnand and first-year master's composer Shelbie Rassler worked together on In a Field of Flowers for viola and piano. Rassler, noting that Farnand taught her about writing idiomatically for the viola, said that she and Farnand spent time reviewing and editing drafts together. The first draft of the piece had a completely different ending than the final version, which recalls the main theme of the piece to bring the work to a gentle close.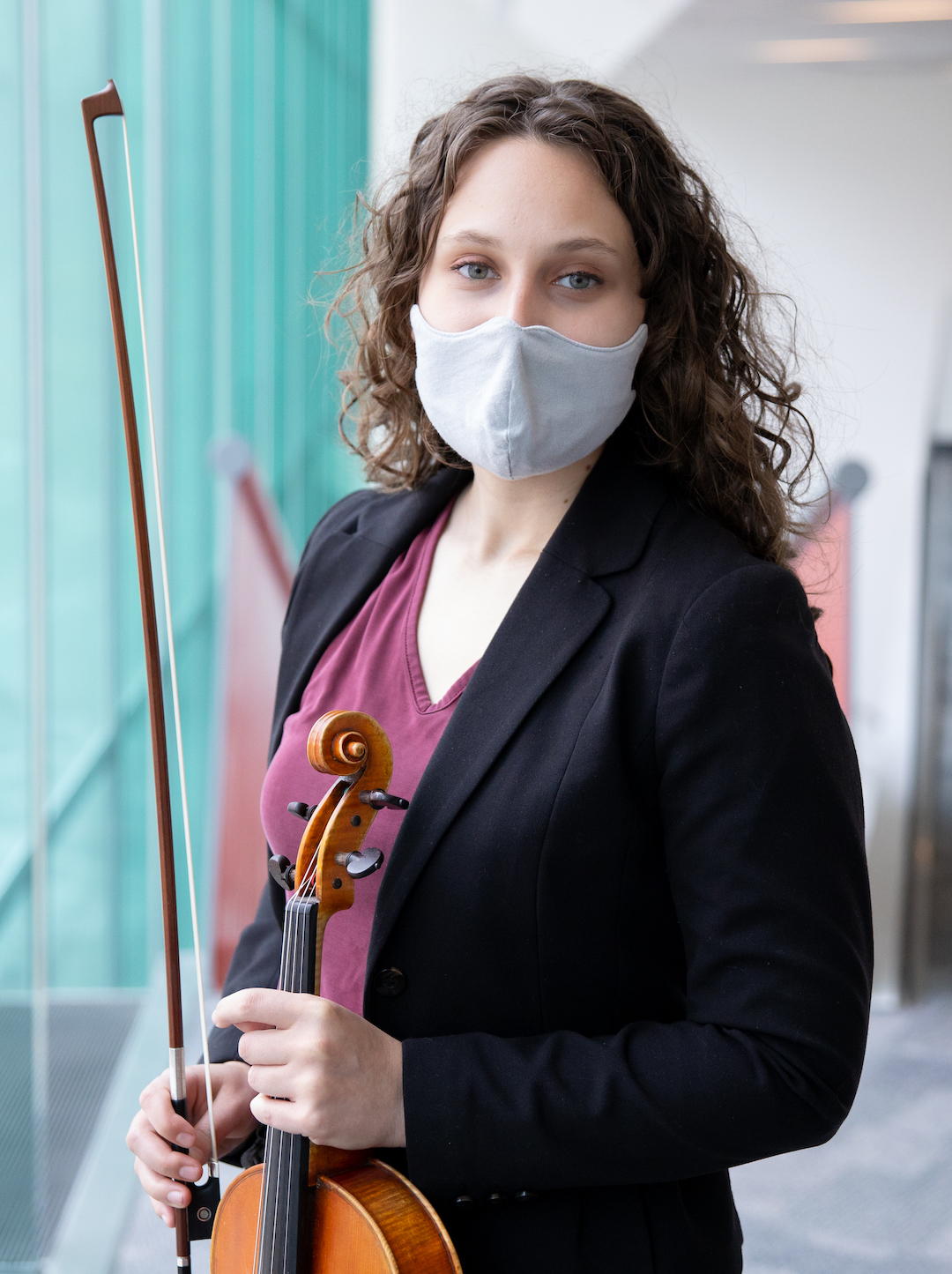 First-year master's composer Christian-Frédéric Bloquert and second-year master's violist Devin Cowan embraced the art of negotiation while working on Frost on Speckled Beams. "The real challenge came in the form of writing a piece that explored that potential while maintaining a level of idiomatic difficulty that makes it compelling for both the player and the audience," Bloquert said. For Cowan, the challenge was "finding the line between what was playable and just really difficult, and what was pretty much impossible." Together, they learned that it's better and more satisfying to have a working dialogue and to make something that's practical for both composer and performer.
Third-year violist Sean Juhl (Pre-College '18) had never worked with a composer on a commissioned piece before but enjoyed learning Water Song by second-year composer Louis Josephson. The work, for viola and piano, reflects a quiet evening looking at the water and noticing drops of water, big waves, and the slow current. Juhl noted how important it is for composer and performer to be open and ask questions during the collaborative process. In this case, the result was that his viola part "changed considerably from being more accompanimental to the piano to becoming of equal prominence in the work's texture."
Second-year master's composition student Corey Chang's The Power of Breath was premiered by first-year master's violist Yuchen Lu. The work is meant to mimic specific types of breathing patterns that Chang encountered while learning kung fu. Chang talked about how enjoyable it was to work with Lu, whose "brilliant technical ability was matched by his musical commitment." And Lu said the inspiration he drew from this experience was mutual.
Fourth-year viola undergrad James Kang premiered fourth- year composer Zachary Detrick's A Dragonfly's Dream for viola and hammered dulcimer, a percussion-stringed instrument indigenous to many folk music traditions. Detrick had been interested in the hammered dulcimer for about six years and finally got his hands on one and learned to play it during the pandemic. His piece tells a story by moving through a sequence of scenes including the Appalachian countryside, a medieval fantasy kingdom, a crowded Middle Eastern street market, and a dream space.
"I wanted to celebrate how this instrument is used not only in Appalachian folk music but in traditional music around the world," Detrick said. He found inspiration by improvising over a call with Kang in which they found ways for the instruments to interact with and imitate each other. While Kang was surprised at first by this unlikely combination, he said, "Hearing and playing with a hammered dulcimer has been a delightful experience." He added that he was "grateful to Zachary for introducing me to this incredibly resonant, beautiful instrument and for writing a charming piece that gives both the dulcimer and viola a spotlight—something that needs to be done more often!"
Noémie Chemali is a first-year master's student