New Student Orientation is a week-long series of programs to welcome new students and ease their transition into the Juilliard community. During this time, you will get to know your classmates, attend division-specific meetings, register for classes, and learn about the programs, resources, and services that will help you thrive at Juilliard.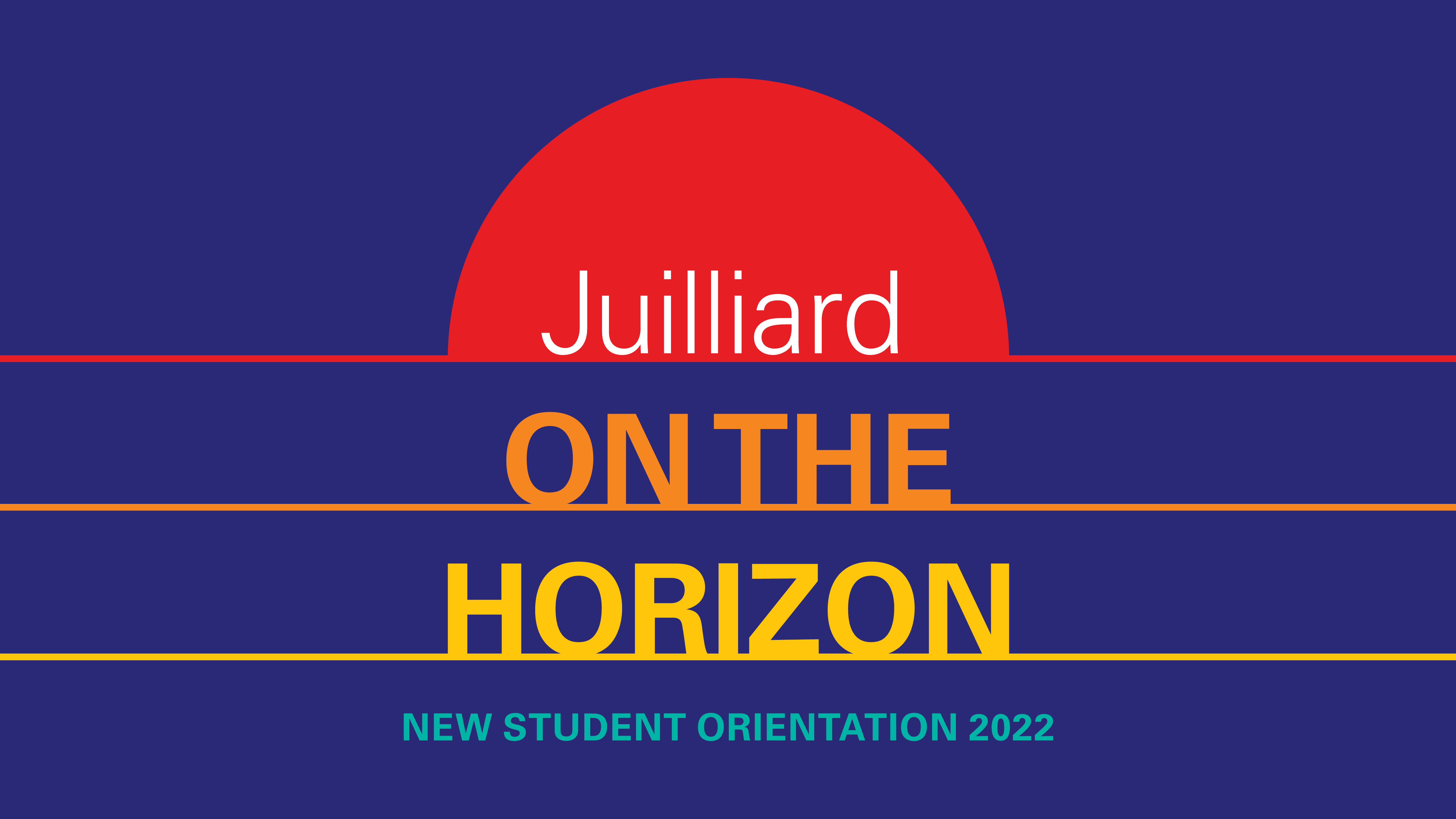 What You Need to Know
Welcome to New Student Orientation 2022! 
Juilliard is currently planning to re-open with in-person activities for the fall of 2022. However, all dates, activities, and information are subject to change pending changes to COVID safety guidelines. 
All new-to-Juilliard students are required to attend New Student Orientation. Listed below are important dates and information for new students. Students in specific populations such as current Juilliard students moving into a new program, international students, and students in BCJ Exchange, Artist Diploma, or DMA programs should review the Information for Specific Student Populations section below. 
Please click here for information on Family Orientation.
The 2022-2023 academic calendar is posted here.
Please check this web page regularly for updated information.
For more information about other departments, services, and programs, please visit the Campus Life section of the Juilliard website.
Important Dates
New international students
Residence Hall Move-In and Orientation Check-in: Friday, August 19, 2022, 10 am - 5 pm

International Student Orientation: Saturday, August 20, 2022, 10 am - 2 pm
All other new residence hall students
Residence Hall Move-In and Orientation Check-in: Saturday, August 20, 2022, 10 am - 12 pm
All other new off-campus students
Orientation Check-in: Saturday, August 20, 2022, 1:30 - 2:30 pm
All new BFA, BM, DIP, GD, MFA, and MM students
New Student Orientation: Saturday, August 20 - Sunday, August 28, 2022
Communications
All new students will receive a Juilliard email address in late May/early June. Once you receive your Juilliard email please check it regularly. New students will receive several communications during the summer with important information from various departments at Juilliard regarding Orientation and fall activities.  
See what our current students are up to and the programs and activities we offer by following us on Instagram and Facebook. 
Disability-Related Accommodations
The Juilliard School will make reasonable disability accommodations for students, guests, and patrons with disabilities. For information on the disability accommodation request process please visit the Office of Academic Support and Disability Services (OASDS) webpage. Requests should be made as soon as possible but no later than July 15, 2022, to ensure timely accommodation. 
Please email OASDS@Juilliard.Edu or call (212) 799-5000, extension 320 with any disability related questions or concerns.
Students in need of a disability housing accommodation should follow the instructions in the housing application.
Health Record Form and COVID Vaccine and Booster Requirement
All new students are required to submit the Health Record Form due August 1, 2022. All new students must be fully vaccinated and boosted (if eligible) for COVID-19 and must upload documentation. COVID-19 Vaccine and Booster information should be entered and uploaded into Medicat. New students can do this when they have access to Medicat in OKTA later in the summer. For further information on requirements, see College Student Immunization Requirements and COVID-19 information or email [email protected].
Updated May 18, 2022
Housing
On-Campus
In May, the Office of Residence Life will send information regarding the Meredith Willson Residence Hall housing application process. New students will have access to the residence hall housing application at the end of May. If you have questions about the housing application process, please email Residence Life at R[email protected]. 
Off-Campus
Students looking for off-campus housing resources can request access to our private Facebook group, the Juilliard Off-Campus Housing Forum. Apartment listings, sublets, and roommate requests are posted here for Juilliard students and alumni. Membership in this group is approved upon confirmation of enrollment.
The Office of Student Affairs will be hosting an online presentation about renting in New York City for new Juilliard students only. Please email OSA@Juilliard.edu to sign up for the presentation or if you have questions about off-campus housing. Students may also visit the Off-Campus Housing Resources web page for more resources.
Updated May 18, 2022
Late Arrival Request Process
Juilliard expects all new students to attend New Student Orientation. However, if you have a professional commitment or medical situation that could prevent you from participating in Orientation, you must email [email protected] to request a late arrival request form. Late arrival request forms must be submitted no later than August 1, 2022, and are not guaranteed to be approved.
Online Pre-Orientation Courses
All new students will receive an online pre-orientation course through Canvas, our Learning Management System. This course called the Juilliard Online New Student Orientation (JONSO) provides a wide range of information about the school, specific information for each student's program of study, and required placement assessments. 
International students will also be required to complete the International Essentials course, which explains vital immigration regulations. 
Both International Essentials and JONSO are requirements and must be completed by Thursday, August 18, 2022.
Information for Specific Student Populations
International Students
New international students are required to attend a specialized orientation on Saturday, August 20, 2022. International students will also receive specific information from the Office of International Advisement (OIA) regarding the I-20 request process and the online International Essentials course on Canvas.
Returning for Artist Diploma (AD), Doctorate in Musical Arts, (DMA), Master of Music (MM) or Graduate Diploma (GD)
Current undergraduate or graduate Juilliard students who are returning for an AD, DMA, MM, or GD degree program are not required to attend New Student Orientation or submit a new Health Record Form. However, you may have specific departmental requirements prior to the start of classes.
New Artist Diploma including Resident Quartets (AD) and Doctorate of Musical Arts (DMA)
All new AD and DMA students will be required to attend Orientation activities on Thursday, August 25, and Friday, August 26, 2022.
New Artist Diploma in Opera Studies (ADOS) students are required to attend the Vocal Arts Orientation sessions. Dates and times will be announced by Vocal Arts.
New DMA students will receive information over the summer regarding required DMA meetings and activities. (Dates and times to be determined).
International AD and DMA students should contact the Office of International Advisement for specific international orientation information.
Barnard-Columbia-Juilliard (BCJ) Exchange
Barnard or Columbia students enrolled in the BCJ exchange program are not required to attend the Juilliard New Student Orientation. You will receive information from Barnard or Columbia University regarding a mandatory meeting with Juilliard staff in late August.
Frequently Asked Questions
When will I get my residence hall room assignment?
Residence Life will send housing assignments in June.
What is my mailing address going to be?
You will receive your student mailbox number by mid-July. Once you have your mailbox number, your mailing address will be:
[Your Name]
Student Box #
60 Lincoln Center Plaza
New York, NY 10023
How do I access my Juilliard email?
All new students will receive their new email addresses and instructions to access their email in late May or early June. Students who are having trouble accessing their email should email [email protected].
What are placement assessments, and will I need to take them?
Placement assessments are evaluation tools intended to reveal your knowledge and skill level so that you will be placed in the proper classes. Students will receive specific information about required placement assessments from Academic Affairs. Most placement assessments will be online before the start of classes.
When do I register for classes?
New students will register for classes during Orientation week.
Who do I contact if I have more questions about...
- New Student Orientation, Family Orientation, or off-campus housing resources:
Office of Student Affairs at [email protected] or (212) 799-5000, extension 200
- Move-in Weekend or residence hall assignments:
Office of Residence Life at R[email protected] or (212) 769-7400
- Immigration forms or International Student Orientation:
Office of International Advisement at [email protected] or (212) 799-5000, extension 358
- Health Form, insurance, or counseling services:
Health and Counseling Services at H[email protected] or (212) 799-5000, extension 282
- Financial Aid:
Financial Aid at F[email protected] or (212) 799-5000, extension 211
- Tuition and Fees:
Tuition, Fees, and Expenses at S[email protected] or (212) 799-5000, extension 231