Vocal Arts
The Marcus Institute for Vocal Arts's comprehensive curriculum is tailored to the needs of the 21st-century singer, who must not only sing but act, dance, analyze text, take on roles with significant physical demands, and interact with colleagues, designers, directors, and conductors from around the world. Faculty members will encourage you to progress at your own pace through weekly coaching sessions, specialized residencies with industry leaders, and numerous opportunities to perform on the opera and concert stage at the school, Lincoln Center, and New York City—the performing arts capital of the nation.
Our Faculty
Voice Teachers
Darrell Babidge, Chair
Elizabeth Bishop
William Burden
Amy Burton
Cynthia Hoffmann
Kevin Short

Senior Vocal Advisor
Marlena K. Malas

Distinguished Visiting Faculty
Lawrence Brownlee
Denyce Graves

Music Faculty
John Arida
Steven Blier
Karen Delavan, Music Advisor for Master of Music and Graduate Diploma
Bénédicte Jourdois
Justina Lee, Associate Artistic Director for Bachelor of Music
Kenneth Merrill
David Moody
Adam Nielsen, Associate Artistic Director for Master of Music and Graduate Diploma
Donald Palumbo
Diane Richardson, Principal Coach and Music Advisor for Artist Diploma in Opera Studies
Nicolò Sbuelz
Avi Stein
Howard Watkins
Gary Thor Wedow
Reed Woodhouse
Brian Zeger, Artistic Director

Dramatic Faculty
Mary Birnbaum, Dramatic Advisor for Master of Music and Graduate Diploma
John Giampietro
Anne Shikany
Stephen Wadsworth, James S. Marcus Faculty Fellow, Director of Artist Diploma in Opera Studies

Movement and Physical Development
Lauren Schiff, Alexander Technique
Jeanne Slater

Diction and Language Faculty
Stefano Baldasseroni
Marianne Barrett
Corradina Caporello
Kayo Iwama
Bénédicte Jourdois
Hemdi Kfir
Kathryn LaBouff
Glenn Morton
Nils Neubert
Nicolò Sbuelz

Career Development
Alexandra Day

History of Singing
Cori Ellison

 

 

 

 
Find Your Application Requirements
Let us help find your exact application and audition requirements. Our Applications Requirements Wizard will tell you everything you need to know about applying to Juilliard.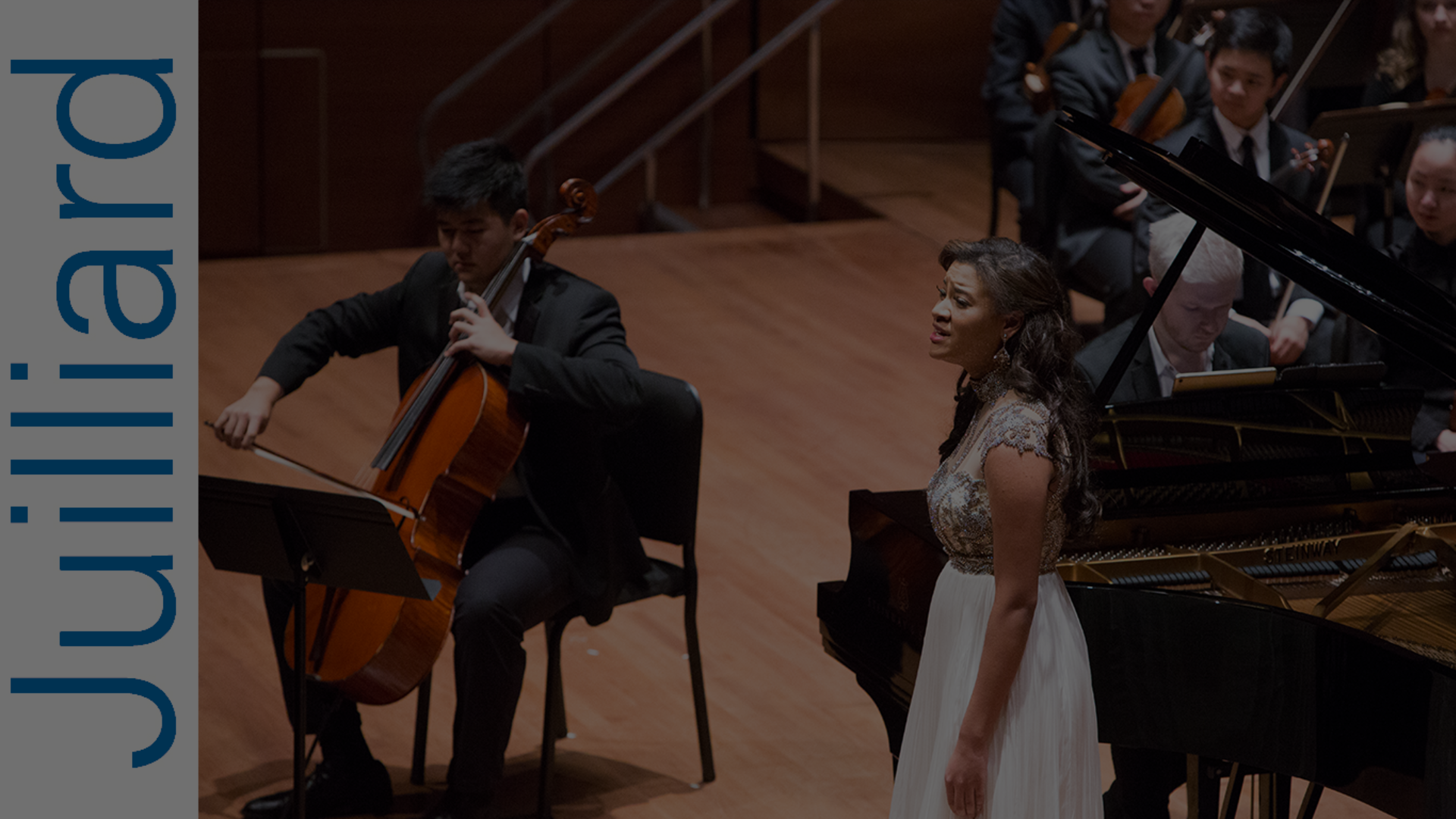 Juilliard Vocal Arts Overview
Core Experiences
Performance Opportunities

Performing before a live audience is an essential part of the Juilliard experience. Vocal arts students have an immense number of opportunities to perform at Juilliard, Lincoln Center, and beyond, including in fully staged and concert opera productions, opera scenes programs, performances at Alice Tully Hall, recitals like Liederabends and the Juilliard Songbook, and master classes with world-renowned singers and conductors like Joyce DiDonato, Fabio Luisi, Gerald Finley, and Emmanuel Villaume. 

Classroom Studies

The Music Division's main areas of classroom instruction—Ear Training, Music Theory and Analysis, Music History, and Keyboard Studies—complement your private lessons and performance experiences to broaden your understanding of the foundations of music and to provide a context for the music literature you study and perform. Juilliard's Center for Innovation in the Arts equips students with skills to compose and perform music using new technology, and offers hands-on experience with state-of-the-art equipment.

Coaching

At the heart of the Vocal Arts experience is the unparalleled access to the Marcus Institute's world-class coaching faculty. From Italian to Russian diction, from the styles of Monteverdi to contemporary opera, from acting to movement, the Marcus Institute's coaching faculty comprises a spectrum of specialists who are equipped to address almost any academic or artistic pursuit. All students from the undergraduate through Artist Diploma levels can request to work one on one with almost any member of the coaching faculty in order to help achieve their individual artistic, professional, and academic goals.

Liberal Arts

Whatever your discipline, your development as an artist will be deepened by a foundation in the liberal arts, which provides the humanistic, ethical, social, critical, and aesthetic background essential to personal development and professional excellence. All undergraduate degree students take classes in literature, philosophy, history, social sciences, arts, and languages – studies that will help you develop a deeper understanding of yourself and the complex world in which you live. Through your coursework in liberal arts, you will refine your skills in reading, writing, speaking, and critical thinking, and learn to communicate with greater clarity and effectiveness.

Entrepreneurship

In the changing cultural landscape, performers must think more creatively about their careers than ever. While some pursue positions in traditional settings, others are exploring new ways to create opportunities that are both creatively satisfying and financially sustainable. The Alan D. Marks Center for Career Services and Entrepreneurship encourages leadership, initiative, and entrepreneurial thinking, enabling young performing artists to develop a more expansive view of success in the 21st century. It teaches students the skills essential for success in today's entrepreneurial environment, with workshops in public speaking and business planning, panel discussions with industry leaders, and entrepreneurship residencies. It also facilitates more than 450 freelance performance opportunities for Juilliard students.
Reflecting on 'Teseo'
Mezzo-sopranos Alma Neuhaus and Megan Moore talk about rehearsing for Handel's Teseo, Juilliard Opera's first performance of the year
Contact Us
(212) 799-5000, ext. 261
[email protected]
Administrative Staff
Brian Zeger, Artistic Director
Emily Wells, Director of Administration
Andrew Gaines, Director of Opera Activities
DeAnna Sherer, Associate Administrative Director
Ari Bell, Production Administrator
Anne Shikany, Projects Administrator, Curriculum
Amanda Seal, Projects Administrator, Performance Activities
Jeremy Lopez, Schedule and Program Associate
Rebecca Hasler, Administrative Apprentice