Historical Performance
Juilliard Historical Performance is a full-tuition scholarship graduate program specializing in early music on period instruments. At the heart of the program is a distinguished faculty that includes some of today's most respected performers and scholars in the field. The department also enjoys annual visits from such esteemed guest artists as William Christie and Jordi Savall. There are ample opportunities to perform as a member of Juilliard415, the school's primary period-instrument ensemble, not only in New York, but also on tour, nationally and internationally. Auditions take place in either New York City or Paris, France.
Historical Performance, a tuition-free program
The Historical Performance movement began as a revolution: a reimagining of musical conventions, a rediscovery of instruments, techniques, and artworks that inspire and teach us, and a celebration of diversity in repertoire. It is also a conversation with the past, a past whose legacy of racism and colonialism has silenced and excluded too many voices from being heard. We do not seek simply to recreate what might have been, but to imagine what should be. We embrace Juilliard's values of diversity, equity, and inclusion, through voices heard anew and historical works presented with empathetic perspectives, and we reject discrimination, exclusion, and marginalization. We recognize that we study and work on the traditional homeland of those who preceded us, as stated in Juilliard's Land Acknowledgement. We are committed to collaborations with scholars and performers from a diverse range of viewpoints and backgrounds, and we seek to share the music we love so much in active engagement with the community around us. 
Our Faculty
Violin/Viola
Elizabeth Blumenstock
Robert Mealy
Cynthia Roberts
Rachel Podger, Visiting Faculty

Cello
Phoebe Carrai

Viola da Gamba
Sarah Cunningham

Double Bass
Douglas Balliett

Flute
Sandra Miller

Oboe
Gonzalo Ruiz

Bassoon
Dominic Teresi

Horn
Todd Williams

Trumpet
John Thiessen

Baroque Music Theory
Charles Weaver

 

Plucked Instruments
Daniel Swenberg
Charles Weaver

Harpsichord
Béatrice Martin
Peter Sykes
Béatrice Martin, Visiting Faculty

Recorder
Nina Stern

Continuo Skills
Avi Stein

Baroque Vocal Literature
Avi Stein

Core Studies
Robert Mealy
Thomas Forrest Kelly
Peter Sykes

Artists in Residence
William Christie

Improvisation
Charles Weaver
Peter Sykes
Find Your Application Requirements
Let us help find your exact application and audition requirements. Our Applications Requirements Wizard will tell you everything you need to know about applying to Juilliard.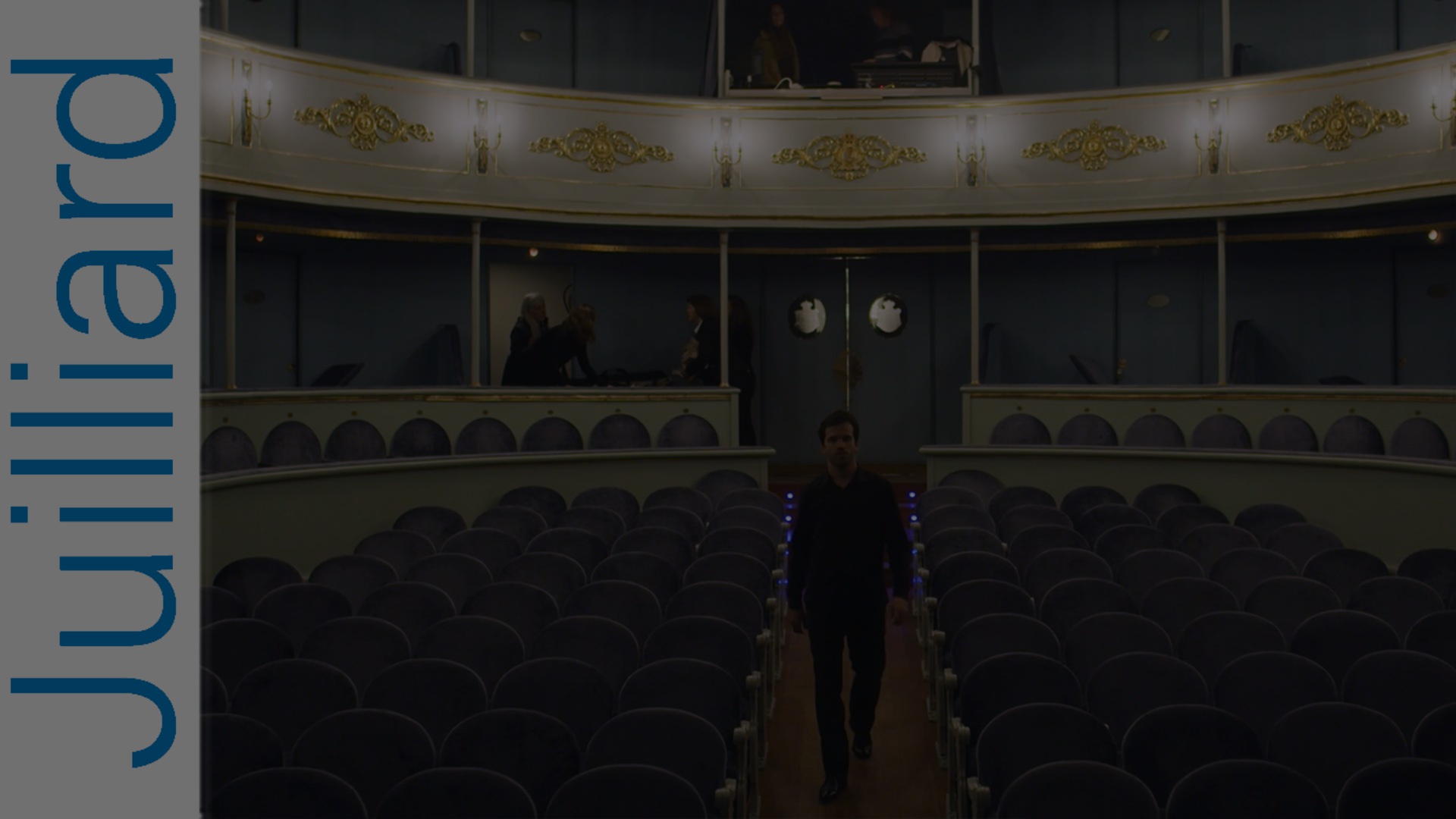 Ignacio Prego, Harpsichordist | Life After Juilliard
Core Experiences
Performance Opportunities

Historical Performance students have a wealth of performance opportunities both as a large ensemble and in smaller chamber groups. Juilliard415, the department's larger ensemble, is regularly led by William Christie, Jordi Savall, Rachel Podger, and other world-renowned musician in concert in New York City and on national and international tours. Students also regularly perform in master classes, chamber concerts,and recitals at Juilliard and around the city.

Secondary Lessons

Our robust program of secondary lessons opens opportunities for non-H.P. majors to study period instruments with members of the H.P. faculty. As a classical violist, for example, you can opt for lessons in Baroque viola; a modern horn player can try out the natural horn. Or a Baroque cello major may request a semester of lessons in viola da gamba. As is the case with H.P.'s tuition, these lessons are offered free of charge.

Entrepreneurship

A life in early music presents the chance to create your own career path and follow your own vision of success. Students in the H.P. program gain a unique view of the landscape of early music through regular contact with some of the most esteemed musicians in our field, a dedicated administrative staff, and with the guidance of an international faculty of expert educators and high-profile performers. Since historical performance is primarily a collective type of music-making, we emphasize community and collaboration and offer career guidance on a personalized level. Through the Alan D. Marks Center for Career Services and Entrepreneurship, you can cultivate a sense of leadership and develop the skills essential for success in today's entrepreneurial environment with workshops in public speaking and business planning, panel discussions with industry leaders, and entrepreneurship residencies. The Marks Center also facilitates more than 450 freelance performance opportunities for Juilliard students.

Postgraduate Opportunities

During your time at Juilliard, you will meet the leaders of our field. As you prepare to graduate, you may be selected for a postgraduate fellowship with the English Concert or the Mercury Baroque Orchestra. Or you may join Les Arts Florissants and William Christie for our annual summer residency in France. The experiences you have at Juilliard will prepare you for professional life. The friendships you make at Juilliard will sustain you long after graduation.