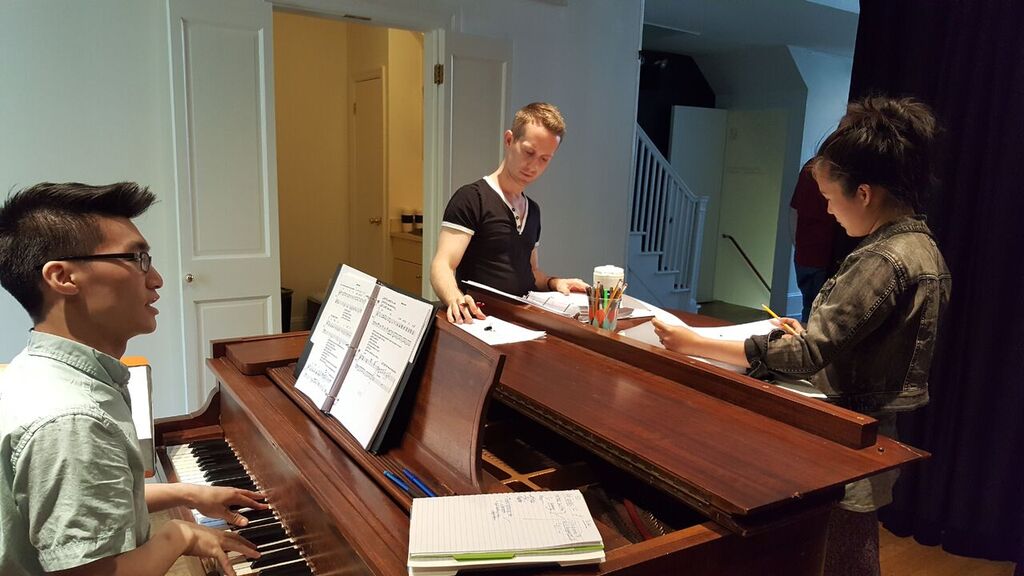 Summer plans can be an area of contention and subtle competition at Juilliard, so I wasn't surprised by the raised eyebrows when I told fellow students I'd spend my summer music-directing Bastard Jones, an Off Broadway rock musical. What does that have to do with my schooling as a contemporary classical composer? Well, it turns out that leading a brash, bawdy rock musical with a score that would have shocked even the gutsiest Straussian was my most exhilarating summer ever—and it had everything to do with my classical training.
Last January I ran into a Broadway writer I knew at the New York Performing Arts Library. Two years before, I had unsuccessfully applied to assist with a show of his, but now he was looking for a music director for a show premiering in June, with rehearsals beginning in May. I auditioned, the stars aligned, and got the job, complete with six-show weeks over two months, nine Equity actors, a five-piece rock band, and all the blood, sweat, and tears endemic to the run of a musical.
The music director teaches all the songs of the musical, covering everything from solo to ensemble numbers, melodies and harmonies, counterpoint, and entrance cues and rhythms. How was I, a rookie, to start? For one thing, I was able to draw on having spent the last two years as an Ear Training teaching fellow—and having to lead sassy, ridiculously talented music students through a set curriculum in just 50 minutes had showed me how to teach any material thoroughly and quickly. Thus I always ran music rehearsals efficiently and even ahead of schedule. (Plus, for those who know Ear Training, I went all "Starer" on my singers by clapping my hands at dazzling tempos to demonstrate rhythms.)
The music director also accompanies the staging rehearsals, plays all the incidental music, and learns all the dramatic cues, ranging from a subtle light switch to a quick passing move in an intricate fight sequence. This is where my skills as a composer came into play—countless times I had to extrapolate a quiet soft underlay to a Shakespearean balcony scene using a previous song's motif as well as composing an extended etude of walking music when the walking scene ended up taking longer than planned. My comfort in being flexible with providing original music on the spot is something I learned from risk-taking as a composer, and the fact that these musical cues remained in the show is, I think, a testament to years of studying good compositional choices.
Starting tech week, the music director leads the band, and generally with smaller productions also plays keyboards, which I did. Via a live camera feed, I was projected to a screen at the back of the house upon which I could cue and conduct the singers and thus run the show. My success in keeping the band together despite a tight schedule and limited rehearsal time I attribute to Jeffrey Milarsky's (BM '88, MM '90, percussion) stellar Orchestral Conducting course. And when props or lighting cues went awry or actors forgot their lines, I found that a strong downbeat and a secure ictus were often the only ways to ensure that the show would go on.
The most significant area in which my classical training played a role, however, was not in anything skillsor music-related but rather with my presence in the workplace. The music director is the sole member of the original artistic team to remain with the production throughout the run, and s/he keeps up the quality of the musical. I found that the task-oriented professionalism instilled in me from my classical training gave me the capacity to ground myself and say, "I have a job to do, I need to give a downbeat. Done. Here I must conduct in four at quarter note equals 152 and cue the singer five bars in. Done. Cue the guitarist, watch for lights," and so on. Beyond the performances I walked a thin line of being the youngest member of the production and having a huge amount of responsibility, but my vigor and work ethic allowed me to block out nervousness just as I managed to block out jitters before a high school recital or my Juilliard audition. Classical music trains one to be a professional and builds technique and ability that are solid and reliable. It transcends age to produce a functioning master, regardless of depth of experience.
Of course being a classical musician helped my music direction, but I was surprised that my work in musical theater drew so much on my years of training as a classical pianist and violinist as well as a dancer and chorister. That's because classical training goes beyond reading notes or executing développés. It's about being a teacher, a collaborator, and a professional as well as realizing one's full potential uninhibited by age, inexperience, or insecurity. And those elements—oh-so-classical yet unclassical—are skills for life.
Matthew Liu is a third-year composition student. He holds William Randolph Hearst Foundation and Janet Stull Baumgartner scholarships as well as the Hannah Komanoff Scholarship in Composition.