As Lawrence Rhodes, artistic director emeritus, retires, we look back at New Dances—this year's edition premieres December 6. This year's choreographers are Bryan Arias (first-years), Gentian Doda (second-years), Roy Assaf (third-years), and Gustavo Ramirez Sansano.
Soon after his appointment as artistic director of Juilliard Dance in 2002, Lawrence Rhodes set about to find ways to improve the program and found the performance calendar in need of an overhaul.
Back then, the only major show each year, in February, took the majority of the fall to rehearse. Casting for each dance happened after three or four days of auditions, after which choreographers and directors often wanted the same dancers, shutting others out entirely. Senior dancers came to Rhodes' office to complain that they'd gone four years without ever being cast. The process, Rhodes says, was a huge waste of time. "You might call it an experience for the dancers but I wouldn't call it a fun experience. It was grueling and took forever."
Larry's solution, New Dances, which began in 2003, is simple in design. Every year, a choreographer is commissioned to create a work for each of the four classes. The only parameter is that they have to use the entire class. By the end of their four years, all Juilliard dancers would be exposed to the process of four different choreographers and have appeared in four world premiere works. Simple production values and in-house costuming and light design would keep the production affordable. Rehearsals would occupy the fall term, leaving the spring for a repertory concert.
"Performance is part of training," Rhodes says, as is being a part of the creation process. Rhodes, himself a muse for many choreographers over the years, says of that experience, "you learn a huge amount about the choreographer, about their process, and what you can do to support and help them develop the dance." New Dances also lets students try on new movement and ways of working as well as new opportunities to find strengths and weaknesses. A dancer who may not respond as well to one artist's movement may the next year feel right at home. This experimentation helps direct the dancers to the right path after graduation—quite a few have gotten spots in the companies of New Dances choreographers with whom they worked as students.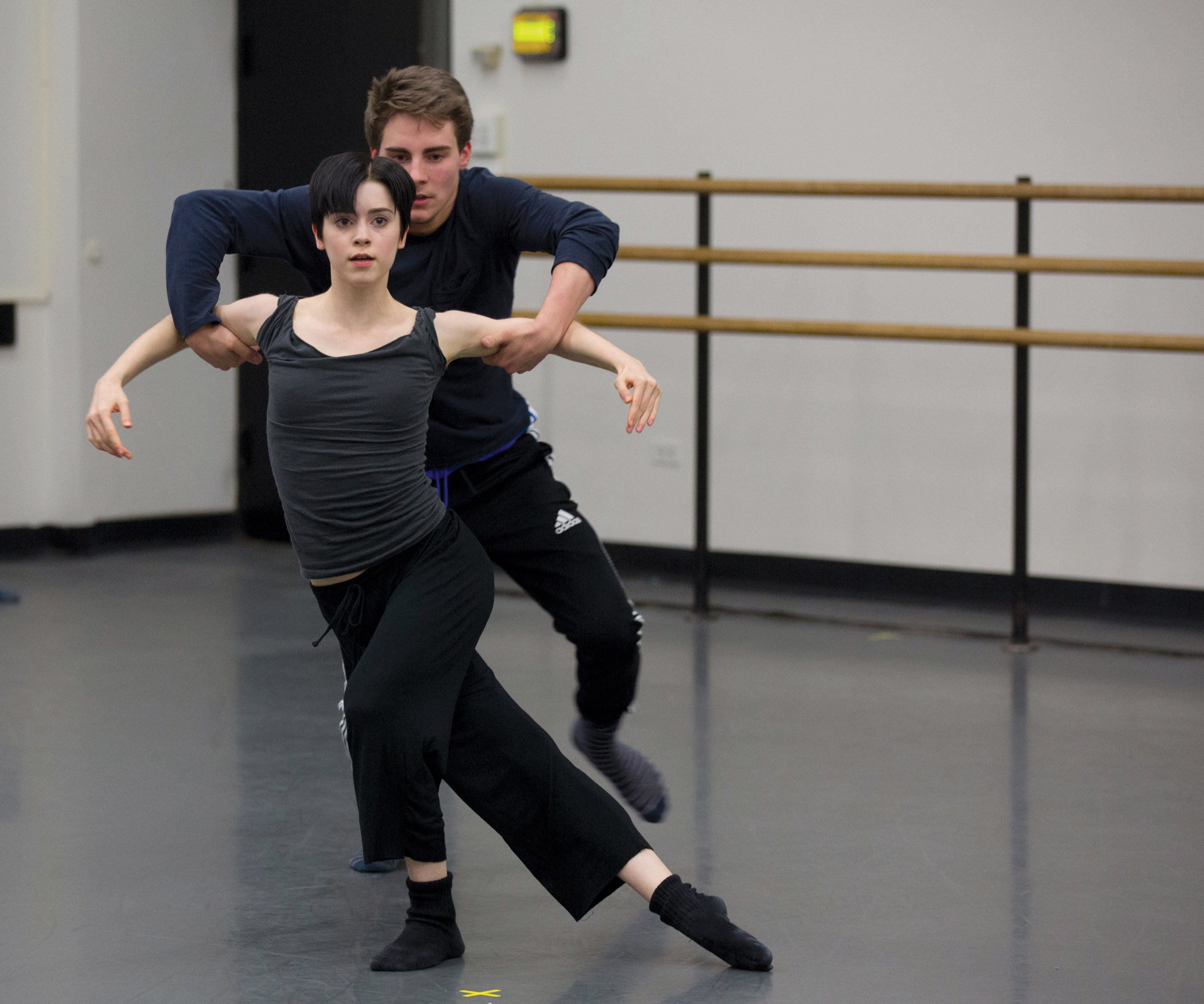 "When I walked into rehearsal I had no idea the choreographer I would meet would become the most formative influence for my career on stage and off," says Brandon Cournay (BFA '09), who recently became artistic associate of Keigwin + Company, the troupe he joined as a dancer soon after working with Larry Keigwin on New Dances in his senior year. Loni Landon (BFA 2005) says participating in New Dances "was instrumental in my discovery of being part of a creative process which in turn contributed to my pursuit of a career in choreography." In 2014 she came full circle when Rhodes invited her to create for the series—she says she "felt the same excitement as the day I received the acceptance phone call from Juilliard."
While Rhodes set out to improve life and education for the Juilliard dancers, another group has continually benefited from the New Dances project: the choreographers. The list of artists Rhodes has selected since the first premiere in 2003 reads like a who's who of contemporary dance. In his 50-plus years in the business, Rhodes has seen a lot of dance, not all of it good. If choreographers are being considered for New Dances commissions, it's likely Rhodes has observed their work for some time. They've come onto his radar by word-of-mouth, unsolicited DVD, or concerts he's attended. Above all, in the 14 years since New Dances began, Rhodes has sought out genuine choreographic integrity. "His belief in choreographic value trumps his personal taste and is reflected in the astonishing range and depth of work he has commissioned," says David Parker, co-founder of the Bang Group, who created for New Dances: Edition 2006.
The intimacy and length of the creation process means an especially strong bond is created between the artist and the class. For Camille A. Brown (New Dances: Edition 2012), being paired with the freshmen class meant a responsibility to give them the advice they needed to help them through Juilliard; she says she was "amazed by their growth" as she watched them over the next four years. Matthew Neenan (New Dances 2006, 2010, 2016) says Larry commissioned him "during pivotal and nascent moments in my journey as a choreographer. I had the extreme privilege to work with young world-class talent who are now having amazing lives and careers and who I hope to be connected with for a long time."
Rhodes, whose reputation as a teacher and director is widely known, has been an important mentor for many of the New Dances choreographers while they're here, and his support doesn't end once the commission is complete. Helen Simoneau, who choreographed for New Dances 2015, recalls, "Larry came by rehearsals regularly to check in, give the dancers valuable coaching, and offer me an incredible outside eye. He was very sophisticated in how and when he weighed in. He knows when a choreographer needs insight and access to his wealth of knowledge and when she needs to figure it out herself," she added. "He understood the delicate and powerful relationship of mentor/mentee. And knowing that he believes in my work has encouraged me to take bolder steps in my career." Aszure Barton says choreographing for New Dances (2006, 2009, and 2015) "has led to some of my deepest artistic relationships, and Larry's continued support over the last 14 years has been fundamental."
Since Juilliard does not keep dances in repertory, the work commissioned for New Dances belongs to the choreographers, and many have adapted it for their own companies. While some change the cast size, in the case of Brian Brooks (New Dances 2013), he invited Juilliard dancers to perform alongside members of his company when he took his piece, Torrent, to New York City Center's Fall for Dance in 2014. Many of the dances have been restaged since Juilliard. And the large casts, rentable costumes, simple production values, and high-quality contemporary choreography also make these dances especially attractive to dance companies and peer college dance departments.
New Dances: Edition 2017 premieres December 6, and once again all four years of dancers will return to bow together at the end of each show. That's deliberate on Rhodes' part—a reminder to the audience of the feat they've just seen, a production for 96 dancers. Since 2003, that's 360 dancers, 1,400 costumes, 48 choreographers, and tens of thousands of inspired audience members.
Take a bow, Lawrence Rhodes, bravo.
Sarah Adriance (BFA '95, dance), formerly the administrative director of the Dance Division, is the director of the Juilliard Summer Dance Intensive
New Dances Choreographers
2017
Bryan Arias
Gentian Doda
Roy Assaf
Gustavo Ramírez Sansano
2009
Andrea Miller*
Fabien Prioville
Larry Keigwin
Aszure Barton
2016
John Heginbotham*
Katarzyna Skarpetowska*
Pam Tanowitz
Matthew Neenan
2008
Sidra Bell
Darrell Grand Moultrie*
Johannes Wieland
Larry Keigwin
2015
Helen Simoneau
Aszure Barton
Zvi Gotheiner
Kyle Abraham
2007
Conlon Project:
Adam Hougland*
Nicolo Fonte
Robert Battle*
2014
Austin McCormick*
Loni Landon*
Kate Weare
Larry Keigwin
2006
David Parker
Matthew Neenan
Doug Varone
Aszure Barton
2013
Takehiro Ueyama
Brian Brooks
Darrell Grand Moultrie*
Pina Bausch* (repertory)
2005

Alan Hineline
Adam Hougland*
Jessica Lang*

2012
Camille A. Brown
Emery LeCrone
Susan Shields
Jarek Cemerek
2004
Janis Brenner
Susan Marshall
Ronald K. Brown
Robert Battle*
2011
Monica Bill Barnes
Alex Ketley
Pam Tanowitz
Alexander Ekman
2003
Thaddeus Davis
Jacqulyn Buglisi
Dwight Rhoden
Zvi Gotheiner
2010
Matthew Neenan
Raewyn Hill
Luca Veggetti
Stijn Celis
2002

Charlotte Griffin*
Adam Hougland*
* Juilliard alumnus