My family are fans of breaking tradition.
Our past Thanksgivings have taken place anywhere from roasting a turkey in a bag with our family in northern Arkansas to last year, when we cooked a beef stew and ate it with dear friends. For me Thanksgiving is about the ritual of preparing and sharing a meal in the company of people who make you view life in a more gratifying way. Its about taking a minute to reflect and to escape daily life. What other time of the year is it okay to spend days perseverating on a menu and table decor? Or to take hours developing the perfect mashed potato technique? You have to admit that Thanksgiving is about care that comes along with being thankful for something, for this care transcends place and time.
This year I traveled to Montreal with my mom, dad, dear family friend Kitty, and my cat and dog. We had a car packed full of bedding, dog food, and gourds for table decor. We must have looked like a motley crew as we crossed over into Canada, where Thanksgiving was merely a Thursday in November. Our first night we tried to acclimate to the single digit temperatures and to venture out a bit into the city. We managed to bundle ourselves up and go to a restaurant in old town Montreal. This is one of my favorite places in Montreal because it feels truly European. The side roads are narrow and encrusted with small boutiques and lavish hotels. The restaurant was warm, bustling, and wonderfully bilingual. Food simply tastes better when ordered from a chalkboard menu and served to you in a French accent.
The next day we started to cook. Kitty and my dad arranged the table decorations at our small table in our tiny one-bedroom apartment. While they arranged my mom and I roasted sweet delicata squash, and chopped endless vegetables. This year our menu was a more wholesome take on a Thanksgiving menu (although dessert featured decadent pies from the nearby Marché Atwater). My mom and I have basically perfected the art of not getting stressed about Thanksgiving. We don't usually have any cooking disasters because we don't follow recipes to begin with. For some reason we have a complete aversion to and ineptitude for following recipes. We love looking at cooking magazines and improvising off of the flavor combinations proposed—you can call us the jazz musicians of the home-cooking world.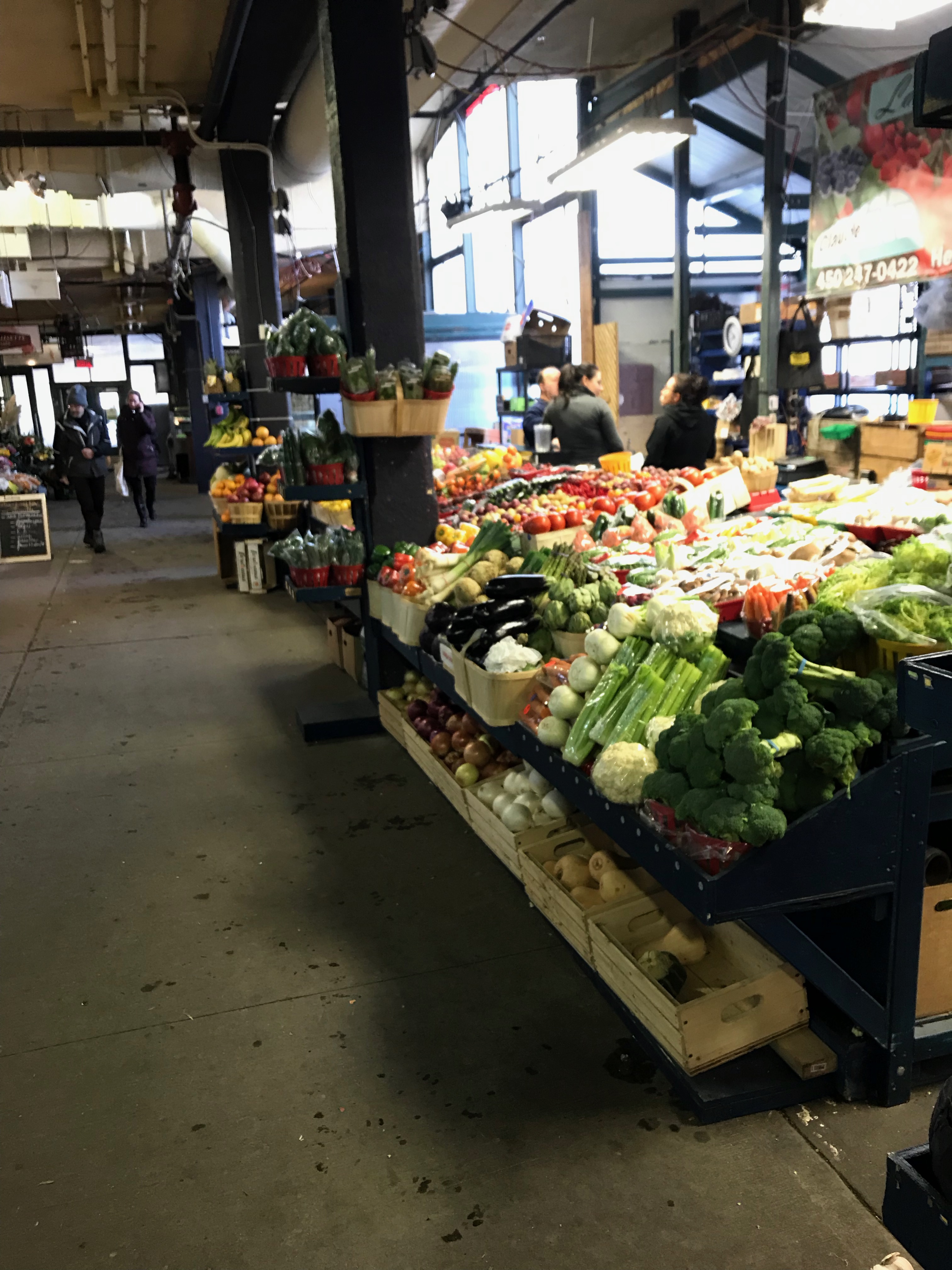 As the day wore on our small apartment became so filled with cooking smells that we craved a moment of the frigid temperatures. We ventured out to pick up pies and take a walk around the St. Henri neighborhood, which is young, vibrant, and hip. Coffee shops are sprinkled on the corners as are bold murals. For me Montreal is a vivid escape from New York. Culture abounds but in a more subtle and spread-out way. The subway is civil, the people move just fast enough, and almost all signage is in French. Montreal grounds me but also reminds me of all I have to be thankful of in New York. As I gathered around the table with my "chosen family" to tuck into a veggie-centric meal, I gave thanks for all that lies behind me, with me, and beyond me. I reveled in the beauty and community of my classmates, the support of my family, and, of course—the healing qualities of mashed potatoes.