Hyperrealist composer and former faculty member Noah Creshevsky has died
Noah Creshevsky (MS '68, composition; faculty 1966-69), a composer of hyperrealist music, died of cancer on December 3 at age 75 at his home in Manhattan. He is survived by his husband, David Sachs.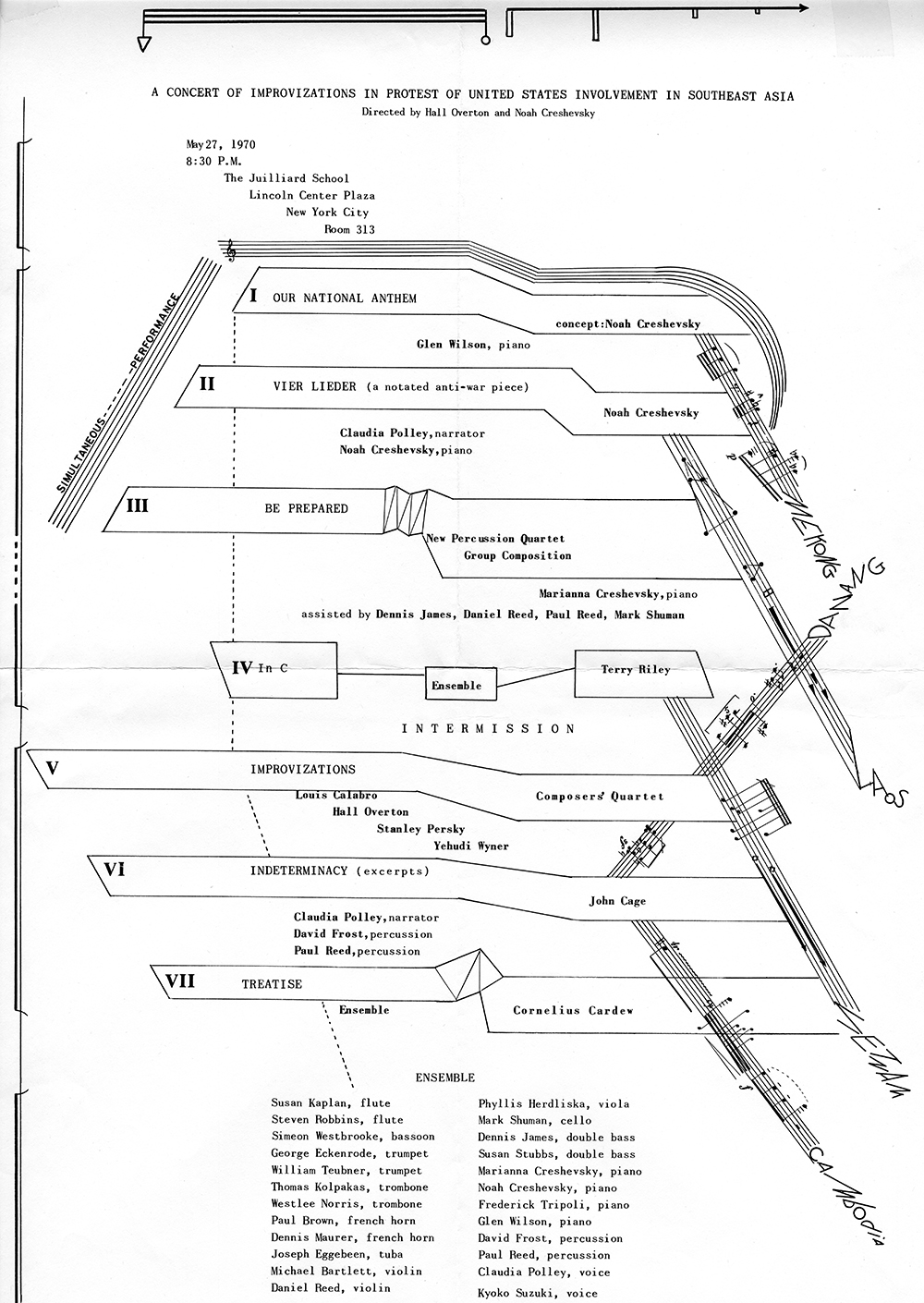 Creshevsky was born Gary Cohen in Rochester; his husband told the Times he changed his surname to honor his grandparents and his first name because he didn't like it. He started studying piano in the Eastman preparatory program at age 6 and received his bachelor of fine arts degree from the State University of New York at Buffalo, where he studied with Lukas Foss; he also studied with Nadia Boulanger at the École Normale de Musique in Paris. Creshevsky came to Juilliard in 1966, studying with Luciano Berio (faculty 1965-71) and teaching in the Preparatory Division while earning his master's. He also formed and directed the New York Improvisation Ensemble and served on Juilliard's Literature & Materials of Music faculty after graduating.
The summer after his first year at Juilliard, Creshevsky was the coordinator of music for the U.S. Anti-Poverty Program in the South Bronx; his activism would continue. In May 1970, when colleges around the country went on strike after National Guard troops opened fire at an antiwar protest at Ohio's Kent State University, Creshevsky and Hall Overton (BS '50, MS '51, composition; faculty 1960-72) directed A Concert of Improvizations (sic) in Protest of United States Involvement in Southeast Asia.
Creshevsky taught at Brooklyn College for many years, retiring in 2000, and directed its Center for Computer Music in the 1990s; he also taught at Hunter College. An interview with Creshevsky on the website Tokafi noted that in hyperrealism, "the listener is presented with perfectly 'natural' sounds, whose capacities are taken to extremes and beyond what was previously deemed possible. Creshevsky needs electronics to create these pieces, but his music is purposely unelectronic in its associations." His works were released on traditional and untraditional labels, among them Mutable Music, Tzadik, and Orange Milk. Creshevsky donated his personal archive to the New York Library for the Performing Arts.