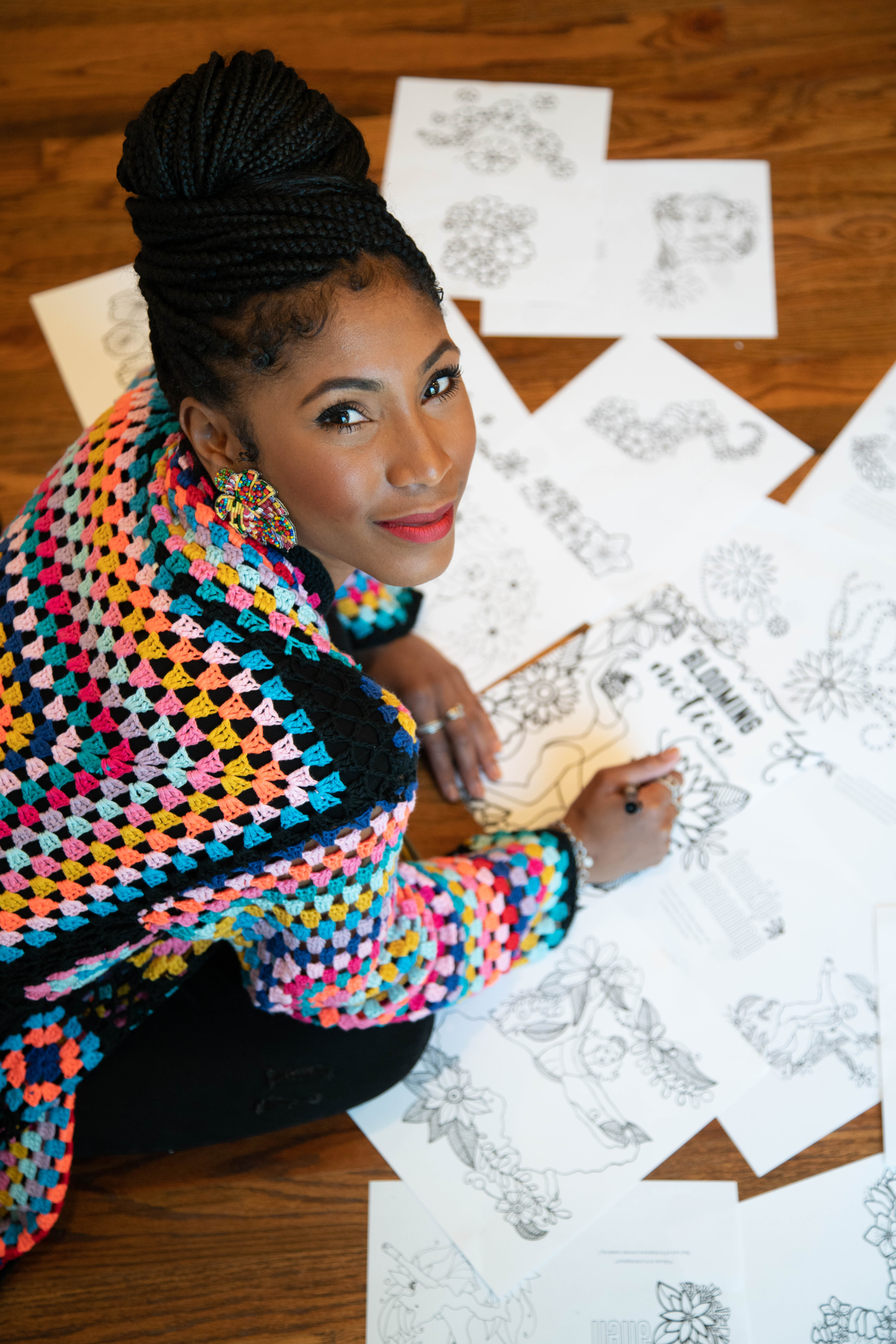 By Susan Jackson
Amber Pickens (BFA '15, dance) had always been a visual as well as a performing artist, but it wasn't until the pandemic that she would combine those two loves into a project that was published February 2. Called Blooming in Motion, it's a coloring book she describes as a "love letter to all the Black dancers that have paved and continue to pave the way for artists such as myself." Pickens' pictures of dancers are interspersed with quotes, bios, and drawings of flowers that she describes as "symbols of the gratitude toward the featured legends' sacrifice, perseverance, fearlessness, discipline, and eternal resilience." She spoke to Journal editor Susan Jackson about the book in January, shortly before making her film choreography debut in Passing at the Sundance Festival.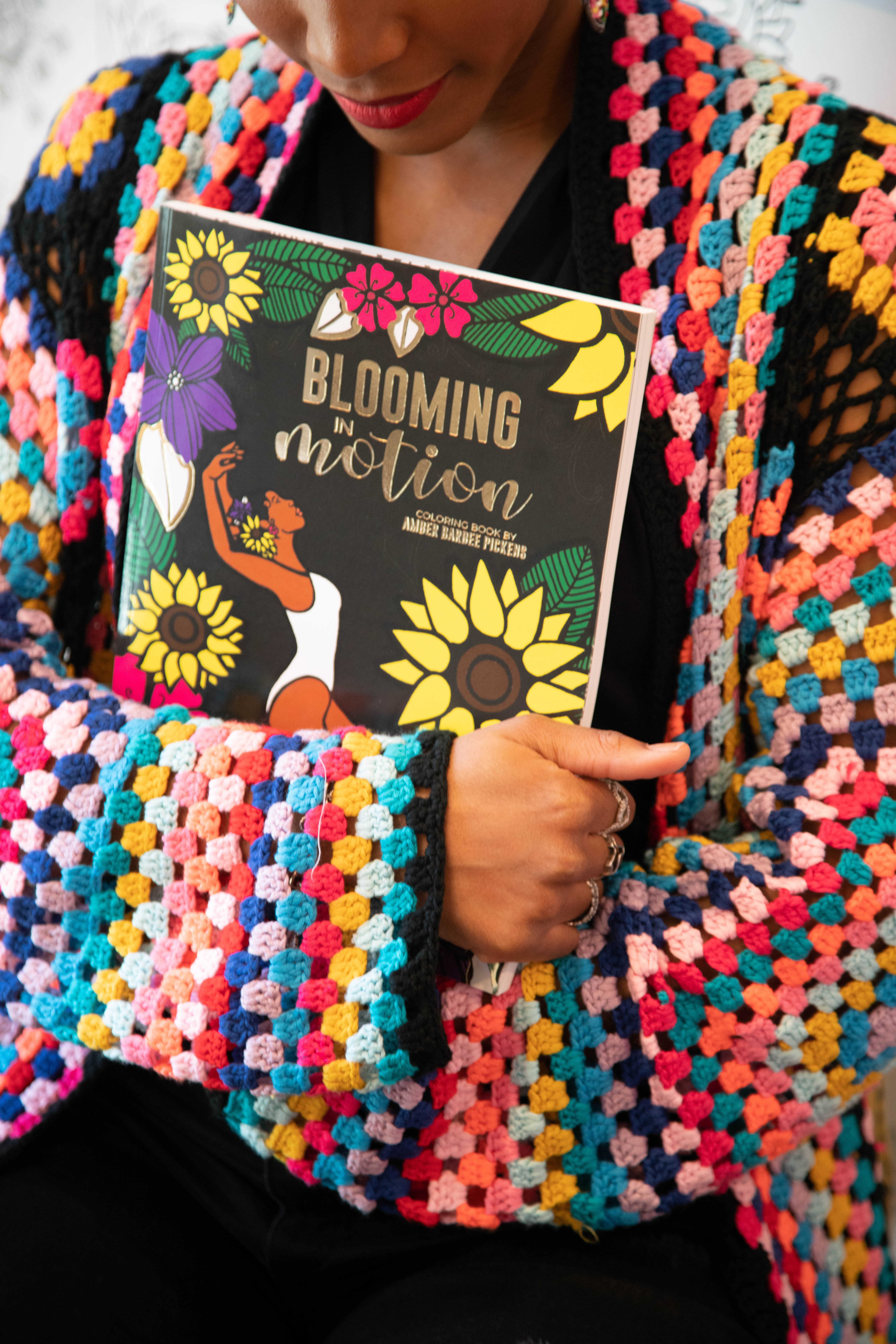 What inspired you to create a coloring book vs. another format?
I've always been a visual artist as well, though I eventually chose dance over everything else to predominantly focus on. But I'm a professional doodler, and the more I read about coloring books, I thought it would be a great idea to not only learn about old-school trailblazers but at the same time promote creativity and relaxation—it's a mini getaway from all the chaos going on in the world. Even if you're not hearing the music in the moment, there's something about seeing dancers that brightens my spirits and I'm hoping it does for everyone else, too.
One of the dancers you included, Debbie Allen, has said that she was proud to be included in your coloring book and that it's "important that young Black and brown girls see images of themselves that they can celebrate." Tell us about your relationship with her.
I started going to her dance camp when I was in fourth grade. She introduced all of us to so many new forms. She taught us so much and was such an ambassador for the arts. It's so important to daily acknowledge the shoulders we stand on. I partly made this book as a thank you to all these people.
You mention a Juilliard connection with one of the people in the book, Janet Collins.
In my sophomore year I was in a dark place for a while—I felt like I was in this Eurocentric environment and was wondering if my body was even right to dance. I didn't say anything, but in ballet class, Ms. [Andra] Corvino (faculty 1996-2014), she just knew. She wouldn't let me give up. And she told me that there was going to be a panel about Janet Collins, the first Black ballerina to perform at the Metropolitan Opera. She was short, she had curves, and having that representation meant so much to me. It just means so much to know your roots, especially as an African American woman.
Creating a coloring book seems like quite a process.
It was! For each design, you have to sketch it, trace it, scan it, clean it up. I was learning as I was going. For the first few, I was perfecting them way too much. I have a whole new respect for illustrators—I always did have that respect, but it's a whole new level now.
Markers, crayons, colored pencils?
I'm a colored pencil type of gal. They're fun because you get to do the fine lines.
Final thoughts?
There's been so much negativity and confusion in the world, but I've been trying to use this quarantine in a powerful, positive way and keep everyone around me positive. And when it's over, I don't want to go back to normal, I want it to be better and have a new energy. Whether you're an artist or not, I hope you'll walk into a space and feel a new energy.
>To buy Blooming in Motion at the Juilliard Store, click here