Creating New Dances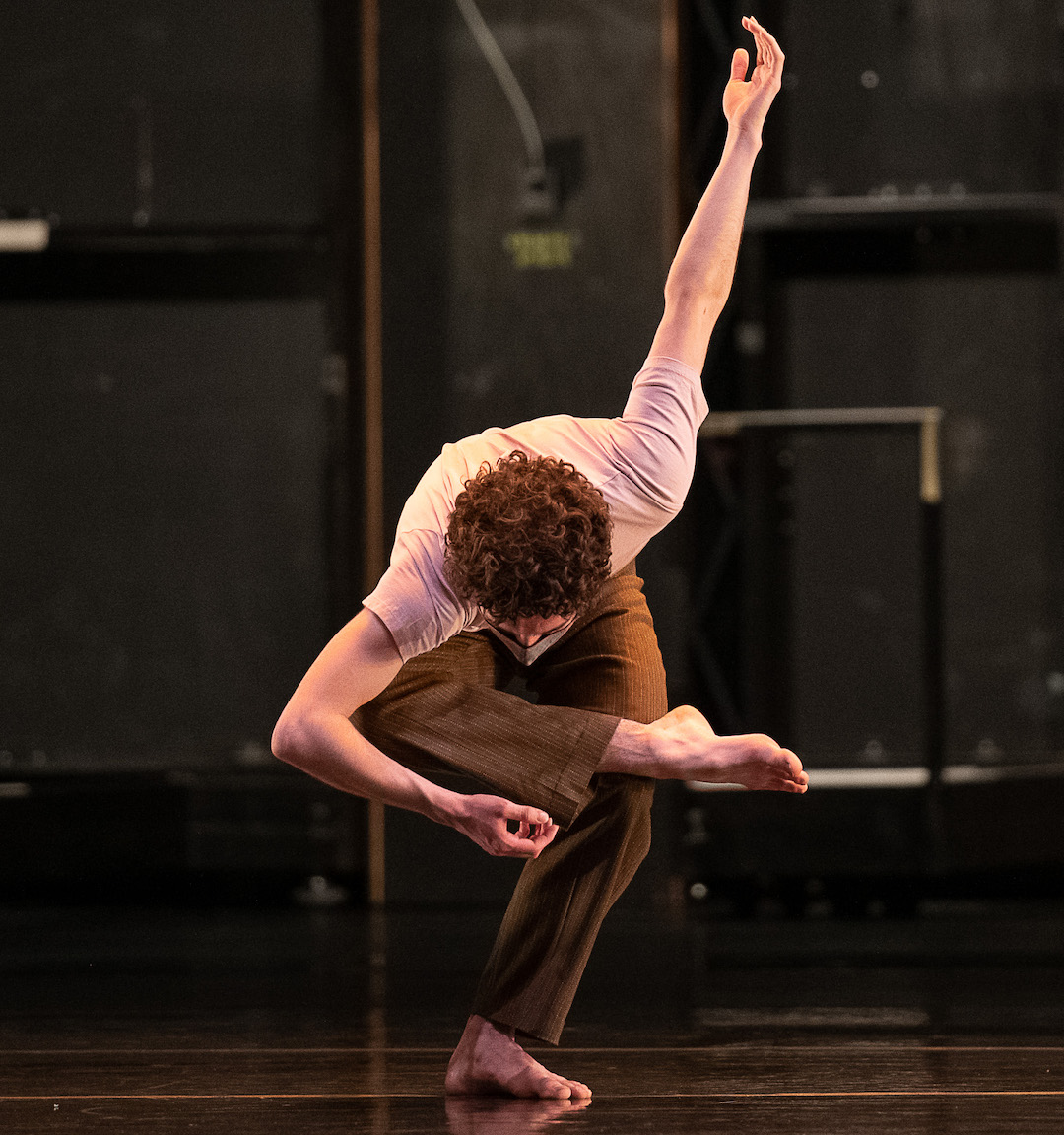 New Dances, the annual concert for which four choreographers create works on each of the dance classes, was, of course, different this year. Third-year Nicole Leung spoke with the choreographer who worked with her class, faculty member Bobbi Jene Smith ('06, dance), about her piece Ways of Listening. The other pieces are Tiler Peck's Broad and Free (first-years), Sonya Tayeh's END, MIDDLE, BEGIN. (second-years), and Matthew Neenan's The Solo 7 (fourth-years).
By Nicole Leung
From process to performance, everyone involved in New Dances this year has had to adapt to the unusual circumstances of creating during a pandemic. For us dancers, maintaining social distancing in group pieces with as many as 24 people required real-time video rehearsals from numerous locations and an abundance of patience. For the choreographers, creating perceivable relationships between dancers who were segregated into groups, could not touch, and had to be spaced at least 12 feet apart, must have been, as another dance student recently said to me, "like trying to write with half the alphabet."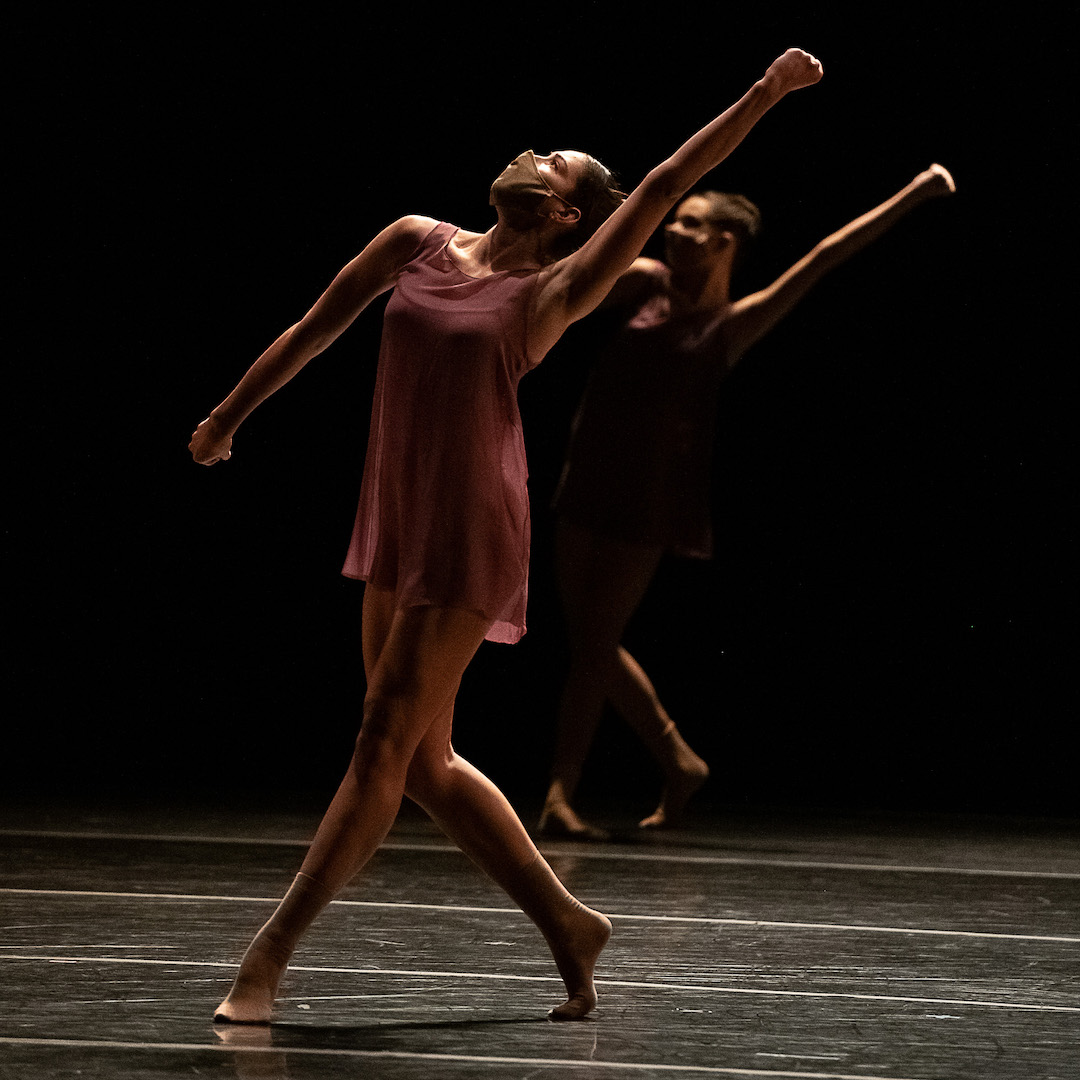 But where there are creative challenges, there are also opportunities for inspiration and ingenious solutions. I was fortunate enough to work with Bobbi Jene Smith, who conducted most of her rehearsals with the class of 2022 from home. Reflecting on her piece, Ways of Listening, she said even though she longed to be in the studio with us, she was surprised by how intimate and revealing the process could be, even over Zoom. "I think the restrictions only made our desire to express more precious and determined. This was an incredible and moving process. Truly one I will never forget."
The most notable difference from New Dances of years past is that the audience will experience the performance virtually. Although we may all agree video is an insufficient replacement for live audiences, Bobbi worked with the medium to do the seemingly impossible: have all 21 dancers on stage at the same time! In a section of Ways of Listening dubbed "the unison," we dance a very fast and intricate phrase for five uninterrupted minutes. Bobbi's dream was for us to perform this section together in spite of having to film the piece in three separate groups. "I talked to a few film friends and they told me to 'sew' the shots together!" she said. On filming day, we had to be careful to not dance over the taped-off areas of the stage or else risk losing a virtual limb to the "seam" where the edge of one shot would meet the other. The edited result is a seamless illusion that the full cast is dancing on stage in unison—an almost unbelievable sight especially since we haven't been in the same room with our entire class since the pandemic began!
Ways of Listening, as the title suggests, is about the power of listening. "I was moved by the way the class listened to and created space for each other," Bobbi said. "It also inspired the way we related to each other inside the piece. I began to be interested in how we can show listening." The piece begins with a series of solos performed by each dancer in the presence of their peers, who are serendipitously arranged on stage, "listening" to the soloist speak. The movement language within the piece, collectively developed by the dancers, would not have been possible without Bobbi's keen guidance and instruction. She taught and encouraged us to "dig"—a word often floated in rehearsals to describe the important work of searching— for clarity and authenticity, humanity and inspiration. Thus the process also became about listening to ourselves and the present moment. She helped each dancer articulate their artistic voice so we could speak our truth through movement: "I would love that the audience see these incredible people—the individuals that make up the group."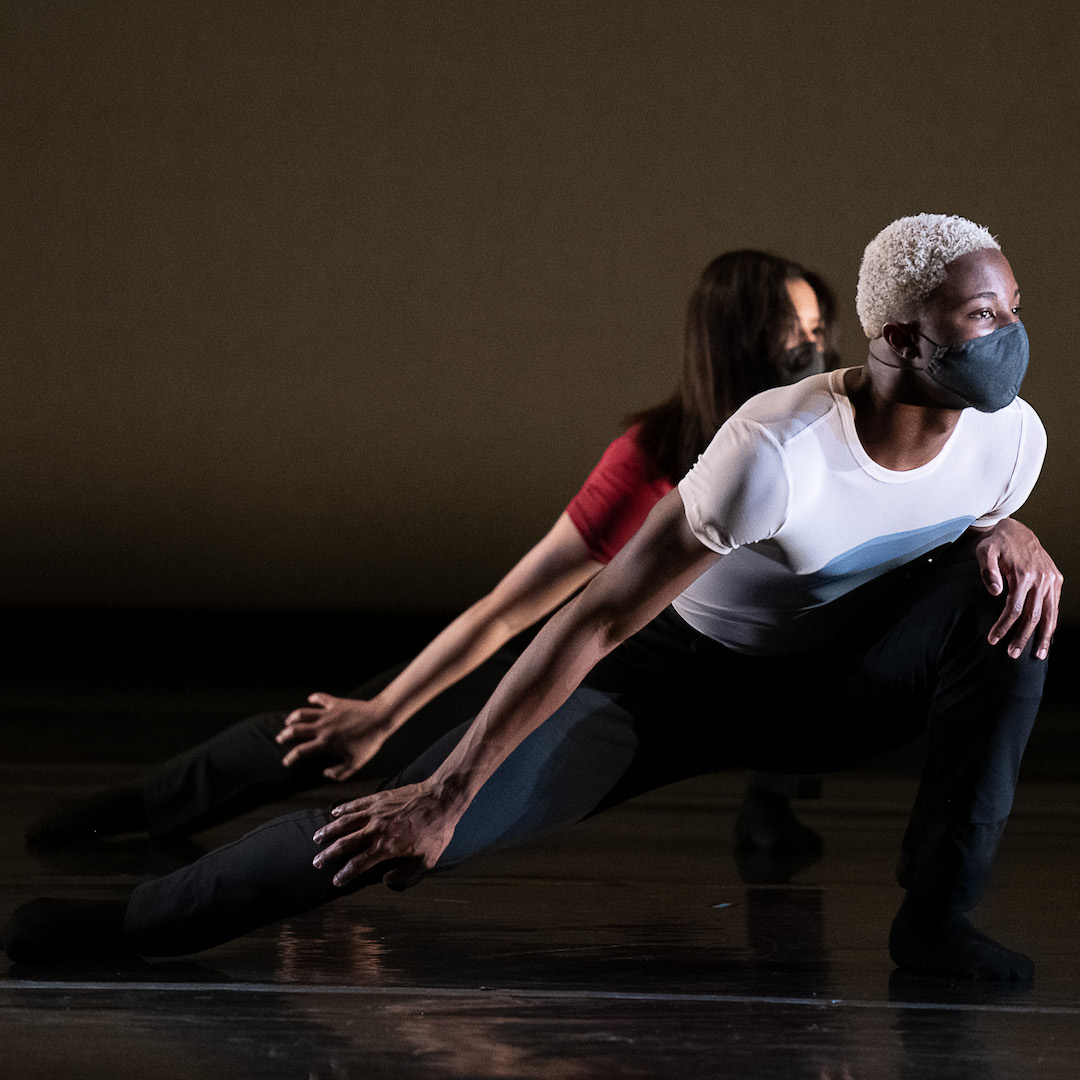 As dancers, we were also inspired by Bobbi's masterful listening skills. She created space for our voices to be expressed and witnessed without imposing her own. It was a joy to be heard—to know you could try and fail and everyone around you had your back—especially while creating. "I believe that art becomes richer the more voices it can contain," Bobbi said. It's why she insists that her projects, including Ways of Listening, be credited to not only herself but also to the dancers and other collaborating artists—something I hope to see more choreographers do. "It's a team effort," she said. "I guide the ship, but I am not the only voice speaking on the ship. I can't take credit for everything that has gone into creating the voice of all the artists I meet, nor do I want to. I believe empowering the artists I collaborate with can help demystify the creative process. It's not magic coming from one imagination. It's worlds colliding and voices singing together—it's collaboration! It's delicate and it's powerful." 
Nicole Leung is a third-year dancer