Juilliard415 and Yale Schola Cantorum performed music by Haydn and Copland throughout Germany
By Karin Brookes
In 1705, a young Johann Sebastian Bach arrived in the Hanseatic port town of Lübeck after walking from his home in Arnstadt, some 250 miles to the south, to visit the composer and organist Buxtehude, then in his late 60s. In summer 2022, the Juilliard415 musicians had a rather less arduous trip, traveling by coach and with the prospect of a comfortable night in a hotel on the bank of the Trave River.
This was the final stop on J415's two-week tour of Germany with Yale Schola Cantorum. Directed by Schola's principal conductor Martin Hill, the two groups took a program of Copland's In the Beginning and Haydn's Schöpfungsmesse (Hob. XXII/13) and Symphony No. 6 ("Le matin") to Ehingen, Darmstadt, Jena, Dresden, Leipzig, and Lübeck, weaving in composer-driven detours en route and some downtime in Berlin.
Joining the Historical Performance students to create a "classical" orchestra (tuning was A = 430) were secondary horn, trumpet, and timpani students from Juilliard; for several students, it was their first trip to Europe. Daily COVID testing and impossibly packed airports notwithstanding, this tour was a great opportunity to figuratively trace the footsteps of the musicians responsible for so much of the repertoire in the Juilliard HP curriculum. J.S. Bach was high on the list, of course, with visits to his birthplace in Eisenach and to his workplaces in Weimar and Leipzig, where the performance took place in Bach's Thomaskirche.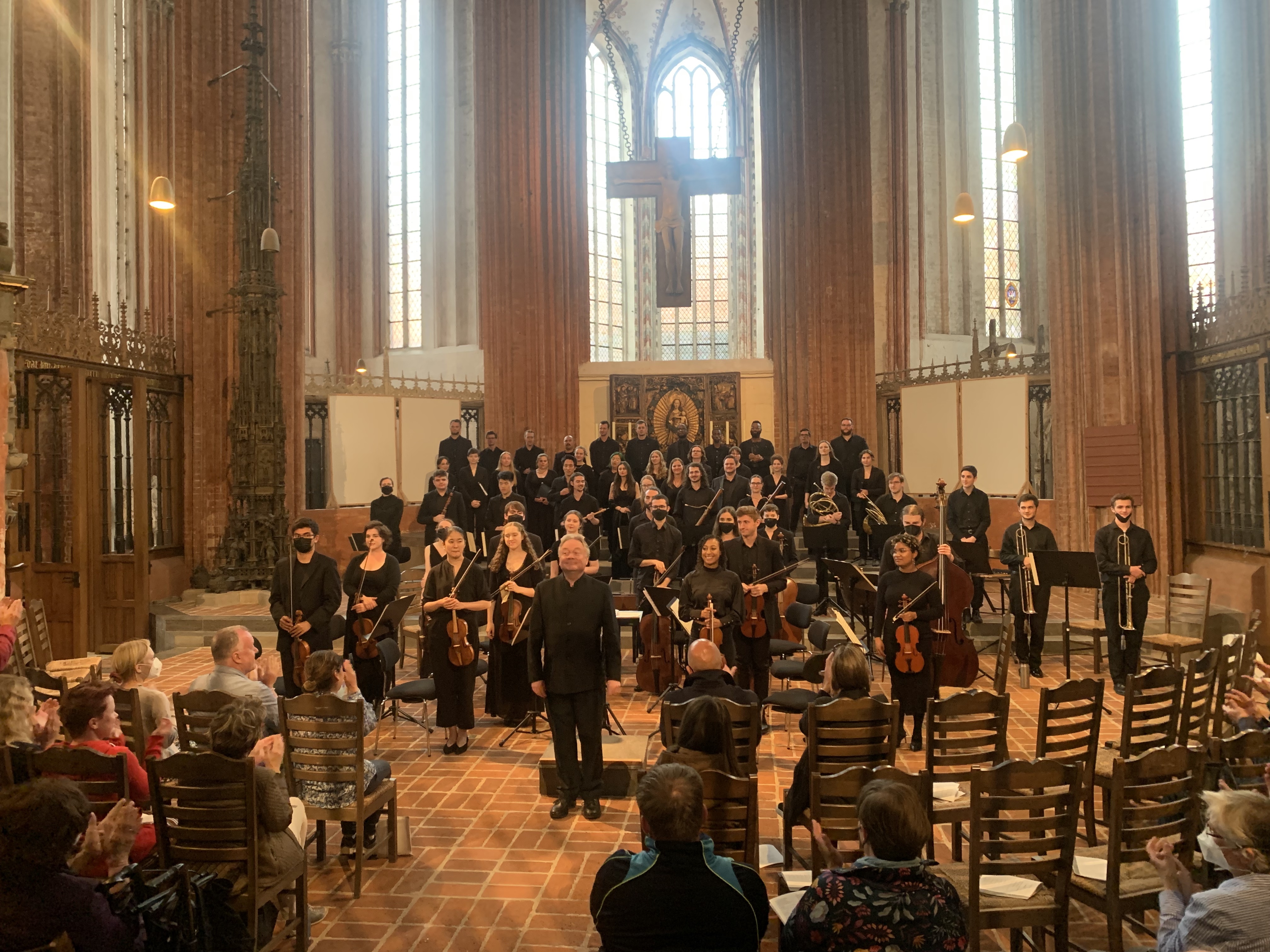 The Lübeck concert was in Buxtehude's Marienkirche. Although the organs he played are long gone and the church was heavily bombed in World War II, the organist's spirit permeated the space. Arriving in Dresden, all were struck by its rebuilt magnificence following  the city's devastating destruction in 1945 and it was a stark reminder of how world affairs affect the creation and presentation of art. Earlier in the tour, in Darmstadt, that awareness took a very personal form. Learning that there would be refugees from Ukraine in the audience, all the musicians came to together at the end of the program to sing "A Prayer for Ukraine" composed by Mykola Lysenko with text by Oleksandr Konysky. It was a moving and uniting moment for everyone.
Karin Brookes is the administrative director of the Historical Performance program