On Practicing, Performing, and Needing a Time Turner
Pianist Angie Zhang (Pre-College '13, BM '17) first set foot in the Juilliard building when she was in the fourth grade. Now a master's student, her passions include teaching, philanthropy, interdisciplinary research, performing in traditional and non-traditional venues—and keeping really busy.
7:30am
I wake up to sunlight streaming through the window of my room in the residence hall and take a moment to enjoy the view of cars and trucks crossing the George Washington Bridge from my home state.
8am
While heating water for oatmeal, I read email and write a Post-it of stuff to do next door in the school building. Once I made a record eight appointments in two hours!
9:15am
I pack my scores and books and set off on my two-minute trek to school. As a teaching fellow and somebody who habitually takes extra classes (can't help myself), I appreciate that I can make a quick trip back to the res hall to switch out my books or, if I'm playing a concert, run back to get dressed up.
9:30am
My day starts with a practice session on Mozart's Piano Concerto No. 9, to prepare for two performances with the Juilliard Chamber Orchestra at which I'll be leading from the piano. I'm focusing on giving cues from the keyboard, using phrasing and colors in my playing to convey mood and character, and incorporating the invaluable advice Robert Levin and Eric Bartlett gave me during the first rehearsal with orchestra. Levin recommended that the piano—lid off—be pointed to face the audience so everyone in the ensemble can see me. He also coached me and the orchestra on the importance of swiftly changing characters—sometimes four or five times in a single phrase—and exaggerating dynamics. Bartlett showed me how to demonstrate exactly what the players want and gave me tips on concisely and respectfully communicating additions and changes.
Noon
I run to the cafeteria, grab lunch, go back to the residence hall to put finishing touches on a poster I made for Curated Bookshelf, a new initiative I've been working on with Jane Gottlieb, vice president for library and information resources—we'll be sending out monthly reading recommendations.
1:40pm
Off to the Board Room for a meeting with Rebecca Vacarelli, director of alumni relations, for whom I also do work-study, and other members of the CandyGram committee. The goal is introducing students to philanthropy in a fun and tasty way by selling CandyGrams—personalized messages and candy—for their fellow students and teachers at a dollar a piece, with all proceeds going toward scholarships. Today we're finalizing logistics and candy selections—the winners are Sour Patch Kids, Swedish Fish, and Dove chocolate hearts.
2pm
Another meeting with Jane Gottlieb, and I have literally zero seconds to "apparate" from the second to the fifth floor. While I run upstairs two by two, I think how useful it would be to have Hogwarts-style powers.
2:30pm
My first class of the day! Two of my eight classes this semester focus on Mozart, one of my favorite composers to play, listen to, and research. This class is Mozart's Operas, and it's taught by Michael Griffel, whom I admire so much. In discussing Le nozze di Figaro, we talked about the different musical and dramatic functions of the arias and finales, the opera buffa tradition, and the ways Mozart went above and beyond his predecessors. We also discussed how relevant Nozze is to today's world in terms of hot topics such as misogyny, servant-master relationships, seduction, and harassment.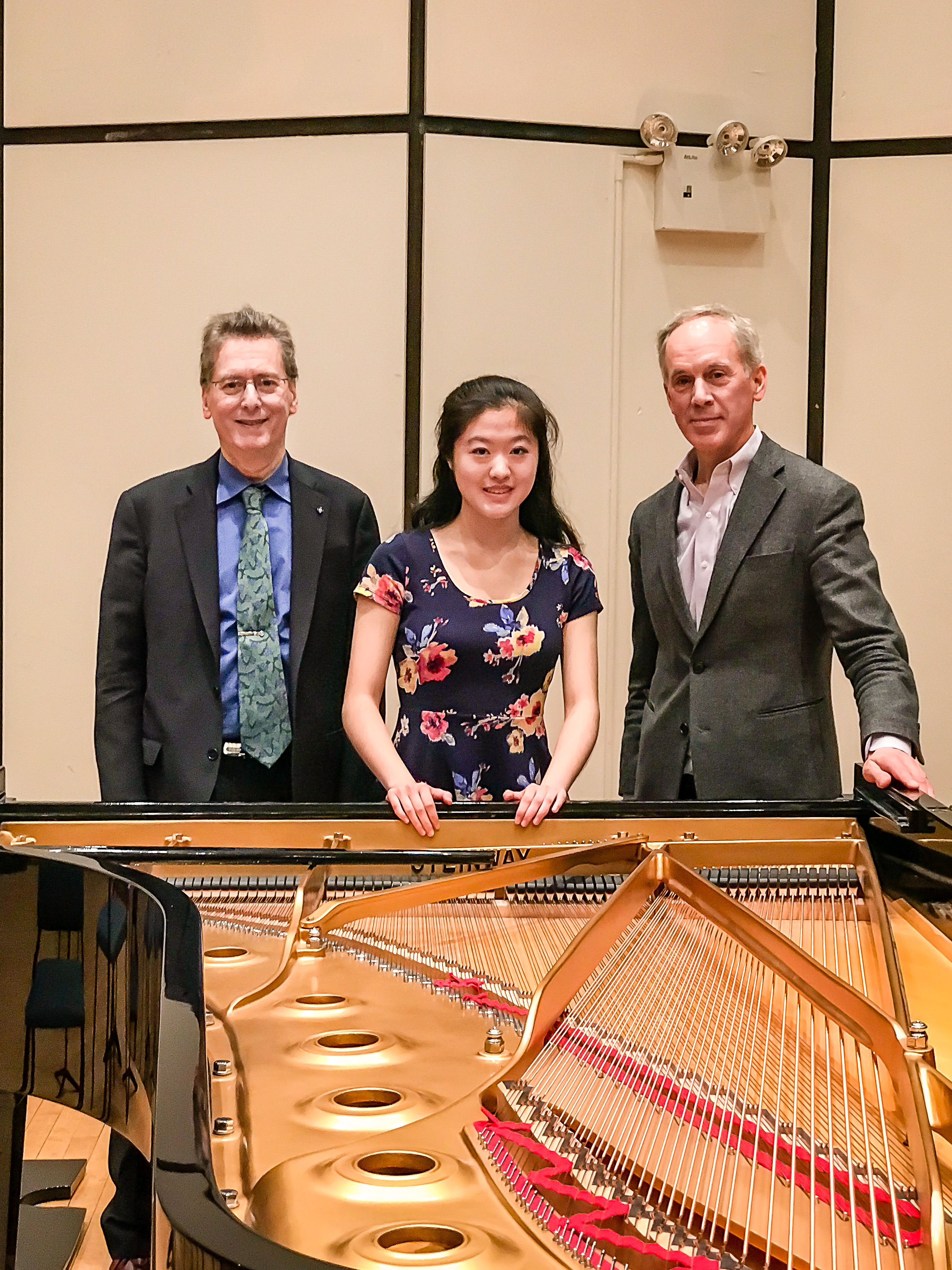 4:15pm
Our first paper—on how Mozart's music and Lorenzo da Ponte's words reveal the social status, personality, and motivation of the characters in a particular aria or ensemble—is due in a week, so I visit the library to do research.
5:30pm
My stomach's grumbling begins to echo through the quiet library, so I pack up and go to the cafeteria to meet friends for dinner—grilled chicken, beets, corn, broccoli, and a chai latte with soy milk.
6:30pm
Back in my room, I give my family a call. Hearing my parents' voices reassures me that they're well and reminds that nothing in life is more important than family.
7:30pm
I love early music and historical performance, so I couldn't miss tonight's Juilliard415 concert, which features Baroque violinist Rachel Podger. As I usually have studio class Mondays at 7pm, I'd texted my teacher, Veda Kaplinsky, to let her know why I was absent. Once again, I found myself wishing I could somehow transport myself to Harry Potter's world—this time Hermione's Time Turner would come in handy. But the all-Telemann concert was riveting from beginning to end, and seeing Ms. Podger play and hearing her speak was magical after listening to dozens of her recordings.
10pm
Brrr—it's freezing! I'm thankful I live on the same block as my school and close to so many amazing venues. Tomorrow I'm planning to see faculty member Stephen Hough performing at Carnegie Hall.
10:30pm
After a warm shower, I take out my journal and continue developing ideas for compositions and for a concert series I'm spearheading that allows clients to customize their own classical music concerts and interact with the artists. (Want to learn more? Let me know!)
11:30pm
I get in bed and start going over my preparations for a meeting tomorrow with the Development department and art professor Greta Berman about an upcoming philanthropic venture—and all the rest of my plans for another busy day.
Angie Zhang is a first-year master's student and a Kovner Fellow