Juilliard students were performing all over the globe this summer, and we've been posting some highlights. Three dancers who are now seniors—Taylor Massa, Nina Peng, and Kayla Schutz—participated in a performance project commemorating Merce Cunningham's centennial at the Trinity Laban Conservatory of Dance in London. Following an exciting week of classes, rehearsals, and a performance with Trinity Laban summer students, Taylor and Nina answered some questions about the experience.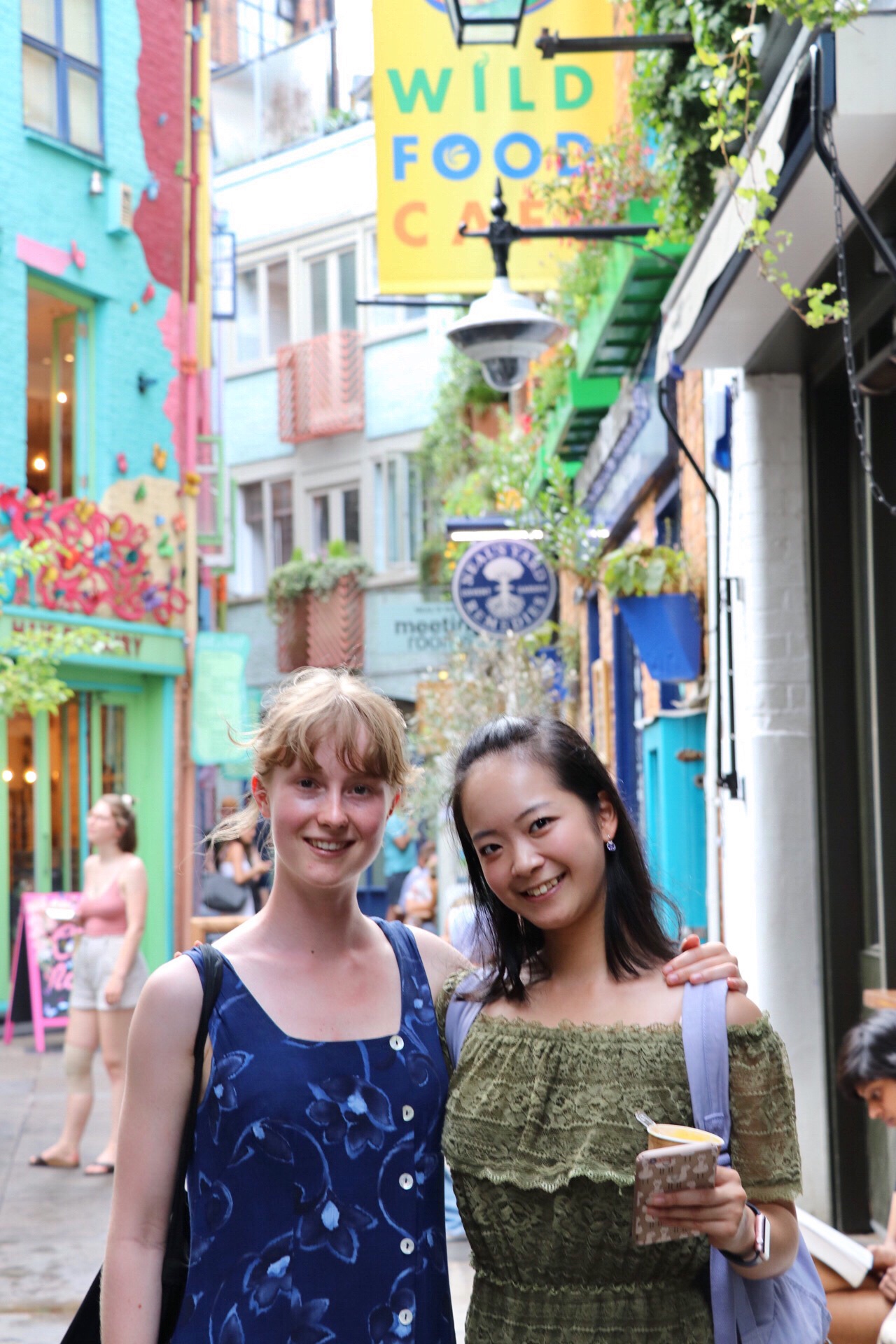 Juilliard Journal: What were three highlights of your experience?
Nina Peng: It was amazing to get to perform with people from different backgrounds and cultures and also to see how fast we blended into each other on this project, so much so that one of the faculty members said that we all looked like one company.
The second highlight was taking Cunningham classes every day with different teachers, each with a different Cunningham background and approach. One focused more on pure technique, another on how to keep the movement flowing, and another on the details of back curves and weight transfer. I'm so grateful to have had the opportunity to be in all of their classes and to have received all their useful suggestions.
Another highlight was meeting new friends both from their summer school and the Laban students we collaborated with. It was great going out for dinner or afternoon tea and simply exploring London together.
Taylor Massa: My personal top three were meeting and becoming friends with the Trinity Laban students who also participated in the project, learning and performing about a dozen excerpts of Cunningham repertory, and exploring London with my Juilliard classmates.
What surprised you about it?
Taylor: Learning about the similarities and differences of American conservatory dance training and English dance conservatory training. The core values of technique and performance quality are very equally appreciated, however the type of techniques and the perspective career paths vary immensely from country to country.
Nina: How much material we needed to learn and perform in such a short time—just three days! We started learning from the Laban students who had previously performed the piece, and then we began rehearsing with one of the stagers, Robert Swinston [a former director of choreography for the Merce Cunningham Trust]. In our first rehearsal with him, we spent nearly five hours learning the material, and we had no idea how much more was waiting for us until the second day, when we spent almost the entire day learning more new material. We were all stressed, and by the last hour, it almost felt like I couldn't take in any more information—my body and brain were about at their limit. Finally, on the performance day, I woke up and couldn't believe we were about to perform the work. We had class and tech in the theater the morning of the performance and tried to review the material as much as possible during breaks. When it came time to perform, all I could think about was that I had tried my best and that all I needed to do was trust that my body and brain would do the right things. And they did!
How did Juilliard prepare you for the project?
Taylor: Juilliard prepared me for this project by giving me the tools and the practice of learning, remembering, and dancing a lot of material in a very short amount of time. By being able to pick up very technical choreography very quickly, we were able to feel more confident about our performance of it and enjoy it that much more.
Nina: To adapt to the different ways and speeds of learning new things is very important and useful in our careers. I definitely think Juilliard has prepared us well for that, and the intensity of our schedule here has prepared us to work more efficiently in situations like this and future performance opportunities when we won't have much time to get ready.
Taylor Massa holds Doris Humphrey, Hannah Melvina Aronson, and Josef and Melinda Romon scholarships; Nina Peng holds the Jan and Bertha Werter Scholarship