Year 1 1984–85
In June Joseph Polisi, a 36-year-old bassoonist and academic is named Juilliard's sixth president.
—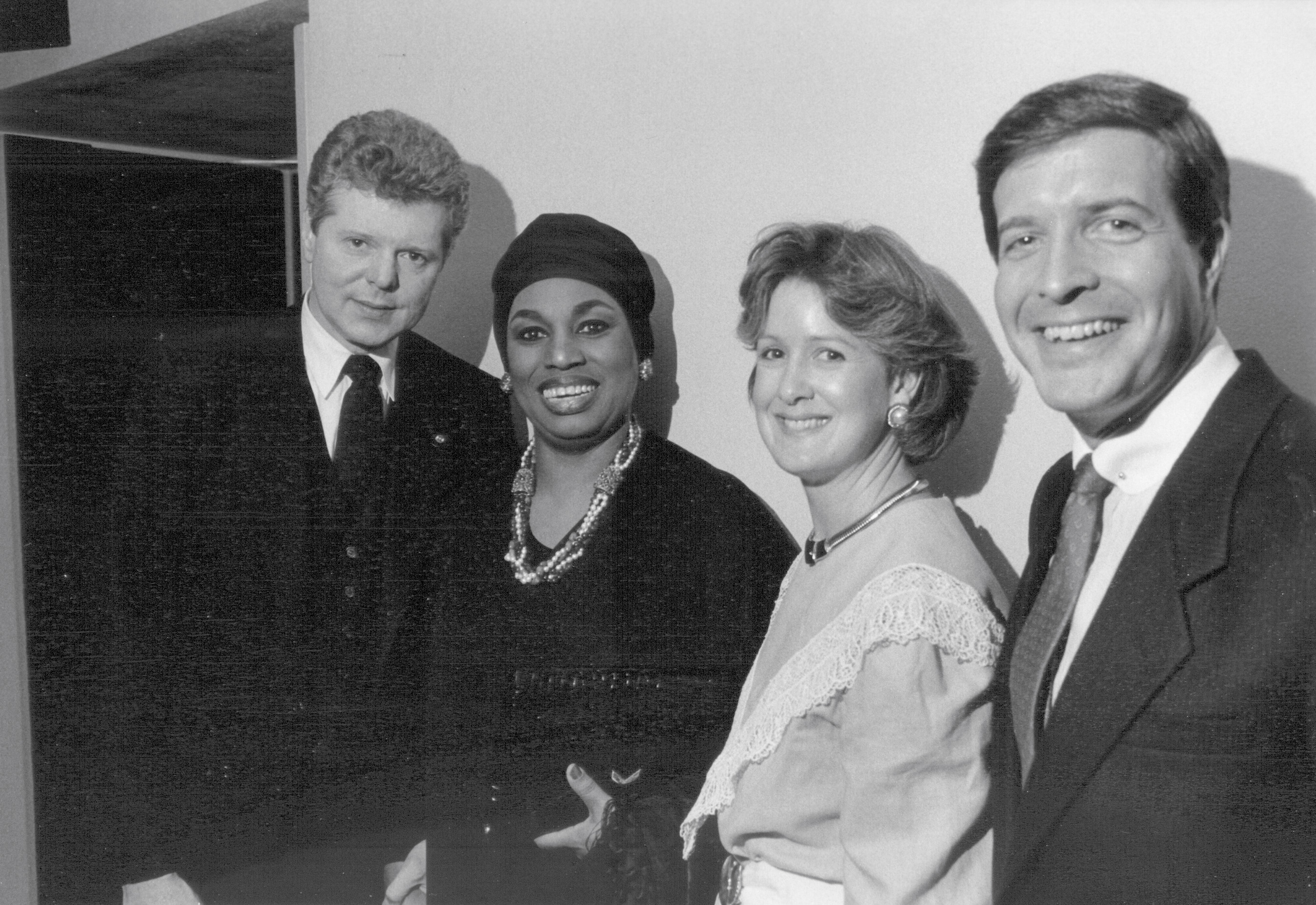 A few weeks after classes begin, the new president hosts the school's first alumni reunion, which is so popular that reservations for the dinner have to be cut off at 700 (among those who send regrets are a woman who'd studied trumpet in the first year of Juilliard's predecessor institution, 1905-06). Voice student Richard Wilson tells the Times that while most of the attendees sepemed to be about 45 or over, meaning they'd studied in the old Juilliard building, on Claremont Avenue in Morningside Heights (the Lincoln Center campus opened in the fall of 1968)—they asked "about the problem all music students still have—finding a practice room."
—
Polisi starts getting to know the school including, as Paul Shaw recalls, sitting in on the legendary Mary Anthony Cox's (BM '65, MM '68, piano; faculty 1964–2013) Ear Training class to see what the students were learning.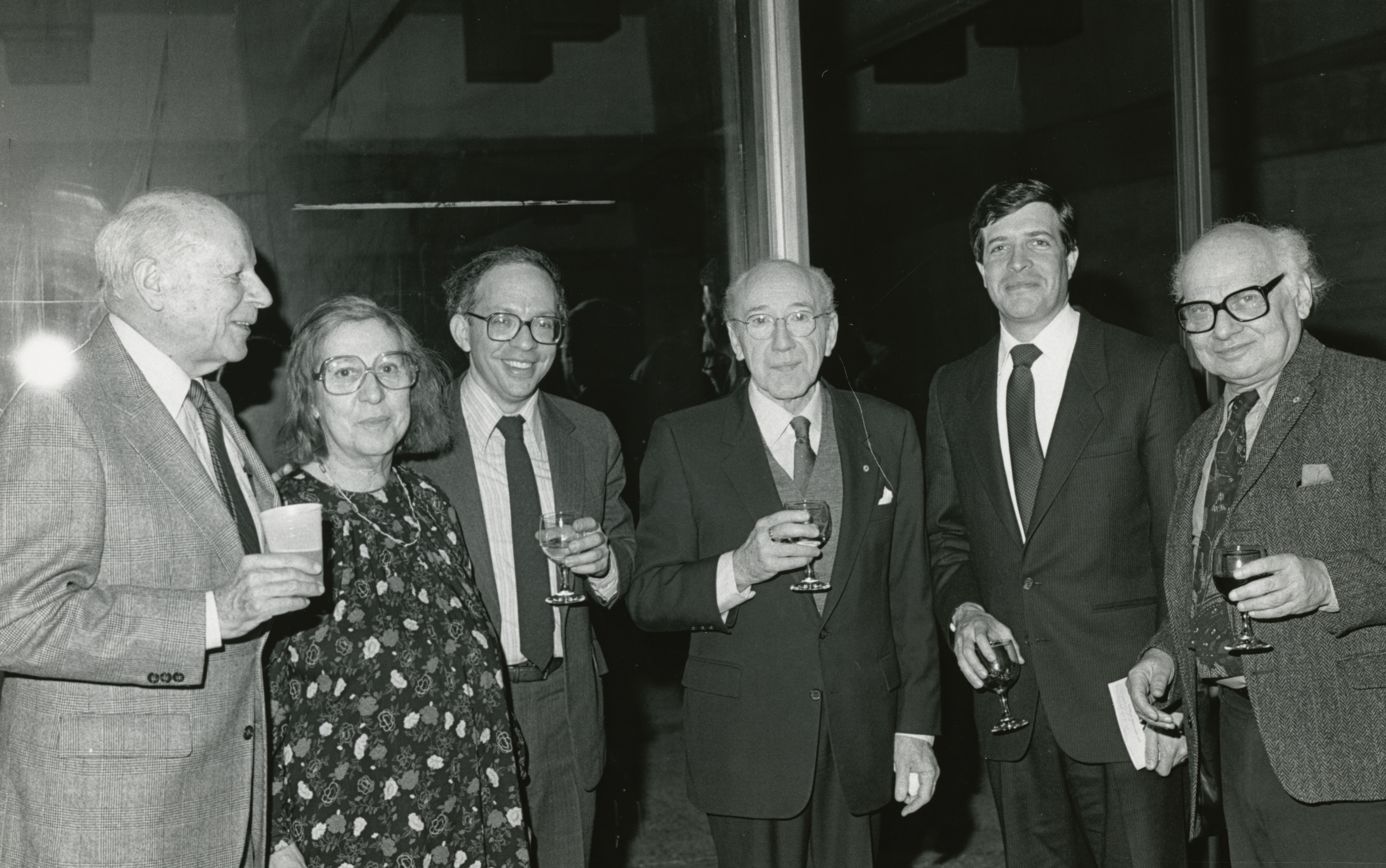 Year 2 1985–86
The second Polisi year begins with the second annual barbecue and orientation activities (among them a tour of Lincoln Center for $2), and the announcement of the creation of the Office of Student Affairs, among whose tasks will be putting out a monthly newspaper. The old Academic Department has been renamed Liberal Arts Department with some new faculty members brought in to staff it and a new emphasis on great books and a Socratic method of teaching.
—
Polisi, whose first job after college was as a reporter for the Meriden (Conn.) Journal, works with students to transform an "underground" student newspaper into an official schoolwide paper, known as The Newspaper for its first year until a schoolwide naming contest results in the name The Juilliard Journal.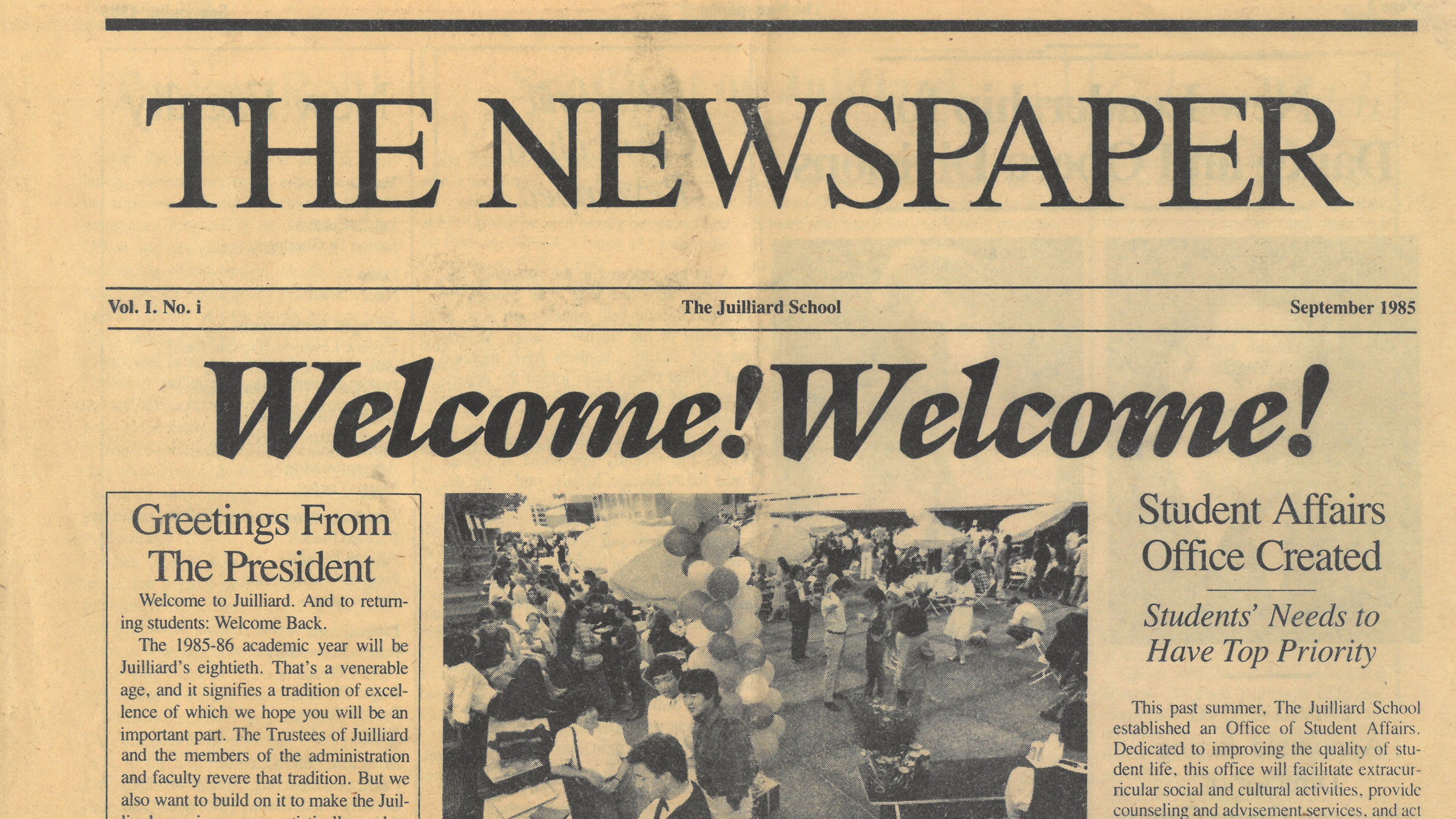 —
In response to the requests of the Student Forum, established the previous spring, the building will now be open to college division students for practice and rehearsal from 5–10pm Sundays.
—
Juilliard's 80th anniversary is the subject of the school's first Live From Lincoln Center appearance.
—
A wide-ranging New York Times interview with Polisi in October notes, "Detractors have occasionally suggested that Juilliard is a gigantic cultural finishing school, specializing in the polishing of prodigious natural ability rather than actual instruction. Mr. Polisi disagrees. 'It's true that we have a track record of producing great soloists that is probably unequaled in the world, and, naturally, the spotlight is on these graduates. But the vast majority of our students go on to teach, or to play in an orchestra, or to work in arts administration. And these students get a fine education here.'"
One of Polisi's goals is "'to make Juilliard an easier, friendlier place for the student,' the new president noted. 'There is a new office of student affairs to counsel on both personal and professional problems, and we finally have a monthly student newspaper. In the near future, we will be housing 250 students in a new dormitory, located right in Lincoln Center, directly west of the school. That ought to make life a bit cozier. After all, these years in New York should be thrilling ones for the student.'" While the City Planning Commission would vote in favor of the Juilliard dorm in July, it would still be five years before it would be completed.
—
Jerome Greene, a longtime supporter of the school, creates a $1 million scholarship.
—
Some 100 spectators packed into Room 309 for a master class with Leonard Bernstein, cello doctoral student Bobby Albrecht reports. Five student conductors each led the orchestra in half-hour selections from Mahler's Seventh and Copland's Third. Bernstein said that simply beating time is the "death of conducting" and that "the conductor should musically prepare the orchestra in such a way that the actual beat is inevitable, almost superfluous. Otherwise, 'once you beat the beat it's too late.'" Bernstein discussed the descriptive words Mahler had written into the score and noted that "Mahler was a conductor as well as a composer and knew exactly how to get the sounds he wanted. Thus his markings serve as especially valuable clues for today's conductors." There would be scores and scores of master classes during the Polisi Years.
—
Seven tables in the cafeteria are made non-smoking in response to complaints.
—
Juilliard's Asia connection, a strong theme throughout the Polisi Years, includes several interactions this year. Polisi accompanies the Juilliard String Quartet on its Tokyo trip, members of the Central Ballet of China meet with and perform for Juilliard dance students, and Juilliard dancers represent the U.S. at the First International Festival of Dance Academies in Hong Kong and Taipei.
Year 3 1986–87
Requirements for the master's program are revised such that all applicants—including Juilliard students—have to audition in March, and there will be a minimum residency of two years. "Regarding the fears expressed by some students and faculty that, with various reforms and increased emphasis on classroom activities, Juilliard was being transformed from a conservatory into a liberal arts college, Dean Bruce MacCombie was unequivocal: 'Performance will always be the main emphasis at Juilliard and the highest standards will remain. These academic reforms are qualitative rather than quantitative," he said, "The intent is not to stifle students, but 'to ensure that when they graduate they will become leaders in the performing arts world.'"
—
The American Brass Quintet begins its long residency at Juilliard.
—
The Juilliard Orchestra and the New York Philharmonic perform together in Avery Fisher Hall under Zubin Mehta; this is the first of several such concerts.
—
The store begins accepting Visa and MasterCard for purchases over $20.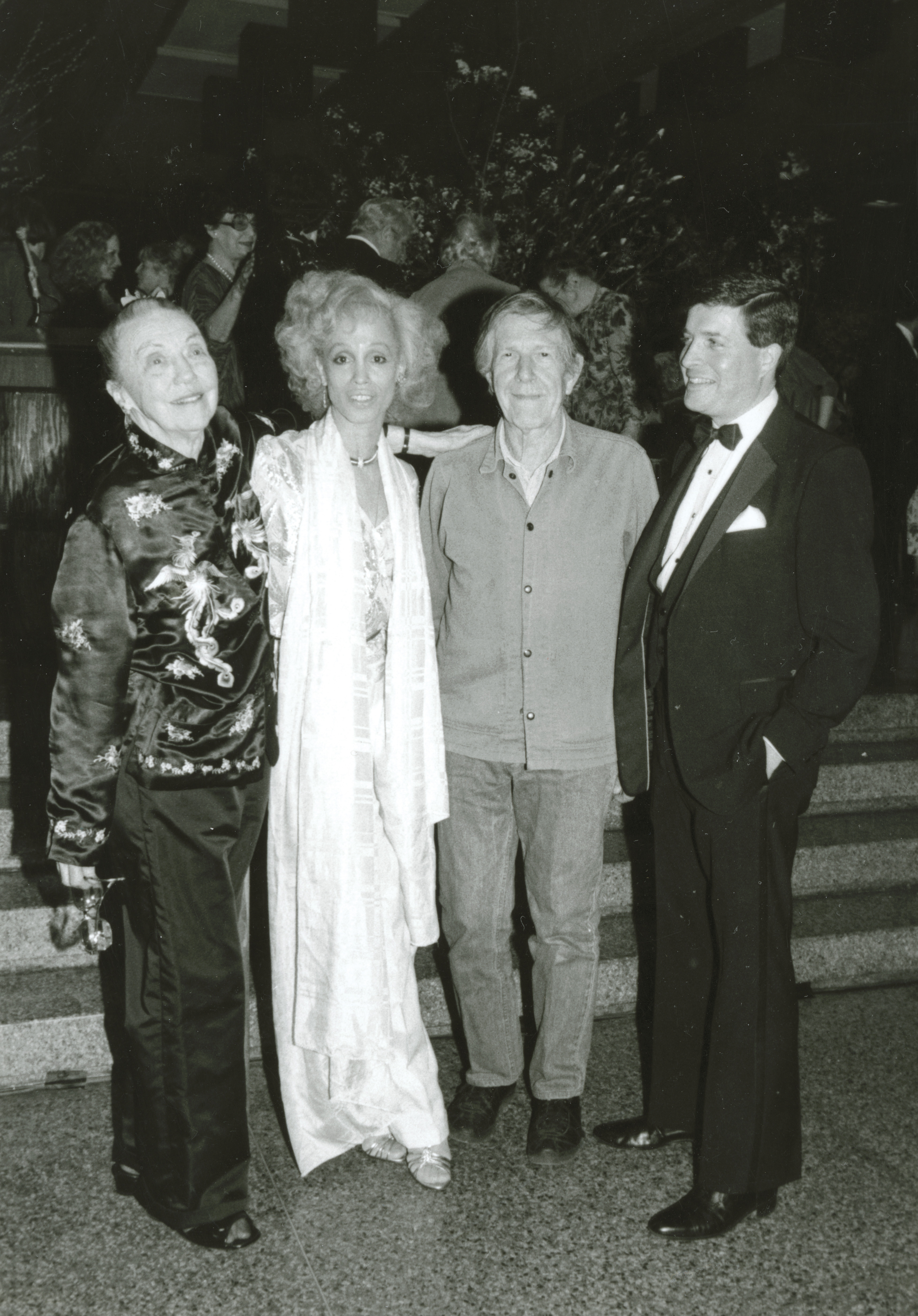 Year 4 1987–88
In the first American conservatory orchestra tour of China, the Juilliard Orchestra performs in Beijing, Shanghai, Guangzhou, and Hong Kong. Dorothy DeLay conducts violin master classes, Robert Mann coaches string quartets, and Julius Baker conducts flute master classes.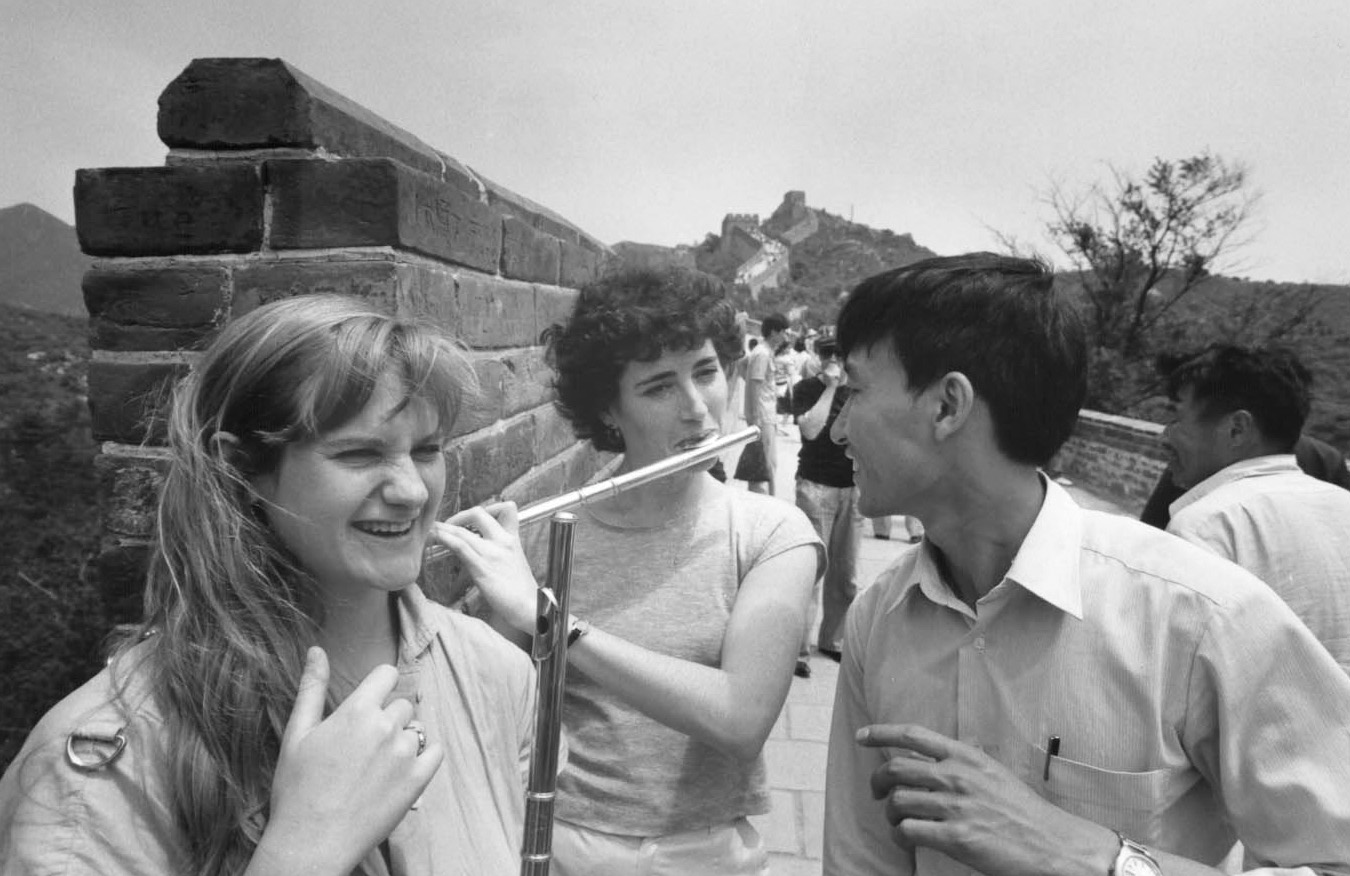 —
Ground is broken for Juilliard's long-awaited residence hall.
—
Room 309 is dedicated as the Bruno Walter Orchestral Studio.
—
Garrick Ohlsson (BM '71, piano) returns to Juilliard as the soloist in Rachmaninoff 's Third Piano Concerto. Asked what advice he'd give an aspiring performer, he says, "Your personal relationship with music is the most important part of your career. Even though you need strong talent and a very big ego in this profession, and even though you have to prove constantly in the business how well you play, ego and talent are not enough. What makes it all rewarding and worthwhile is your life as a complete musician, a healthy and joyful relationship with the music to sustain you through all the hard work and career pressures, and even disappointments that face everyone."
—
For the first time in the history of the Dance Division, four premieres have been commissioned by the school and are presented in one performance. They are Prom Story by Benjamin Harkarvy (who would become director of the division in 1992), David Parsons' Monday Morning, Kei Takei's ('68, dance) Light, Part 24: Chanting Hills, and Francis Patrelle's (BFA '70, dance) Reeks with Class!
Year 5 1988–89
To commemorate what would have been the 60th birthday of Martin Luther King Jr., Juilliard students create the school's first MLK Celebration, which will become an annual tradition of dance, drama, and music performances.
—
A new program funded by a generous grant from Muriel Gluck through the Maxwell Gluck Foundation will award students fellowships to be paid to perform in hospitals, hospices, and similar institutions.
—
"Talented and academically motivated musicians who want major elements of a liberal arts education need not choose between Juilliard and an Ivy League college" anymore, Polisi says in announcing a new exchange program that will let Juilliard students take courses at Columbia and Barnard to satisfy part of Juilliard's liberal arts requirement—or to explore their own intellectual curiosity—and Columbia and Barnard students can study music at Juilliard and apply for admission to the Accelerated Master of Music program." While the program is new the schools' ties are not. Juilliard was a neighbor to Columbia and Barnard in Morningside Heights from 1931 to 1969, and John Erskine, who created the Great Books curriculum at Columbia, was Juilliard's second president (1928-37). Pictured from left: Michael Sovern (president of Columbia), Emmanuel Ax (Columbia and Juilliard alum),Polisi, Eugenia Zukerman (Barnard and Juilliard alum), and Ellen Futter (president of Barnard).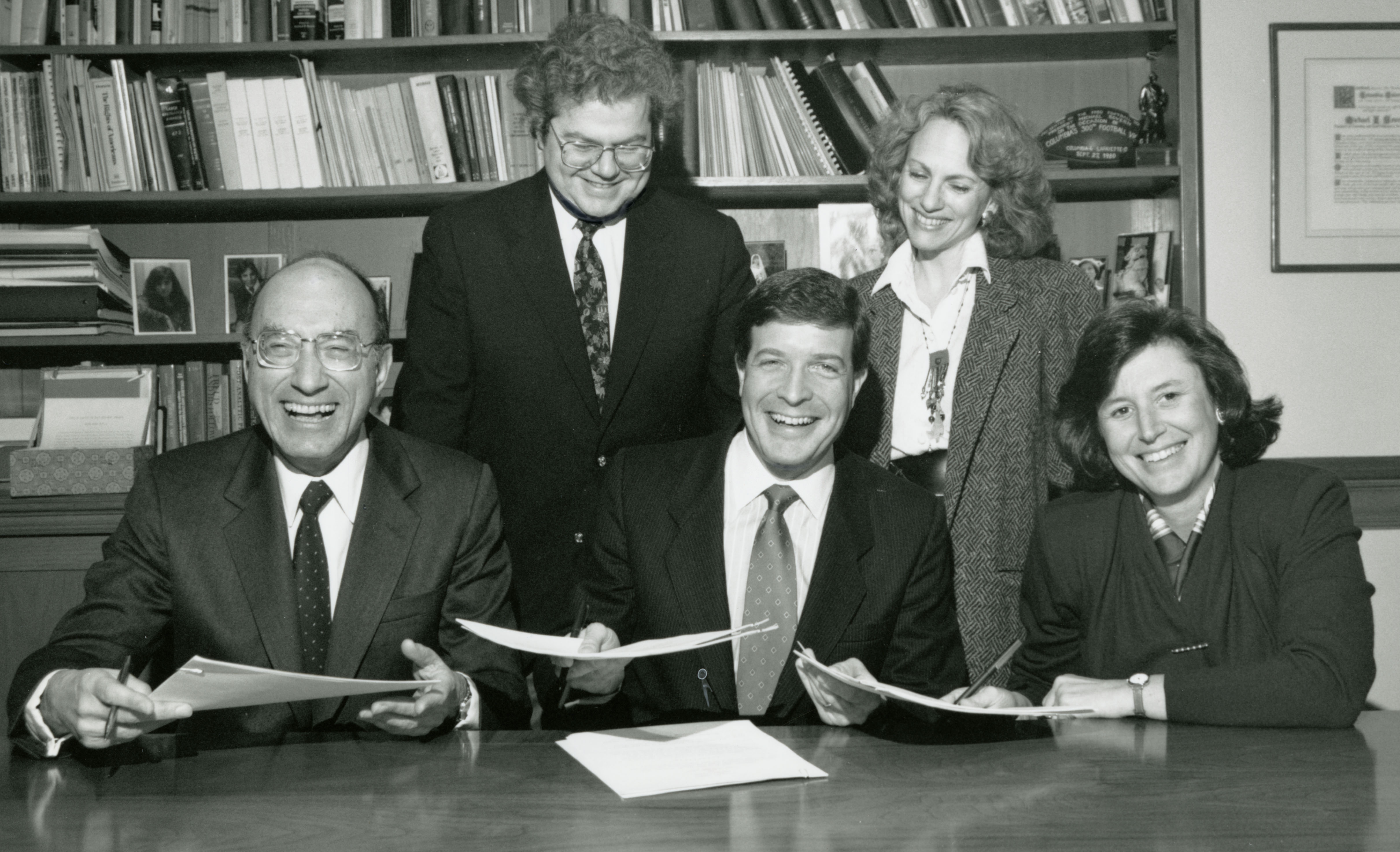 —
Polisi writes in the Journal, "we have created a required Humanities curriculum that largely focuses on how culture, society, gender, personality, and the like influence perceptions and judgments, and which aims to help students become as intellectually objective, honest with themselves, and honorable with other people, as possible."
—
Juilliard observes the 76th anniversary of the premiere of Stravinsky's Rite of Spring with an open-air reading of the piece by a student-alumni-faculty orchestra conducted by Otto-Werner Mueller with Joseph Fuchs as concermaster, and student Bruno Ferrandis conducts a Juilliard community chorus in excerpts from Mozart's Requiem. There are also a Run for Fun and Juilliard Challenge races around Lincoln Center Plaza. The celebration concludes with an alumni reunion at which Peter Schickele (a.k.a. P.D.Q. Bach) conducts his Quodlibet, which he composed at Juilliard.
—
A panel about the 50th anniversary of Kristallnacht includes Henry Meyer ('48, violin), a violinist with the LaSalle Quartet, and Rabbi Gunter Hirschberg, a cantor in pre-war Germany and now senior rabbi of Congregation Rodeph Sholom and president of the New York Board of Rabbis, along with a program of music by Bloch, Ravel, and Louis Lewandowski.
Year 6 1989–90
Russian Drama students visit Juilliard, where they attend seminars on Tennessee Williams; a music theater workshop; and tap, jazz, and voice classes. And Sony gives them each a Walkman.
—
The newly renamed Evening Division has expanded and now about 400 people are taking classes each semester.
—
Student lounge movies of the week include Stand by Me, Tootsie, and Bull Durham.
—
The Guitar Department begins; it's chaired by Sharon Isbin.
—
The Dance Ensemble presentation of Nijinsky's L'Après-midi d'un faune, with music by Claude Debussy, represents the first time in the U.S. that Nijinsky's original choreographic score has been reconstructed.
—
More than 50 people—including faculty members, students, and alums attend a reunion in Fontainebleau, France, that includes a surprise 20th anniversary celebration for Joseph and Elizabeth Polisi.
Year 7 1990–91
In honor of former president William Schuman's 80th birthday, Juilliard Opera presents his operas The Mighty Casey (1953)—the singers kicked off rehearsals with a baseball game in Central Park—and A Question of Taste (1989) with Gerard Schwarz (faculty 1975–82) conducting.
—
Juilliard's first Gay and Lesbian Alliance forms.
—
Saddened by the news that the luncheonette John's is closing, Polisi writes "A Lament for John's" in the Journal.
—
Drama students from the Lenino Prospect conservatory in Vilnius, Lithuania, come to Juilliard for three weeks of Tennessee Williams and American musical theater techniques; a month later Juilliard third-years complete the exchange when they go to Vilnius for three weeks to study Chekhov's plays.
—
As part of Lincoln Center's eight-month, all-constituent Mozart Bicentennial, Juilliard musicians perform more than 200 of the lesser-known, early works and dancers perform pieces choreographed to Mozart's music.
—
The most common diagnosis in the Juilliard Health Office is sinusitis. 
—
The first Summer Project Grants are awarded to actor Viola Davis and dancer Kris World (Cultural Arts Safaris in Gambia), pianist Derek Mithaug and singer Bonghai Tembe (tour for leukemia patients), actor Christopher McKinney (Negro Ensemble Company), and violist Alanna Wheatley (music workshops in Oakland).
Year 8 1991–92
Polisi writes in his tribute to former Juilliard president William Schuman, who died February 15, 1992, "Once in a great while a person comes upon the scene with such an all-encompassing positive presence that the world changes in ways never imagined. So it was with William Schuman who, in a bit more than 80 years, helped Americans and the world to better appreciate the performing arts through his compositions, his vision, and his abiding belief in the goodness of the human spirit."
—
The Music Advancement Program (MAP) is created to provide musical instruction for children from diverse backgrounds underrepresented in classical music.
—
The Edward John Noble entrance to the 65th Street lobby opens.
—
The Residence Hall Community Council is formed and starts meeting biweekly.
—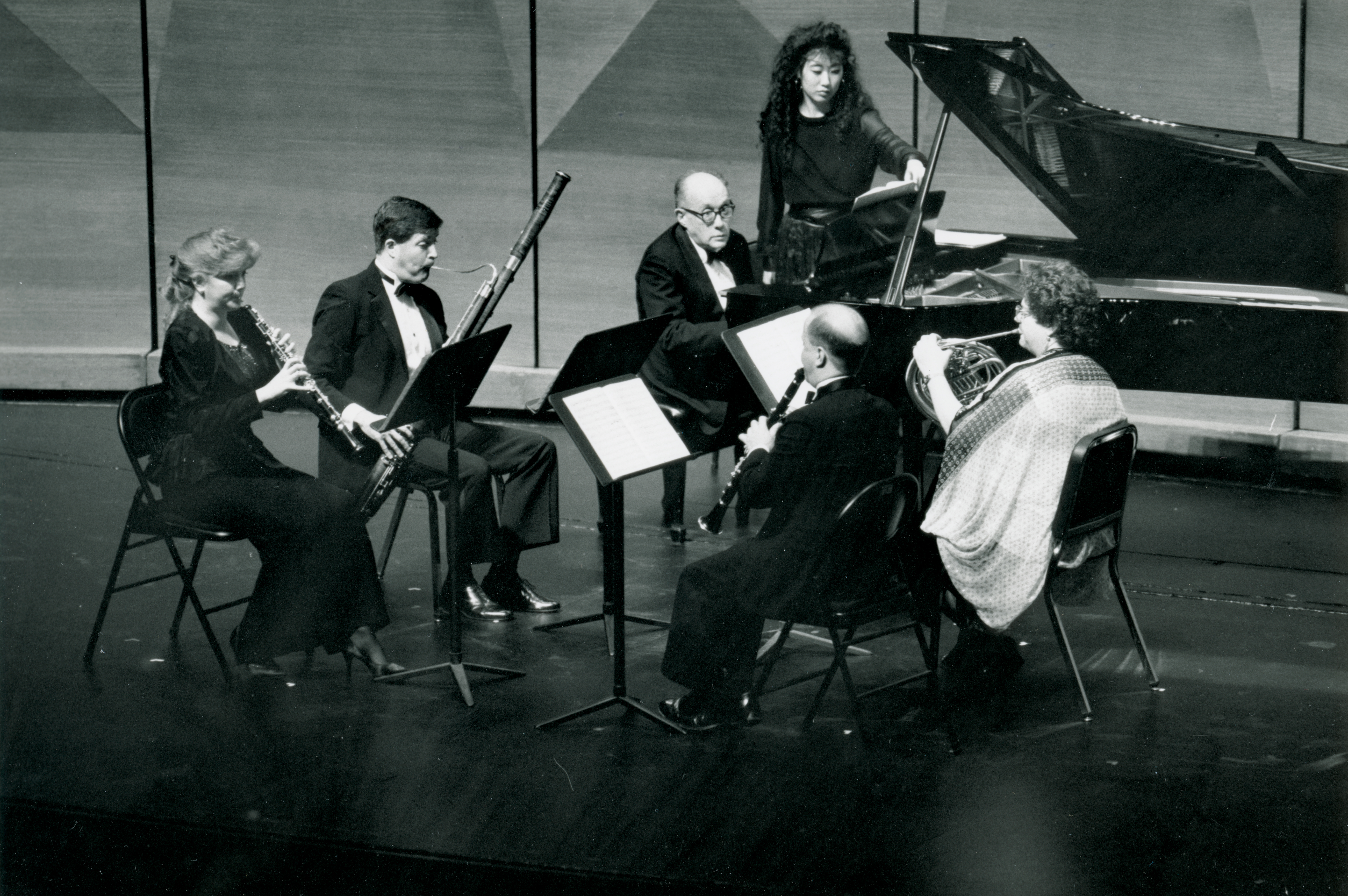 —
The fourth-year drama students workshop Millennium Approaches, a new piece by playwriting student Tony Kushner. Elizabeth Marvel—who plays Hannah, the very conservative mother of the newly out main character—previews it. "I must admit, I was very surprised that we were doing this play—uncensored. It does deal in controversial ways with many controversial subjects ranging from the Mormon faith to homosexual love, from the Rosenbergs to Reaganomics. Yes the play may be tough for some audiences to handle, but hey, we live in tough, messy times. It's directed by our teacher and friend Richard Feldman—[and] I hope everyone who reads this comes. I believe in this play and I believe people need to take part in the experience this play provides—[and] you can say you saw it here first." After the full play opens, as Angels in America: A Gay Fantasia on National Themes, it will win a Pulitzer and a Tony in addition to many other awards—and it's being revived on Broadway in 2018.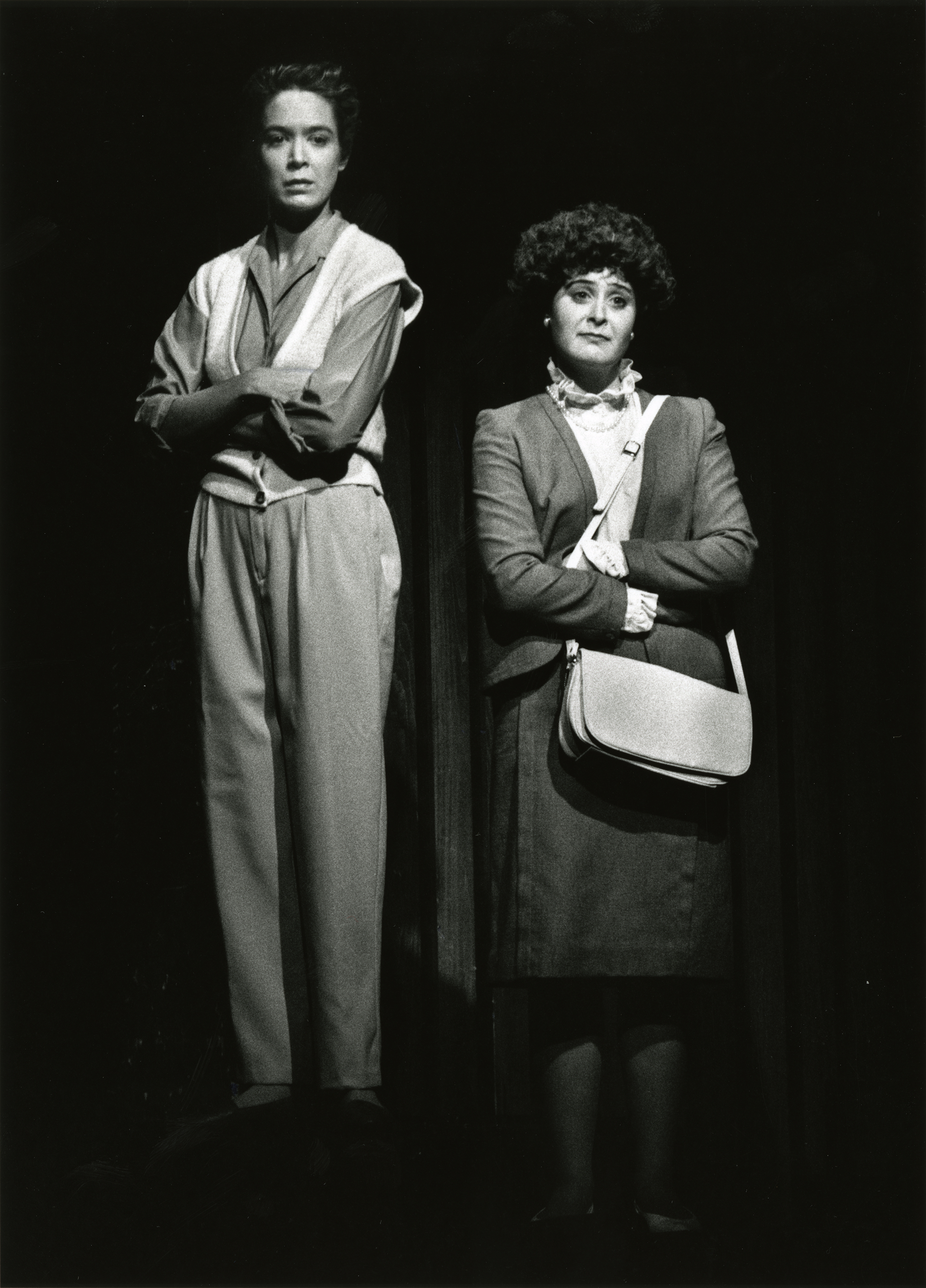 —
After commencement the orchestra flies to France for After commencement the orchestra flies to France for a residency at the Evian Music Festival with Mstislav Rostropovich as the principal conductor.
Year 9 1992–93
Mayor David Dinkins narrates the Juilliard Symphony's performance of Aaron Copland's Lincoln Portrait, which is conducted by Otto-Werner Mueller at Alice Tully Hall.
—
In March, Polisi announces from the stage in Avery Fisher Hall that the U.S. has declared war in the Gulf. "It was right before the orchestra performed Mahler 4 with Skrowaczewski, and after the concert we looked out over Broadway to watch protest parades," recalls Alecia Lawyer.
—
Faculty member Joel Sachs forms the New Juilliard Ensemble, which takes its name from an unofficial student group of the 1960s that was conducted by Dennis Russell Davies.
—
Student concerns: a lack of master classes for pianists, the drinking fountain water tastes bad, the fourth-floor practice rooms aren't well maintained, L&M tutoring is expensive, Pre-College students play tag on the fourth floor.
Year 10 1993–94
The New York Times notes that in 1964, Juilliard "had the highest percentage of foreign students of any institution of higher learning in the United States. The figure was 19 percent. Today it is 35 percent and 75 percent in the piano department."
—
The Office of Educational Outreach is created to better coordinate and expand Juilliard's commitment to music education in the New York community.
—
A planned renovation will include an all-Juilliard computer room with four Macintoshes and two Dell 486s.
—
Juilliard begins offering physical therapy to students
—
The Maxwell and Muriel Gluck Fellowship Program was created in 1989 to fund musicians and dancers and, as of 1992, actors, to do service as artists. The program has been enormously successful—it's brought more than 250 students to 52 hospitals, hospices, and other healthcare facilities for close to 1,200 performances. Originally planned for four years, it will be extended.
—
The Juilliard Orchestra performs at Roger Daltrey's 50th birthday celebration (and tour kickoff), at Carnegie Hall, called Daltrey Sings Townshend. Alum Michael Kamen conducted the orchestra and Daltrey in hits by The Who with appearances by the Chieftans, Sinead O'Connor, Alice Cooper, Lou Reed, Spin Doctors, Linda Ferry, and David Sanborn.
Year 11 1994–95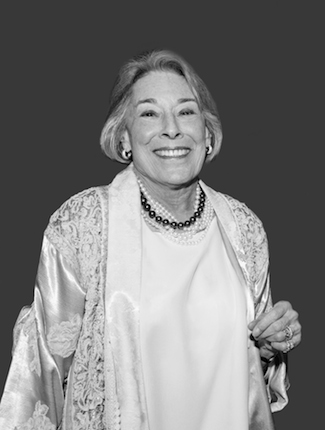 Mary Rodgers Guettel (pictured at the 2009 Juilliard gala) becomes chairman of the board succeeding June Noble Larkin, who served as chair from 1985 to 1994.
—
The Music Technology Center (formerly the Electronic Music Center, subsequently the Center for Innovation in the Arts) is created.
—
The Lila Acheson Wallace Playwrights Program started in 1979 but will now be more integrated with the acting students and won't be a playwrights in residence program. Michael Kahn, director of the Drama Division, explains, "I thought it might be more productive to bring in writers who were contemporaries of the acting students, possibly creating working relationships that might go beyond the school.
—
The seventh MLK Celebration culminates in the school's first African-American and Latino alumni reunion.
—
Drama takes its productions of Two Gentlemen of Verona set in a '70s disco and Romeo and Juliet set in contemporary New York City to 20 public schools in two states and five boroughs.
—
40 Juilliard students go to Washington, D.C., to lobby on behalf of the National Endowment of the Arts, the funding of which is under threat. Viola student (and now a faculty member) Carol Rodland writes, "The situation is dire, and we cannot sit back and expect'someone else' to defend what we believe is vital to the well-being of our country."
—
Lester and Enid Morse have funded the Morse Fellowship Program in response to a drastic decline in arts education funding. Flutist and subsequent MAP faculty member Tanya Dusevic writes about introducing 5-year-olds to Crumb's Madrigals thinking they would be fidgety, but "they collectively objected to the termination of the music and demanded to hear the piece again! … I was fascinated by the descriptions of colors, feelings, and even physical sensations that the music had triggered [and realized the children] do not yet know that music is often unfairly dismissed when it is not traditional." While Dusevic acknowledges that she could be underestimating the experience's lasting impact, she writes, " An education curriculum that is saturated with creative and inventive artistic learning, however, is sure to have a profound effect on the future generation."
Year 12 1995–96
Colloquium is now required for all first-year college students.
—
Juilliard presents Prokofiev's opera The Love for Three Oranges with a design created by beloved children's book illustrator Maurice Sendak, a longtime collaborator with director Frank Corsaro.
—
Playwriting student David Auburn's Fifth Planet gets a Wednesdays at One staged reading. This is the first time there's been a drama Wednesday at One and the first year the playwrights have stayed for a second year.
—
InterArts is conceived as part of the Liberal Arts curriculum to "foster successful collaborations between students from different departments." Its first concert, of Crumb's Ancient Voices of Children, features a musical saw, Japanese temple bells, Tibetan prayer stone, and unconventional uses of conventional instruments.
—
Juilliard is voted the "toughest school to get into" in a survey of 56,000 college students polled by the Princeton Review.
—
Student Council wish list: extended library hours, more music stands, recycling.
—
Polisi's talk at commencement features excerpts from letters to him and other members of the community sent by elementary school children who visited Juilliard. Among them:
"Visiting Juilliard was fun, but I wish we had met Robin Williams."
 
"When we went into the dance class all the students were concentrating really hard and they were sweating a lot. I'm sure they will all get their diplomas."
 
"Your drama students are really fun. I never thought of swimming in 7-Up and the earth entirely covered with peanut butter. I didn't know drama students had to do crazy things in order to become actors." 
 
"Juilliard was not what I expected. As soon as I got home, I blabbed the whole day to my parents. They were so amazed, they asked if I had been in Disneyland!"
Year 13 1996–97
The Summer Dance program is launched.
—
In an article celebrating the Juilliard String Quartet's 50th anniversary, Polisi writes that it "has been one of the most important forces in the shaping of music-making around the world in the second half of the 20th century. Through scrupulous attention to the performance of music of our time and from earlier eras, and through their teaching and coaching, this ensemble has set the standard for what a life in music can and should be."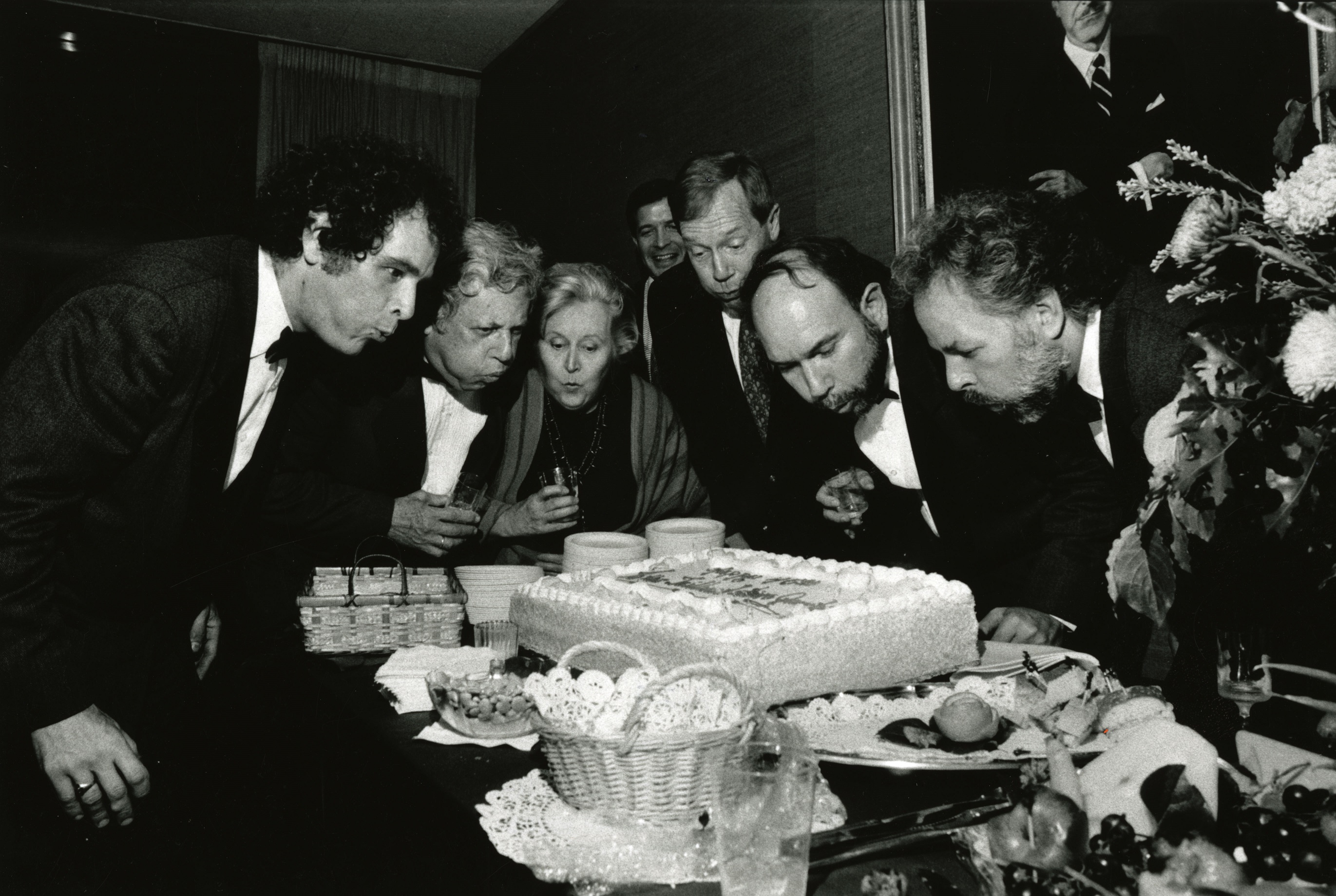 —
Juilliard's first website debuts.
—
Following the retirement of longtime receptionist Nora Downes, faculty member Denise Woods (Group 8) writes, "There was no Office of Student Affairs, no dormitory, no Psychological Services, and for most of us, there was very little money. … But there was one element to counter the demands, challenges, and obstacles of the Juilliard experience of the mid-70s, that served as the Office of Student Affairs, Psychological Services, a warm motherly hug, and even a little extra food and money wrapped into one package. It was Nora Downes."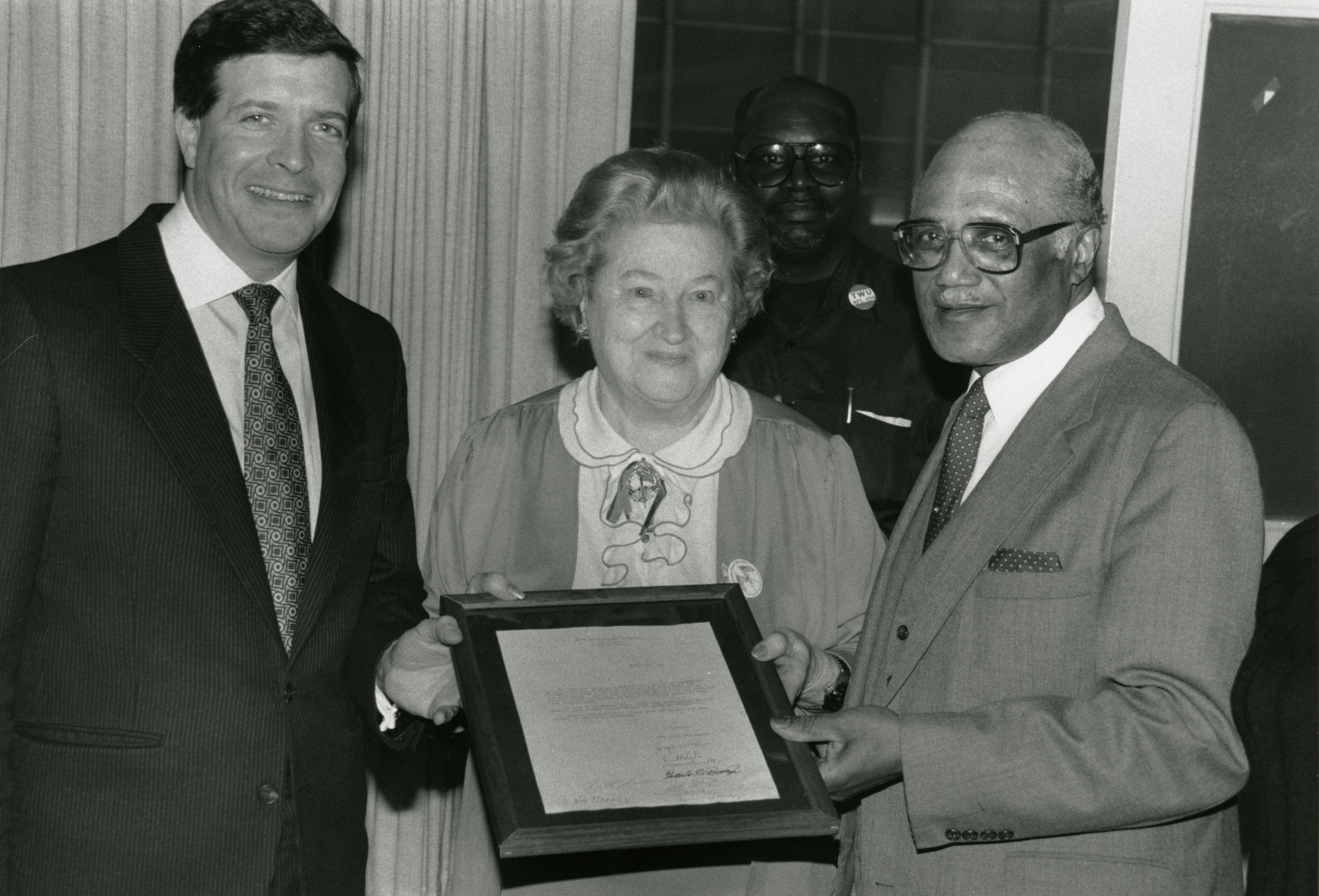 —
Cabaret, begun as a continuation of the work done in the drama students' singing class, is now an annual institution.
—
Bobby McFerrin conducts the Juilliard Symphony in a reading of Dvořák's Symphony No. 9.
—
The first Summer Percussion Seminar takes place.
Year 14 1997–98
Following the success of Prokofiev's opera Love for Three Oranges last year, Juilliard presents another Maurice Sendak-Frank Corsaro production: Humperdinck's Hansel und Gretel. It's on Live From Lincoln Center, the first time a conservatory opera production has been broadcast nationally on the series.
—
Mezzo-sporano Stephanie Houtzeel gives the first Alice Tully Vocal Arts Debut Recital.
—
The Juilliard Orchestra goes on tour, giving performances and master classes in Tokyo, Beijing, Shanghai, Guangzhou, and Hong Kong.
—
The Erskine Prize for faculty is established—it honors John Erskine (president of Juilliard 1928–37) and is given by his daughter, Anna Erskine Crouse, a Juilliard board member (and a mastermind behind TKTS, the discount Broadway ticket service).
Year 15 1998–99
Composition student Kati Ilona Agócs writes of a master class by Leontyne Price ('52, voice), "She could not overemphasize the truth inherent in the way an audience responds to a singer; 'If you earn it, they'll give it back to you,' she said in different words to each of the students," Agocs writes, adding that Price "never stopped stressing the importance of text as an equal partner with the music."
—
The Nippon Foundation establishes the Ryoichi Sasakawa Young Leaders Fellowship Fund (SYLFF) for graduate students.
—
The Juilliard Ovation Society, a donor organization, is inaugurated.
—
The Frederick P. Rose Fitness Center is dedicated.
—
A $6 million gift from the C.V. Starr Foundation, which gave its first gift to Juilliard in 1977, endows the DMA program and is the lead gift in Juilliard's capital campaign. The doctoral program was introduced in the 1967–68 academic year and thus far 258 have been awarded, with 19 students currently in the two-year full-time residency stage of the program.
Year 16 1999–2000
Juilliard announces in collaboration with Jazz at Lincoln Center the formation of its first jazz program. President Polisi says it "will open up a whole new world of collaborative possibilities" [making it] "an appropriate and enriching complement to the school's other course offerings." In the first year of the program—the 2001-02 school year, there will be 18–20 mostly postgraduate students, with the first bachelor's students, 12–15, scheduled to enter three years later. The first three years of the program are being made possible in part by a grant from the Edward John Noble Foundation.
—
Benjamin Fleischmann's Rothschild's Violin gets its American premiere by the Juilliard Opera Center. The story is based on a Chekov tale, and after Fleischmann perished in World War II, Shostakovich finished it.
—
Juilliard is the first educational institution to be awarded the National Medal of Arts. Established by Congress in 1984, the award goes to "individuals or groups who in the President's judgment are deserving of special recognition by reason of their outstanding contribution to the excellence, growth, support, and availability of the arts in the U.S." Juilliard benefactor Irene Diamond is also one of the recipients this year.
—
A major library renovation is supported by a $3 million grant from the Peter Jay Sharp Foundation. Years later, Jane Gottlieb, vice president for library and information resources and director of the C.V. Starr doctoral program, would fondly recall being at lunch with Polisi when the subject of funding the library renovation came up, and Polisi grabbed a paper napkin, scrawled the name "Peter Jay Sharp Special Collections" on it, and slipped it across the table to her.
Year 17 2000–01
The Irene Diamond Fund gives $10 million—one of the largest gifts made to Juilliard's capital campaign—which will go toward making the master's of music program more fully funded.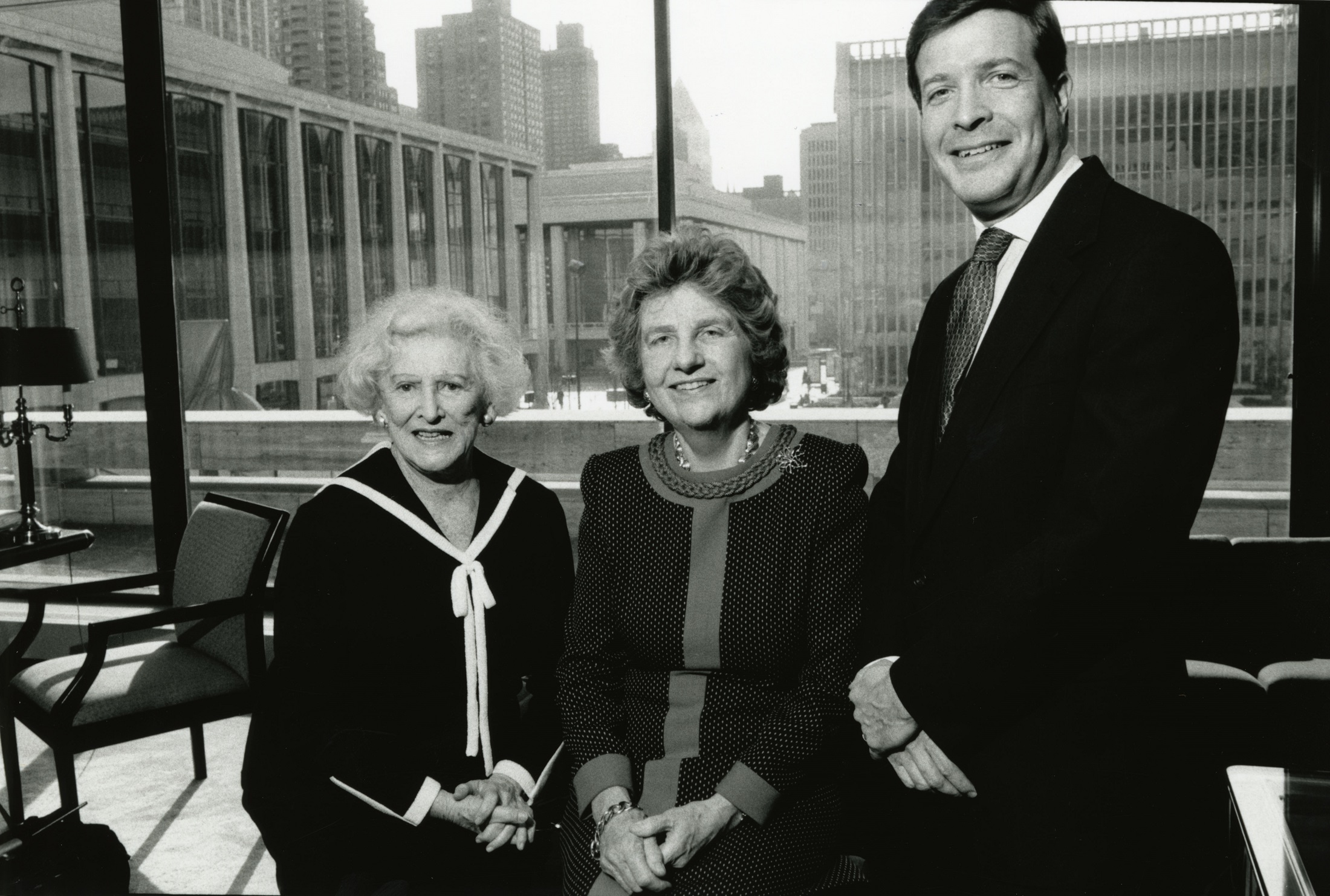 —
Bruce Kovner, who had chaired the successful $100 million capital campaign, becomes the new chairman of the Juilliard board of trustees, succeeding Mary Rodgers Guettel. Lisa Robinson writes in the Journal, "A self-confessed 'card-carrying true believer in the work of Juilliard,' Kovner's first involvement with the school came in 1971 when he enrolled as a student in the Extension Division."
—
The $12 million Greene Foundation gift is the largest in Juilliard's history and caps 15 years of extraordinary philanthropy by trustee (1985-99) Jerome L. Greene. A memorial tribute to him recalled him saying when he started his scholarship program, "the students are brilliant musicians, ballet dancers, and performers. It's a great school, and the students are very dedicated and talented and require financial aid." In addition to his scholarship support, Greene was also deeply involved, financially and in an advisory capacity, in making the residence hall a reality.
—
As part of the New Yorker Festival Lillian Ross interviews Robin Williams in the Juilliard Theater. "The juxtaposition of Ross' propriety against Williams' untamed zaniness was fascinating. Poised and impeccably prepared for the event, she remained unflappable and patient with her rambunctious subject, gingerly coaxing him from topic to topic, like a fakir leading a cobra with her flute,'" writes voice student Morgan Grunerud. Williams said, "'There was no room for 'schtick' at Juilliard," but also acknowledged an important "symbiotic relationship between classical theater and modern theater, including stand-up comedy."
—
The Music Technology Center holds its first Beyond the Machine festival.
—
Fourth-year dancer Heidi Stoeckley writes, "Gandhi often spoke of 'learning to be still in the midst of activity,' and I think that there is no more timely need for this reminder than midway through our senior year. I like to think of us as being on a kind of pilgrimage, one that is moving us toward the emerald city of our dreams, whether it be as a virtuoso violinist or a Tony-winning actor, but one which should also be moving us toward a better understanding of ourselves," she says, adding "It is our responsibility to make this year a meaningful and joyous memory."
—
After commencement, the first Starling-DeLay Symposium on Violin Studies is held.
Year 18 2001–02
At 10:45 a.m. on September 11, 2001, the first day of classes at Juilliard, the loudspeaker called for an all-school meeting. Students emerged from practice rooms, many of them unaware of the attacks on the World Trade Center. Everyone was told to evacuate the residence hall and to remain on the street level for fear that other tall buildings could be attacked next. People read, snuggled, played games. Those whose cell phones worked called their families. The director of counseling services talked about the emotional impact of catastrophe. One student offered to form a prayer group. Another suggested that Paul Hall be opened to those who wanted to express themselves by playing music.
—
Polisi writes, "On Sept. 20 we gathered as a community in the Juilliard Theater to reflect on recent events through readings, dance, dramatic monologue, and music. I had been involved in planning the event and felt a need to be close to the performance, [so] I watched most of the presentation from the wings. Toward the end of the gathering, the Juilliard String Quartet played the slow movement of Schubert's G Major Quartet. Hearing this group of dedicated musicians perform put much in focus for me. Juilliard is about tradition, integrity, humanity.
"So much was lost on September 11, but the spirit of our school and our nation came alive and grew in my mind as I heard the last chords of the quartet. … In the aftermath of this great tragedy, we have seen so much that is positive about the human spirit. … This is a time when we as individuals, and as a community, need to find and focus our inner strength and discipline. I am convinced that such strength exists in us all as we move toward a new day."
—
The first Juilliard Jazz students have arrived and the first Jazz Orchestra concert takes place with special guest (and future director of the program) Wynton Marsalis ('81, trumpet); in the second half, the Jazz Orchestra is joined by the Juilliard Orchestra.
—
Juilliard Opera Center gives the world premiere of Heloise and Abelard by Stephen Paulus and faculty member Frank Corsaro.
—
As the Dance Division celebrates its 50th anniversary, Polisi reflects in the Journal on "the extraordinarily positive impact that our dancers—faculty, students, alumni, have had on the entire school community." He talks about the foresight of his predecessor William Schuman to create the program, with Martha Hill in 1951. "Schuman always saw music and dance as naturally integrated artistic entities. Through collaboration, both the dancer and the musician are enriched and motivated to explore new artistic directions. … Schuman and Hill's vision for the dance program was highly innovative and groundbreaking for the time," he wrote. "They both spoke of teaching and performing many choreographic styles, using different movement techniques to realize new artistic initiatives and—perhaps most audacious of all—they required Juilliard dancers to study the fundamentals of music, just as their musician colleagues did. The resulting artistic and educational environment—which exists to this day—is one filled with creativity, diversity, energy, intellectual rigor, and exceptional artistic excellence."
—
The first ChamberFest, a week of intensive chamber preparation at the end of winter break followed by a week of performances, is a hit.
Year 19 2002–03
After the September 11 attacks, students Mauricio Salgado and Cindy Welik went to the Dominican Republic to do work and then "took this idea of communicating and eliminating barriers through art," back to Juilliard, where they created ArtREACH, actor Mahira Kakkar writes. "It's crucial to have a sense of mission to change the world for the future. Artists challenge society and culture," Polisi told them. "What you're doing [is] sensational—that's my dream."
—
One of many Juilliard 9/11-related commemorative events is a community sing-along of the Mozart Requiem.
—
The mentoring program, part of the June Noble Larkin Program for the Humanities, begins. Eric Booth, the first head of the program, wrote that Polisi "spoke of being troubled that too many music students were graduating without seeing dance or drama performances, that drama and dance students never attended the New York Phil or the Met in their four years here. These were symptoms of concern—students were not as fully rounded in their exploration and prepared as they needed to be to create a rewarding and responsive life in the arts."
—
Jessica Lang (BFA '97, dance) writes of choreographing for Juilliard, "I have always taken advantage of the open-door policy that the Juilliard faculty and administration perpetuates. As new artists in the field, we recent graduates can come back to our roots for guidance, inspiration, and advice. One of the ways Juilliard has enabled me (and other alumni) to continue developing our skills and careers is by commissioning us to create new work for the students."
—
The annual Jerome Greene concert of Baroque music is inaugurated—it won't be a period-instrument recital since Juilliard doesn't have the resources for that at the moment— but the Historical Performance program is starting to gleam in the institutional eye.
—
The first Artist Diplomas in Jazz are among the 242 degrees awarded at Juilliard's 98th commencement. Renée Fleming ('85, voice/opera) speaks and sings at the ceremony.
Year 20 2003–04
Over the summer, the Juilliard Orchestra takes its fourth trip abroad since 1983 (previous tours included one to Europe and three to Asia) and is in residence at the Festival of Two Worlds in Spoleto, Italy. There are also six jazz musicians selected to represent Juilliard Jazz at Spoleto. Juilliard receives the Festival Prize for best artist, as voted by the Italian press.
—
Polisi authorizes Joan Warren, associate dean for financial aid and academic support services, to establish the Office of Academic Support Services.
—
Nearly 90 alums attend the first-ever reunion of the Music Advancement Program (MAP), which started in 1991. The graduates' jobs include financial analyst, Peace Corps volunteer in Mali, medical student, doctoral candidates, soldier fighting in Iraq, English teacher in Japan, and professional musicians. Shawn Coleman (MAP '92; Diploma '96, BM '02, clarinet), one of the 40 members of the first class, writes, "What was instilled in all of us is the importance of music in a person's life. … We also share the commitment to ensuring that music reaches all communities, to using our success to ensure that programs like MAP continue and are expanded."
—
New Dances begins, giving all the dance students a chance to work with professional choreographers and to perform on the stage of the Juilliard Theater.
—
The 65th Street redevelopment is given a green light. The expansion of the building is scheduled to be completed in three years.
—
The Student Alumni Ambassador Program begins—by 2018 there will have been 148 ambassadors.
—
Polisi chairs the committee that chooses Daniel Barenboim and Mstislav Rostropovich to be the music recipients of the 2004 Wolf Prize (the Israeli equivalent of the Nobel).
—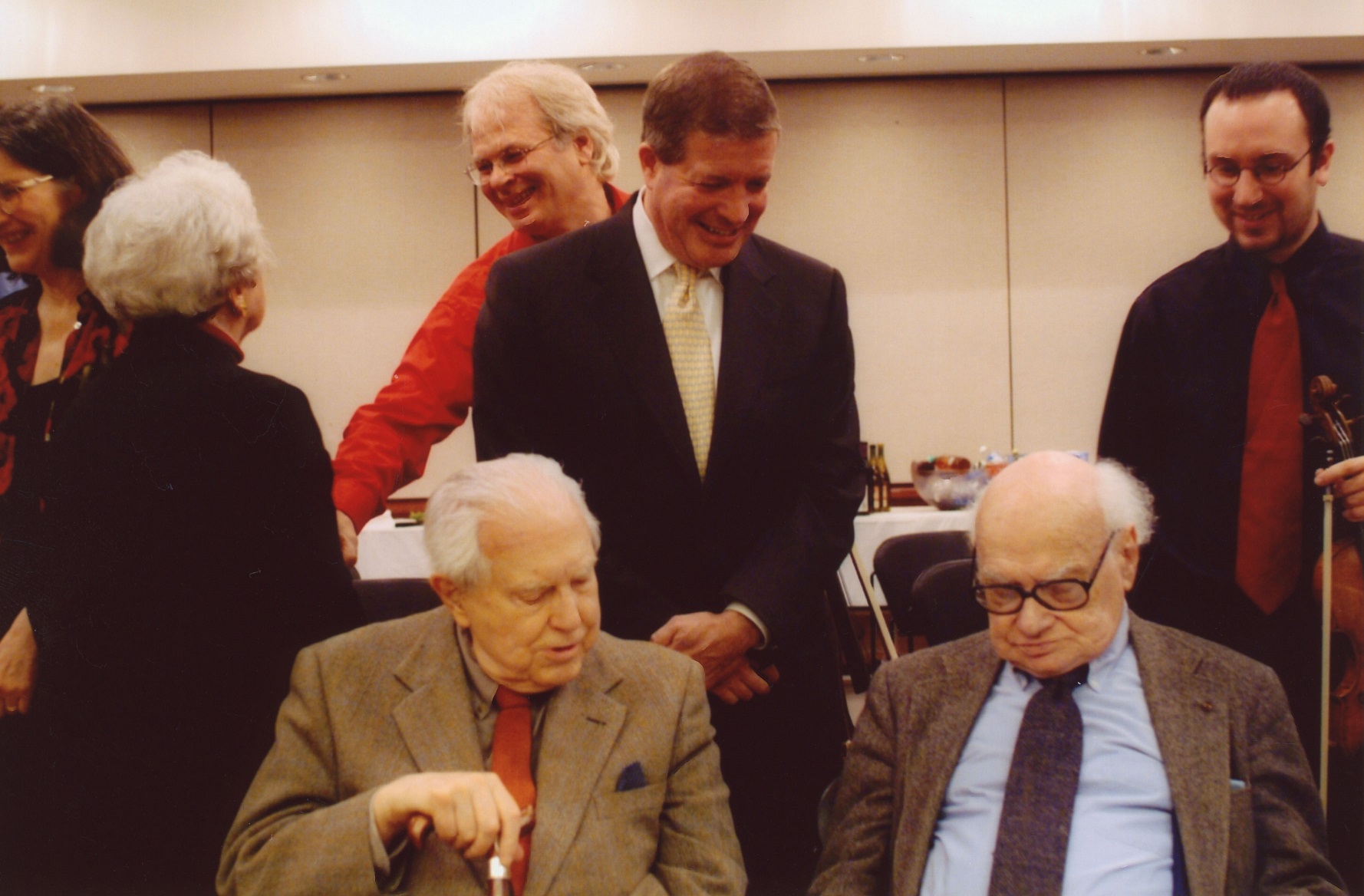 Year 21 2004-05
The Artist as Citizen, Polisi's acclaimed collection of essays, is published by Amadeus.
—
Polisi reflects back on his 20th anniversary at Juilliard:
On community engagement: "I was convinced that the young artists here could easily have the capability and the time to seriously explore intellectual endeavors as well. … If our students have no interest in who the next president of the U.S. is or what's going on in Iraq, if they're too busy practicing to care about what's happening in the school systems in NYC or in their own communities, that frustrates me. Because if they don't have the interest now—it's unlikely they'll have an epiphany in their 40s."
On liberal arts: "There was very much a cultural divide when I came. Some people accused me of trying to make Juilliard too academic. The idea that a young artist can't have both intellectual and artistic ability is, of course, nonsense. But it's very difficult to change habits and perspectives, especially institution-wide."
Other goals included making Dance and Drama feel they were an integrated and important part of the Juilliard community and increasing the number of guest conductors.
—
In the newly created role of artistic director of Vocal Arts, Brian Zeger (MM '81, piano) plans to reorganize the curriculum so it's on a continuum from the undergrad through the graduate programs.
—
Polisi wins two arts education awards: Musical America's 2005 Educator of the Year and New York Youth Symphony's Theodore L. Kesselman Award for Arts Education, an award he'll share with Juilliard.
—
Polisi's 20th anniversary year culminates in his receiving an honorary doctorate from Juilliard and delivering the commencement address.
Year 22 2005–06
The yearlong centennial celebration—the theme is inclusiveness—begins with Eliot Feld's Sir Isaac's Apples set to Steve Reich's ('61, composition) Drumming, one of more than 40 commissions in dance, drama, and music for the yearlong celebration, which also includes multiple panels, master classes, special performances, and speakers, plus Dance, Drama, the Juilliard Orchestra, and the Ensemble Jazz Orchestra all have national centennial tours, and the orchestra tours in Europe.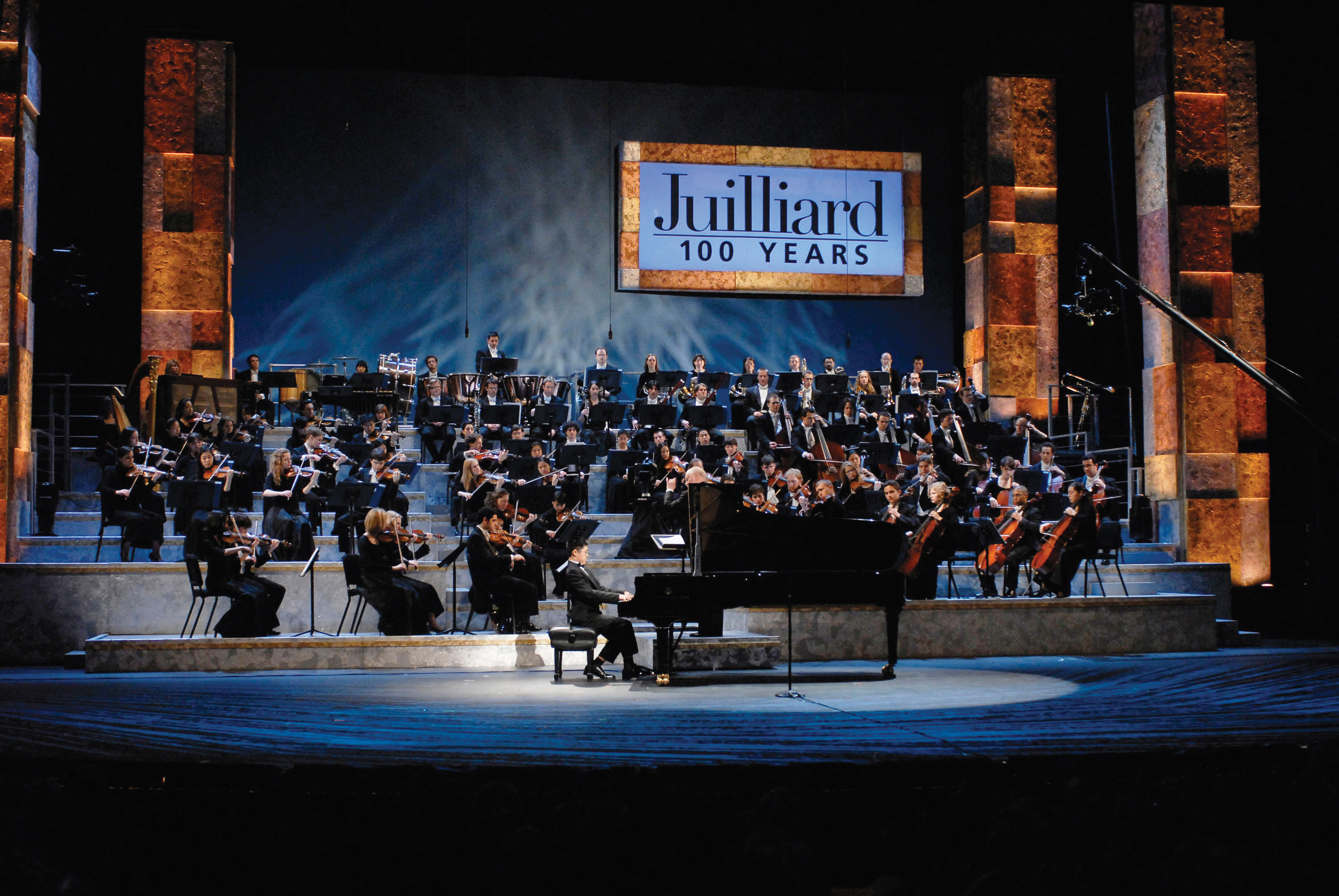 —
October 11 has been designated the official centennial day, and President Polisi tells the students,
"It's doubtful that the students who walked through the doors of the brand-new IMA on October 11, 1905, were thinking about becoming a part of history. … They, like yourselves, were budding young artists with one basic goal in mind: perfecting their art. They were probably concerned with the things that most young conservatory students think about: their next lesson, their grades, performing well in the next concert or recital, and more fundamentally, what their futures held in store. But a century later, with hindsight as our vantage point, we know that those students—and every student who has since walked through these halls, and sat in these classrooms, spent hour upon hour in our practice rooms and rehearsal studios, and performed on our illustrious stages—have been part of a continuum of history. Every musician, actor, or dancer who has chosen to nurture his or her talents here has helped shape the history of the performing arts in the U.S. and around the world.
"In my 21 years serving as president of this remarkable institution I have witnessed each successive class of young performers—guided by the artistry of Juilliard's peerless faculty—go out into the world to share their passion for the arts with their audiences. In so doing, they have become links in an unbreakable chain of talented and dedicated students and alumni who stretch from 1905 to the present and beyond. …You are the newest links in this chain, and as such, you are bound to those who will come before you and those who will come after you."
—
The Rolling Stones announce their upcoming tour from the Juilliard balcony over 65th Street with a three-song concert.
—
Juilliard teams with ArtREACH, the student outreach initiative, to send students and staff members to New Orleans over spring break to do what they can to help with post-Hurricane Katrina cleanup. The trip ends up being so successful that Juilliard-sponsored groups return for 10 more years.
—
The Pre-College Orchestra gives Leopold Damrosch's Symphony in A Major (1878) its world premiere. Leopold was the father of Frank Damrosch, founder of the Institute of Musical Art, Juilliard's predecessor institution.
—
Collaborative piano student Paul Kwak interviews Polisi, who was his mentor for two years, about his work and his legacy. "I've seen many spectacular students over my 22 years here, and when you talk to these young artists about something other than how they finger a B-flat, they have an informed view of the world. To be quite honest, it's these students who are musically or artistically the most successful, because they have a much broader view of what it is to be an artist and to communicate," Polisi says. His biggest concerns: financial aid and wanting to make students as productive as possible without being stressed out.
—
Bruce Kovner donates his manuscript collection to Juilliard. Jane Gottlieb, vice president for library and information resources and director of the C.V. Starr doctoral program, not surprisingly lists this as one of her top moments at Juilliard during the Polisi Years. "Right here on the fifth floor is the engraver's proof copy of Beethoven's Ninth Symphony—the copy that he used to conduct its first performance (which was really led by the first violinist), as well as Mozart's manuscript of the final scene of Le Nozze di Figaro along with so many other treasures."
Year 23 2006–07
The Academy—A Program of Carnegie Hall, The Juilliard School, and The Weill Music Institute, spearheaded by Polisi and Clive Gillinson, Carnegie's executive and artistic director, is launched with the goal of nurturing "young performers in fulfilling their own talents, to help develop the evolving role of the musician in society, and to provide public-school children with access to a high level of music education and performance."
—
President Polisi gives the first of three doctoral forums in anticipation of his William Schuman biography coming out, in 2008. They are "William Schuman, Antony Tudor, and Martha Graham: A True Integration of Sound and Movement" (2007), "At Least at Juilliard There Was Music: William Schuman and Lincoln Center" (2009), and "The William Schuman Violin Concerto: Genesis of a 20th-Century Masterpiece" (2010).
—
The reconstruction begins, but with Alice Tully Hall anticipated to be closed for a year of renovations, some creative schedule juggling has to take place—some performances will be held at the Society for Ethical Culture, the Church of St. Mary the Virgin, and John Jay and Miller theaters, with commencement to take place at Avery Fisher Hall.
—
Ara Guzelimian works as dean-designate for the second half of the school year and officially becomes provost and dean July 1. He comes from Carnegie Hall, where he was senior director and artistic advisor as well as the host and producer of the Making Music composer series; previously he'd held leadership positions at the Aspen Music Festival and School, the Ojai Festival, and the Los Angeles Philharmonic. He succeeds Stephen Clapp, who served 1994–2006.
Year 24 2007–08
The fall Playwrights Festival is the first of what will become an annual tradition. A few years later, Katori Hall (Playwrights '09) would say of it, "It's such a wonderful process. You get to pick the director, work with really talented actors, be at all the rehearsals, and generally help bring your play to fruition. It really preps you for life outside school. It also helps you learn how to let go, which you have to do as a playwright: you have to learn to walk out of the rehearsal room and know that it will be O.K.—and that gives the actors a sense of confidence."
—
Elizabeth Joy Roe (BM '04, MM '06, piano; Academy '08) speaks at the first graduation of the Academy, the Carnegie Hall-Juilliard-Weill Music Institution collaboration:
"Being thrust into the classroom was perhaps the greatest revelation for all of us. Although we embarked upon our school residency with an extensive arsenal of educational tools, tips, and methodology, we quickly realized that nothing could fully prepare us for the chaos, the lulls, the surprises, the arduousness, and the exhilaration of the public school teaching experience. …
"In this environment, familiar yet somehow foreign, I reaped valuable life lessons: I learned to be more patient, more spontaneous, more resilient, more alert, more resourceful, more fearless, and more present. I learned to recognize how golden the 'teachable moment' can be and that an effective teacher doesn't always stick to plan: sometimes you have to improvise according to whatever cues the kids give you, much like a skilled jazz player. I literally played it by ear on many occasions!
"There is no scientific formula to teaching—and thus teaching, like playing music, is an activity that constantly keeps us in touch with our essential humanity, our flaws and our potential. Without a doubt, working with young people has brought me—and many of us here—fulfillment of the highest degree."
—
The Juilliard Orchestra leaves after commencement for a tour of the People's Republic of China. The occasion marks the 50th anniversary of the orchestra's first-ever tour, in 1958, which spanned 25 concerts in six European countries. There are concerts in in three cities, performances of Western and Chinese music with the Central Conservatory of Beijing, a chamber concert at the Shanghai Conservatory, and master classes by Polisi and faculty members Yoheved Kaplinsky, Joel Smirnoff, and Elaine Douvas.
Violinist Ross Snyder writes afterward: "When I arrived at Juilliard to start my master's degree in September 2007, there was a buzz around the school, and I'm not talking about the construction. … During the first orchestra meeting of the year, the staff announced that the Juilliard Orchestra was planning a tour to China. Capitalizing on the international spotlight on Beijing created by the (then) upcoming 2008 Olympic Games, the Chinese Ministry of Culture organized a Cultural Olympiad, which would welcome hundreds of performing arts organizations from around the world."
One of his favorite moments was a chance encounter with locals in Shanghai. "They asked where I was from, and when I told them about the Juilliard tour, they were excited. They wanted to know what instrument I play, how long I've been playing, and whether I play Mozart and Beethoven. Their knowledge of Western classical music was limited, but they were so enthusiastic about it and impressed by what all of us at Juilliard are doing. … At the end of our conversation they invited me to have tea with them in a nearby café, an offer I would have readily accepted had I not been on my way to a rehearsal. To me, this encounter proved the success of Juilliard's China tour. Our music allows us to connect a thousand people at once, and it also gives us the opportunity to make friends one-on-one. 'It's about people to people,' as President Polisi put it at the beginning of the tour."
Year 25 2008–09
American Muse: The Life and Times of William Schuman by Joseph W. Polisi (Amadeus Press), is published—it's the first full-length biography of the composer and arts-world leader, who was also Juilliard's president from 1945 to 1962.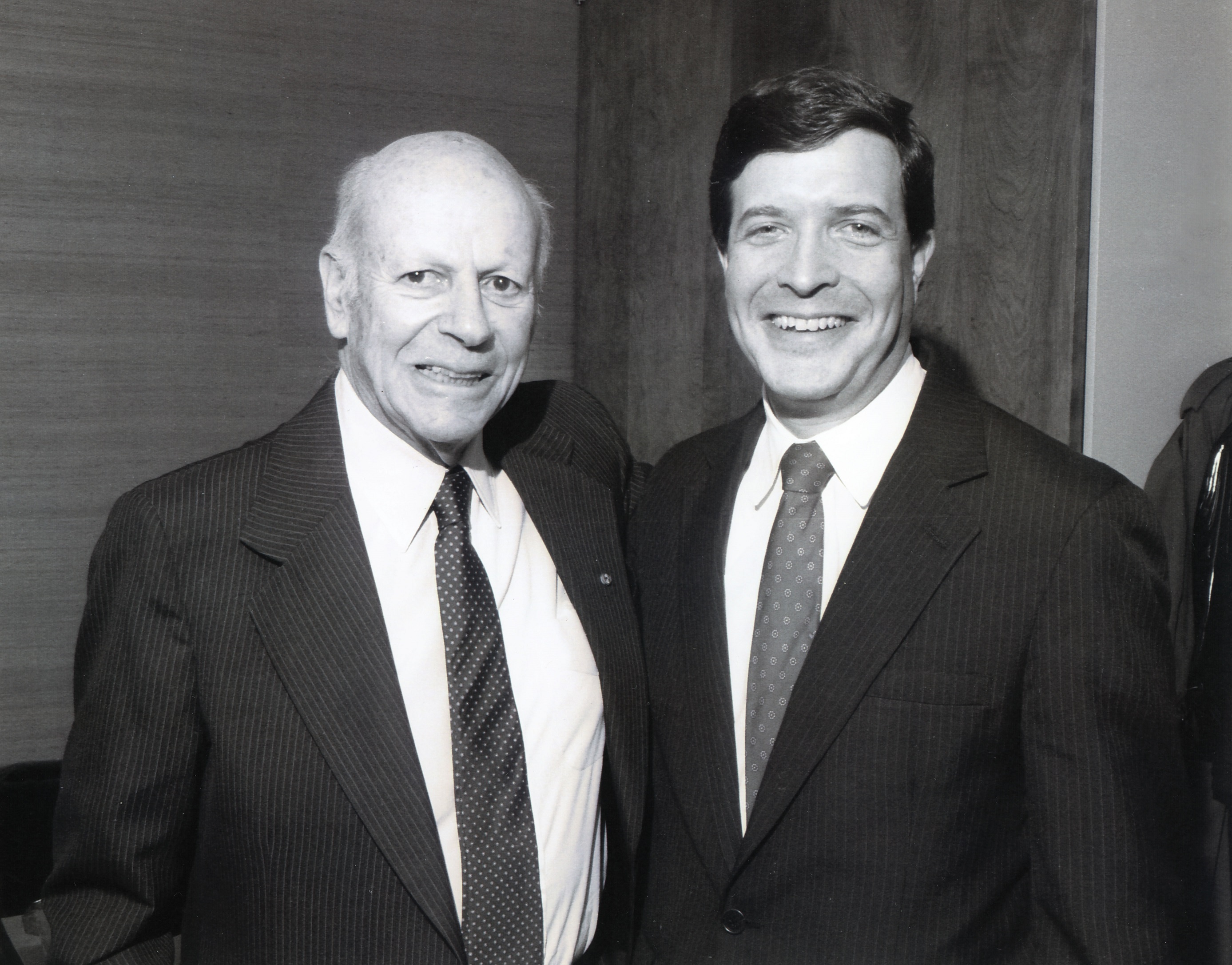 —
Alice Tully Hall reopens just under two years after being closed for renovations. The Lincoln Center renovations as a whole comprised the second largest construction project in Manhattan after Ground Zero. A number of concerts will celebrate the reopening, including David Robertson—who would be named head of Juilliard's conducting program 10 years later—conducting the Juilliard Orchestra in a six-century-spanning concert of music including works by Bach, Bartók, Stravinsky, Golijov, and more.
—
Polisi is elected to the American Academy of Arts and Sciences. This year's fellows—among them Juilliard jazz piano faculty member Kenny Barron—include Nobel laureates and recipients of the Pulitzer and Pritzker prizes, MacArthur Fellowships, Academy, Grammy, and Tony awards, and the National Medal of Arts.
—
A town hall meeting is held to examine the political views of the 2008 presidential candidates. The panelists are French hornist Craig Hubbard, bassist Allison Job, actor Alejandro Rodriquez, composer Evan Fein (who later described this panel as one of his favorite Polisi memories), trumpeter Alexander White, and dancer Lydia Bittner-Baird; the topics are foreign policy, economy, and health-care issues.
—
Juilliard is inducted into the American Classical Music Hall of Fame as is faculty member Samuel Adler. Two years later, Polisi himself will be inducted, along with Marin Alsop (MM '78, violin), Philip Glass (MS '62, composition), the Emerson String Quartet (which included alums Eugene Druckman, Philip Setzer, and Lawrence Dutton as well as David Finckel, who subsequently joined the Juilliard faculty).
—
The Focus! festival concludes with John Adams' The Death of Klinghoffer; in response to a patron's reaction to hearing Klinghoffer would be performed, President Polisi writes, in part
"I read your letter with concern and sorrow. My concern stems from the realization that Juilliard is presenting a work that causes you upset and brings forth in you a distinct anger. My sorrow is based on the fact that the frustration and hatred manifested in John Adams' work have come to life once again as I write this letter, with Israeli troops fighting Palestinians in Gaza. Since time immemorial, the work of artists has often mirrored events taking place in reality. …
"Such an extraordinary work of art like this must continue to live, no matter how horrific its basic story. I respect your right to protest the opera's topic, but Juilliard and its kindred artistic institutions have to be responsible for maintaining an environment in which challenging, as well as comforting, works of art are presented to the public. … If we had decided against producing Adams' opera in an effort to not offend audience members, we would have ignored our mission as an institution and community that teaches and enlightens through the wonder and power of the arts."
—
The first Joseph W. Polisi Prize is offered. It recognizes students who exemplify excellence in artistry and the spirit of the artist as citizen.
Onyemaechi Aharanwa (Diploma '09, drama)
Chelsea Ainsworth (BFA '10, dance)
Kristopher Bowers (BM '10, MM' 12, jazz studies)
Danielle Brooks (BFA '11, drama)
Kelsey Connolly (BFA '15, dance)
Karen Cueva (BM '13, MM '15, violin)
Adam Driver (BFA '09, drama)
Angela Falk (BFA '17, dance)
Zachary Green (BM '15, MM '17, composition)
Marcus Guy (BFA '14, dance)
Julia Headley (BFA '13, dance)
Eliza Huberth (Diploma '15, drama)
Jimmie JJ Jeter (BFA '16, drama)
Allison Job (Pre-College '05; BM '09, MM '11, double bass)
Patrick McGuire (BM '12, cello)
Gia Mongell (BFA '14, dance)
Miles Mykkanen (BM '13, MM '15, Artist Diploma '17, voice/opera studies)
Breanna O'Mara (BFA '11, dance)
Cleo Person (BFA '16, dance)
Victoria Pollack (MFA '17, drama)
Midori Samson (BM '14, bassoon)
Michael Truesdell (MM '11, DMA '16, percussion)
Kerry Anne Warren (BFA '13, drama)
—
A panel on the artist as citizen includes faculty member Ed Bilous (MM '80, DMA '84, composition), Sarah Johnson, (BM '97, MM '99, oboe), director of Carnegie Hall's Weill Music Institute, and faculty member Behzad Ranjbaran (MM '88, DMA '92, composition). Ranjbaran talks about growing up in totalitarian Iran, and though he studied violin at the Tehran Music Conservatory, he was jailed for owning books deemed critical of the regime. But when the other political prisoners learned he was a music student, he was transformed into a choral director who "experienced the power of words and music in expressing the deepest and most profound human emotions" and after he was released began to work as a music teacher in small villages. "What does it mean to be an artist as citizen?" he asks. "It might be mentoring a young musician in a high school, or a string quartet performance in a nursing home in Queens. It may range from a free concert by the New York Philharmonic in a special performance of the German Requiem after the September 11 terrorist attacks to Rostropovich's impromptu performance during the fall of the Berlin Wall. Responsible performing artists apply their artistry to make a difference in society."
Year 26 2009–10
The Historical Performance program, funded by Bruce Kovner, Juilliard's board chair, opens its doors with 13 master's students. In addition to creating a world-class program, one of the goals in starting Juilliard Historical Performance was to make the school "an anchor in the local and national historical performance scene," Polisi told the Journal. Having studied the French bassoon, which is very similar to Baroque bassoon, Polisi knows firsthand the pleasures of music played on historical instruments, saying, "There really is quite a difference in sound for the active listener." Early music specialist William Christie, whom Polisi calls the godfather of Juilliard's Historical Performance program, continues to have annual residencies at the school.
—
Polisi writes about his 25th anniversary in the Journal. "In 1985 I summarized the Juilliard experience as 'nurturing excellence in performance, intellectual and artistic creativity, rigorous discipline, a joy in art, and a delight in life.' I am pleased to note that such a credo continues 24 years later." The highlights: opening the residence hall; a new level of intellectual and artistic rigor, particularly the high quality of our Doctor of Musical Arts program; newly created offerings including Jazz, Historical Performance, Mentoring, the Barnard/Columbia/Juilliard Exchange, Academic Distinction, and many more; the remarkable array and quality of performances in dance, drama, and music that we have presented in New York and around the world; the growth of programs outside the walls of Juilliard that have been created through the artistry of our students and graduates to positively change the world of children and adults; and the privilege of experiencing the dedication, creativity, discipline, and humanity of the members of the Juilliard community on a daily basis."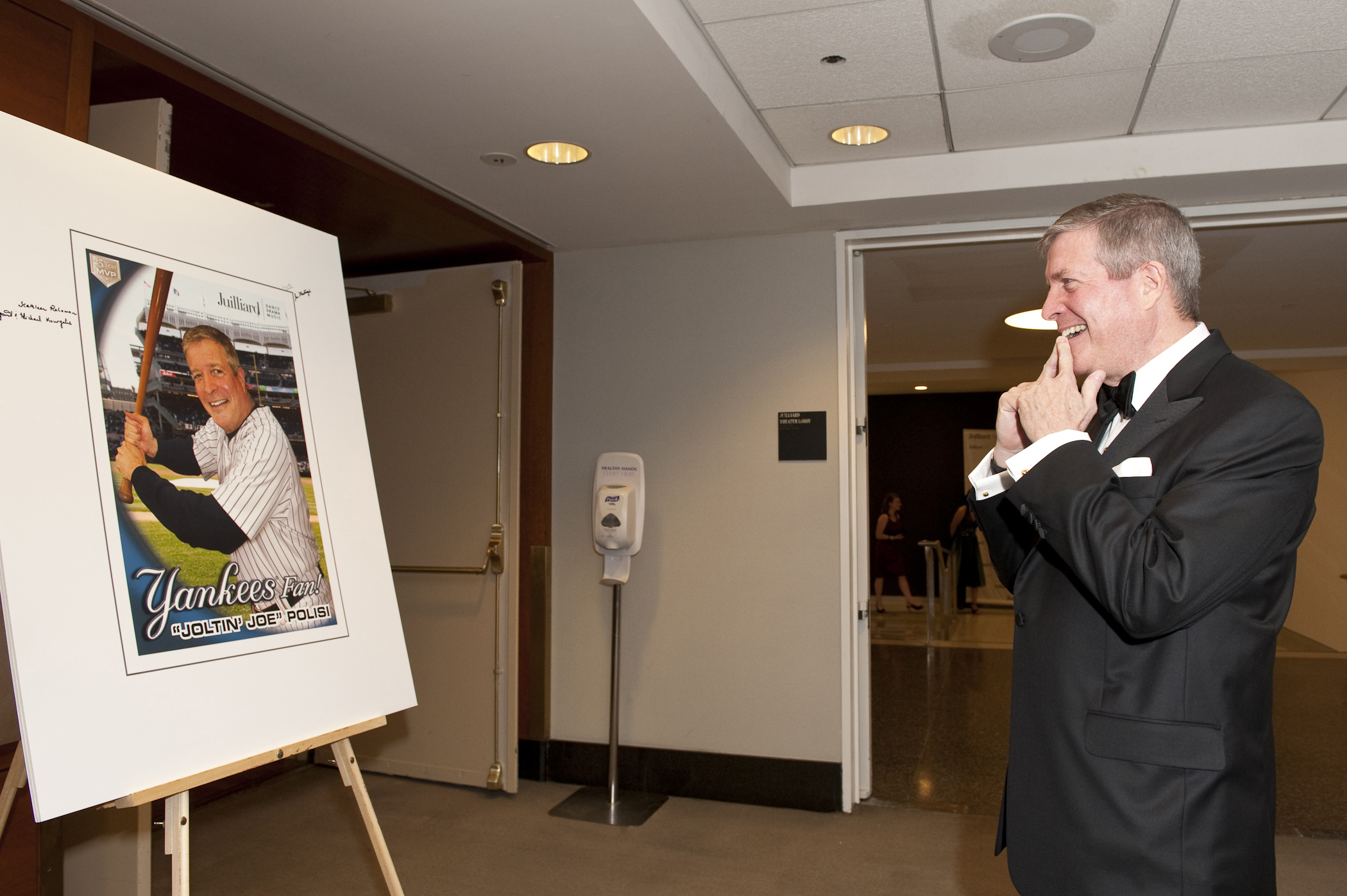 —
The renovation finally over (well, mostly), the year begins with the rededication of a number of public spaces. The school's new wing is officially named the Irene Diamond Building, in recognition of the late Irene Diamond, a longtime benefactor of Juilliard, and the generous support of the Irene Diamond Fund, its director, Jane Silver, and the fund's trustees. Other new spaces include the Judith Harris and Tony Woolfson Orchestral Studio, the Writing and Communication Center, and the Rosemary and Meredith Willson Theater (and the "curtain" outside of it), the Scholars Reading Room, and the Glorya Kaufman Dance Studio. Members of the Juilliard Gay-Straight Alliance join an estimated 150,000 people for a march and rally for gay rights in Washington.
—
Samuel Adler is appointed the first Schuman Scholar.
—
Juilliard commissions Elliott Carter (faculty 1966–84) for a piece for the New York Woodwind Quintet. It's called Nine by Nine and he completes it on his 101st birthday.
Year 27 2010–11
Alan Gilbert (Pre-College '85; MM '94, orchestral conducting), music director of the New York Philharmonic, is named Juilliard's director of conducting and orchestral studies.
—
Winding up Juilliard's long renovation, the Juilliard Store opens its doors by the 66th Street entrance after having been in a trailer for two-and-a-half years.
—
In recognition of a $10 million gift from Juilliard board member James S. Marcus and his wife, Ellen, Juilliard's Department of Vocal Arts is renamed the Ellen and James S. Marcus Institute for Vocal Arts. The gift enables a host of new vocal arts curricula and activities, maintains adequate support personnel within the department, creates a vocal arts advisory council, and permanently endows the James S. Marcus Faculty Fellowship.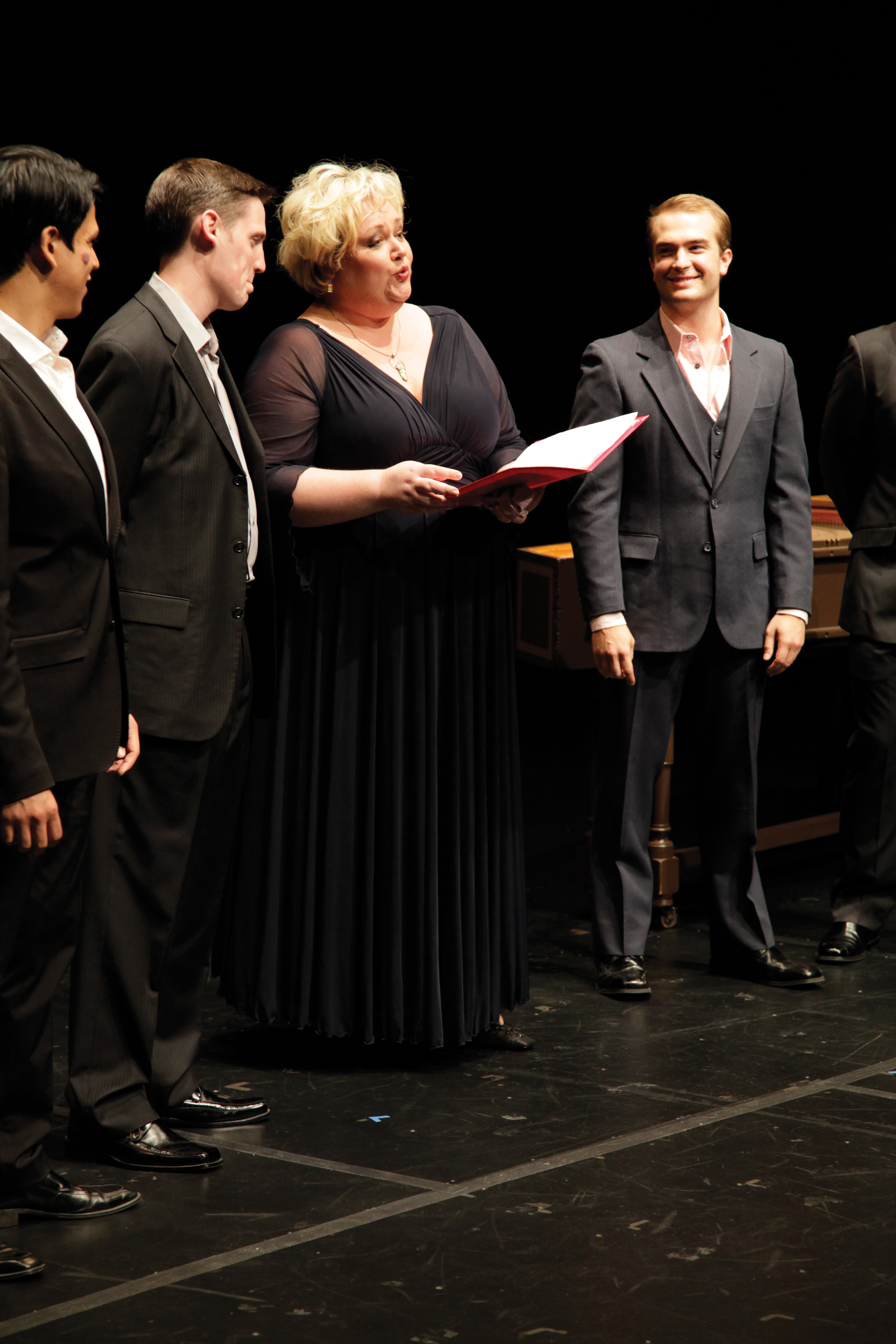 —
AXIOM, which features "flexible instrumentation and a flair for the eclectic," has given dozens of performances of the "staples and hidden gems of 20th- and 21st-century" over the last five seasons. Founded by students, it is led by faculty member and alumnus Jeffrey Milarsky.
—
Representative John Lewis speaks at a Drama Division community meeting shortly after winning the Presidential Medal of Freedom.
—
The Alice Tully Hall organ is rededicated in a series of three concerts.
Year 28 2011–12
Bruce Kovner, Juilliard's board chair, gives $20 million to ensure that the operating costs—including staff and faculty salaries and benefits, instrument purchases and repairs, and performance-related—of the two-year-old Historical Performance program will be fully funded in perpetuity. He'd provided startup funding for the master's-level program, which began in 2009, and over the following two years, he gave grants to cover its approximately $1 million in annual operating costs.
—
Juilliard wins a 2011 Breaking Barriers Award for providing opportunities for visually impaired individuals.
—
Juilliard Opera gives Peter Maxwell Davies' Kommilitonen!, a co-commission of Juilliard and the Royal Academy of Music in London, its U.S. premiere. The commission grew out of a 2006 meeting between Polisi and then-principal of the Royal Academy, Curtis Price, who decided to continue their institutions' longstanding collaboration with an operatic work for students. Davies and his longtime creative partner, David Pountney, agreed to write the libretto on the condition that the characters themselves be students. The opera is about three student movements—in China, Germany, and the U.S. The premiere is particularly dramatic since it happens to occur at the height of the Occupy Wall Street movement.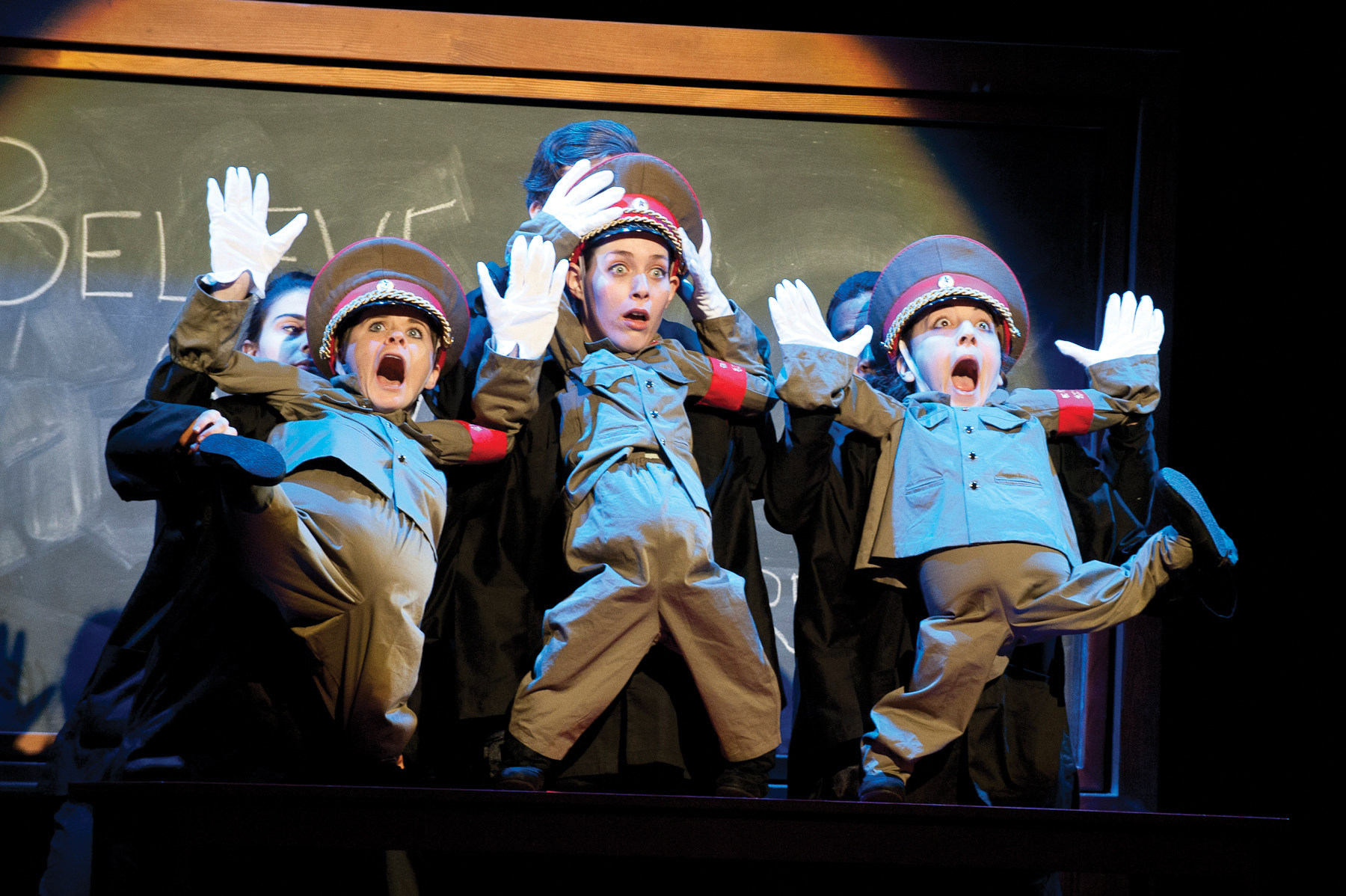 —
Following nearly 50 meetings over the course of two years, a new curriculum is unveiled, with the restructuring of Literature and Materials of Music to become Music Theory and Analysis; it will debut in the fall and consist of a two-year core curriculum plus three semesters of required theory electives for all undergraduate music majors as well as an honors track. Polisi says the goal is "to develop a course of study that relates to the 21st-century needs of a performing artist." Michael Griffel, chair of music history, notes that the changes will allow the department to "spend much more time with students in developing their knowledge of music history—and history in general—so that they understand the context for the music they perform and become more fluent in speaking and writing about music." This revamp follows a two-year revision of the Drama Division curriculum.
—
Historical Performance holds its second collaboration with Yale: a performance of Handel's Creation, which is the "first public performance in which the musicians of Juilliard415 use instruments of the late 18th century that are tuned to A=430 Hz (approximately a quarter tone lower than modern pitch, and a quarter tone higher than is usual for Baroque music)," student Jude Ziliak writes.
Year 29 2012–13
President Polisi announces in June that Juilliard is pursuing the possibility of opening an educational institute in Tianjin, China. He says he envisions it being a "center for performing arts education serving all of East Asia and a hub for all of Juilliard's activities in this region."
—
In other Juilliard-international news, a group of Juilliard Orchestra members perform at the Proms in London and the Dance Division makes its debut at the Edinburgh International Festival when 24 students and recent graduates perform José Limón's Waldstein Sonata, Nacho Duato's Gnawa, and Alexander Ekman's Episode 31.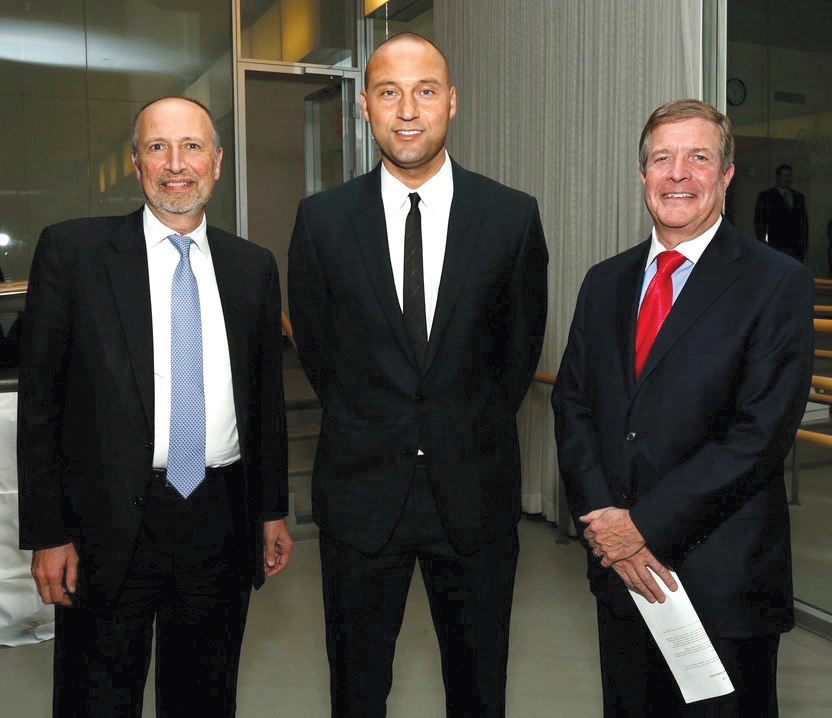 —
The Morse Fellowship (started in 1994) and Instrumental Music (since 1999) programs have been combined into the Morse Teaching Artist Fellowship Program, which will begin with 25 fellows next year. The new program, which begins in the 2013–14 school year, will train all fellows in aesthetic and applied education and then place them in teaching assignments based on their strengths and preferences.
—
The orchestra is pairing up with Opera Studies three times this year, for Mozart's Così fan tutte, Donizetti's Don Pasquale, and Janáček's Cunning Little Vixen.
—
For the first time Juilliard will have an MFA program, which James Houghton, Richard Rodgers Director of the Drama Division, calls "an exciting and substantial threshold moment [that lets] us continue to meet the challenges and needs of this ever-evolving art form." Starting in the fall of 2012, about eight to ten students will begin the program each year. They'll participate in advanced courses in addition to working with undergraduates in certain classes and performance projects. A lead matching challenge gift of $5 million from Bruce and Suzie Kovner and contributions of $2.5 million each from the Harold and Mimi Steinberg Charitable Trust and from John A. and Carole Moran helped make the program possible.
—
A $7 million gift to the Music Advancement Program (MAP) by Michael Moritz and Harriet Heyman all but assures the program's future. Currently 65 children in third-to-eighth grades take weekly classes in 16 instruments as part of the program. In thanking Moritz and Heyman, Polisi says, "MAP has always represented our belief that the exceptional power of music can positively motivate children in all that they approach."
Year 30 2013–14
Juilliard's chairman, Bruce Kovner, and his wife, Suzie Kovner, a member of the Juilliard Drama Council, make history with the largest single donation ever made to the school: a $60 million gift to establish the Kovner Fellows Program, a new scholarship initiative intended to attract top young musicians from around the world to Juilliard and "bring an unprecedented array of talent to New York that will enrich the city for years to come," Bruce Kovner says. "This extraordinarily generous and visionary gift will ensure that future highly gifted Juilliard musicians will be able to pursue their studies with no financial concerns, freeing them from the heavy debt burden that has caused long-term financial challenges for many students," Polisi says in announcing the gift.
—
World-renowned trumpeter Wynton Marsalis, an alumnus and longtime board member, is tapped to head Jazz Studies, a program he helped conceive.
—
The Jerome L. Greene Foundation pledges to give Juilliard $7 million to support the Jerome L. Greene Fellowship fund for students in music, dance, and drama, which was established in 1985 and is one of the largest single scholarship programs at Juilliard. While the bulk of the money will go toward boosting the endowment, a portion will be set aside to provide immediate scholarship support for students in all three divisions who qualify on the basis of merit and/ or need. Greene, a lawyer and real estate investor, was a Juilliard trustee from 1985 until his death, in 1999 and was instrumental in the creation of the Barnard-Columbia-Juilliard Exchange. When the gift is completed in 2017, according to Christina McInerney, Greene's stepdaughter and the president and CEO of the foundation, it will provide 15 full-tuition scholarships annually.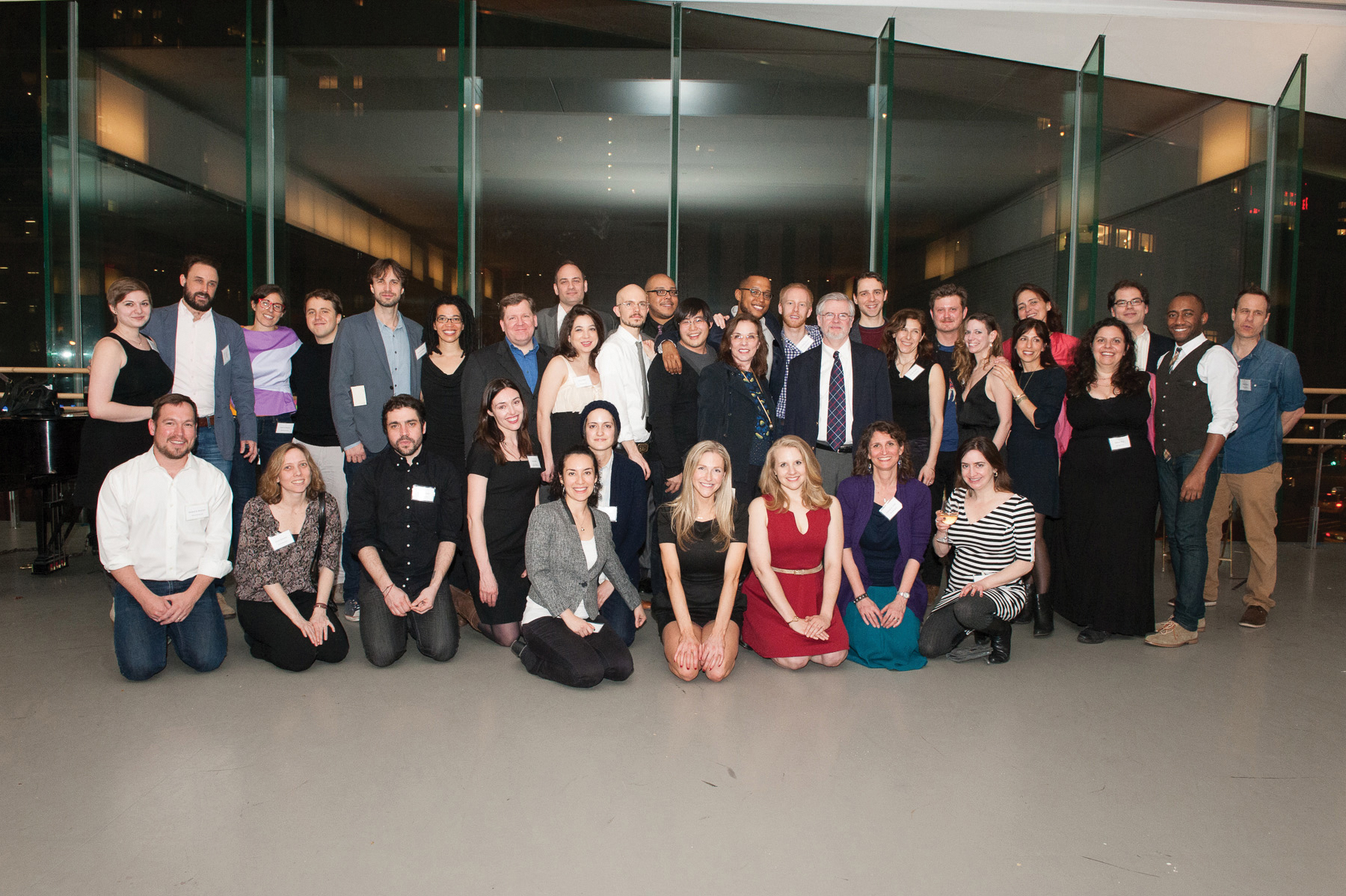 —
The Student Council celebrates its biggest achievement to date since it was revived in 2009: the Common Hour, a logistical feat that has been in the works since spring 2011.
Year 31 2014–15
Historical Performance students, alumni, and faculty members become the first-ever conservatory in residence at the Utrecht Early Music Festival in the Netherlands. This mecca for period-instrument performance is the largest and, arguably, most important, gathering of its kind," writes Benjamin Sosland (MM '03, DMA '08, voice), the assistant dean for the Kovner Fellowships, administrative director of Juilliard Historical Performance, and a member of the college faculty.
—
Seven Drama Division students join forces with seasoned U.K. actors and Royal Academy of Dramatic Arts students to premiere a new translation of Austrian writer Thomas Bernhard's 1976 play Minetti at the Edinburgh International Festival.
—
French visual artist Fabienne Verdier has a yearlong visual arts residency at Juilliard during which she creates a mural; as part of the residency, composition students create works about the triptych, which is subsequently hung in the president's outer lobby.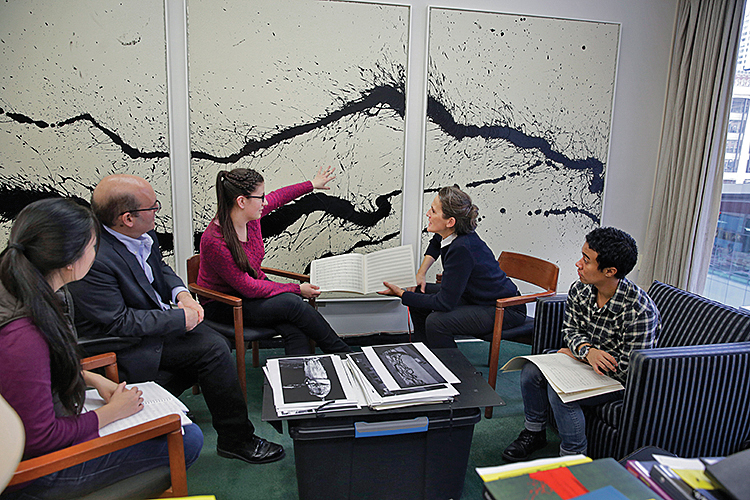 —
The Office of Career Services is renamed the Alan D. Marks Center for Career Services and Entrepreneurship after Michael Marks, a trustee, and his wife, Carole, give $5 million. It is named after his late brother Alan Marks (BM '71, piano).
—
A new electronic practice room reservation system is inaugurated—the goal is to avoid wait times and hogging of rooms.
Year 32 2015–16
"Shortly after arriving at Juilliard in the fall of 2005, first-year actor Adam Driver (Group 38), not long out of the Marines and convinced that no civilian obstacle was too difficult to overcome, requested a meeting with President Joseph W. Polisi. Earlier that year, Polisi's book The Artist as Citizen had come out and Driver was on a mission to embrace the concept. In their meeting, Driver asked about the possibility of having a small group of drama students present plays in Iraq for Marines. From that 2008 performance grew Arts in the Armed Forces (AITAF), which is now a thriving nonprofit that produces performances for current and former service members and their families." This history was recounted at a panel about the role of the artist as citizen, with Joanne Tucker (Group 38), Polisi, Driver, Katori Hall (Playwrights '09), and James Houghton, director of the Drama division. Courtney Blackwell Burton (BFA '02, dance), managing director of operations for Juilliard Global Ventures, moderates.
—
Juilliard is the first educational institution to win the Capezio Award for significant contributions to American dance. The award was established in 1953 and many recipients have been affiliated with Juilliard—among them longtime faculty members Martha Graham, Martha Hill (the founding director of the division), Doris Humphrey, and José Limón as well as alumnus Paul Taylor.
—
China's Ministry of Education gives preliminary approval for The Tianjin Juilliard School's degree-granting program—it will be the first American master's of music degree-granting program in China.
—
Alumnus David Lindsay-Abaire is tapped to co-direct the Playwrights program with Marsha Norman after Christopher Durang steps down.
—
Polisi moderates a public panel discussion with James G. Stavridis, the retired admiral, former supreme allied commander of NATO, and dean of Tufts University's Fletcher School of Law and Diplomacy; and David Brooks, New York Times columnist. The talk is bookended by performances with political/social messages by Juilliard alums: Sekou Laidlow gives a monologue from Athol Fugard's My Children! My Africa! and tenor Paul Appleby sings "Here I Stand" from Stravinsky's The Rake's Progress. While Brooks and Stavridis deplore the lack of civility in our own national discourse as well as the rise of authoritarianism, nationalism, and fundamentalism internationally, they also both see reasons for hope, particularly in the energy of today's youth. "A place like Juilliard can sharpen the good side of that," Stavridis says, adding "I'm not a triumphalist for the U.S. but I am an optimist for this country."
—
A new, updated edition of Polisi's The Artist as Citizen includes an increased emphasis on entrepreneurship and planning for the 21st century; the book is also translated into Chinese.
—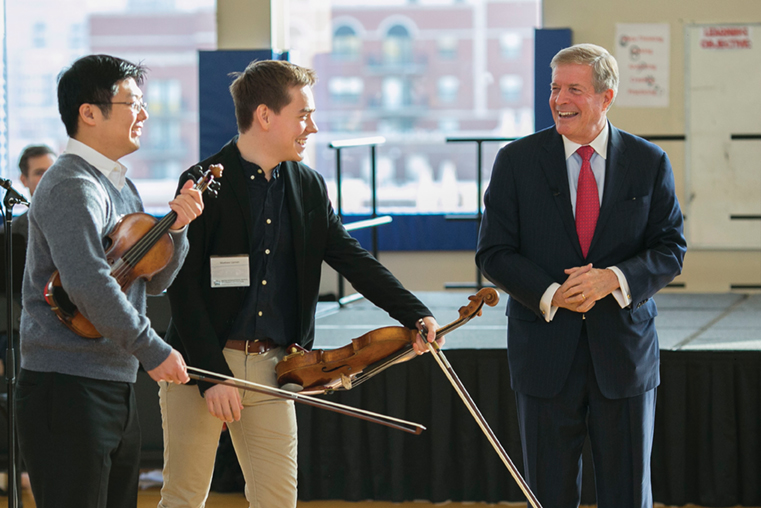 Year 33 2016-17
President Polisi announces he'll retire at the end of the 2017–18 academic year, and a search committee is formed to find a successor. Just as he has for years, Polisi moderates a student panel before the election. Zachary Green (BM '15, MM '17, composition), who would subsequently become Juilliard's alumni relations associate, writes that the panel is "a Juilliard tradition each election year which, like everything else in the 2016 campaign, was anything but traditional."
—
Edward Sien, director of corporate and foundation relations, would write in a tribute to Polisi about a forum for students, faculty, and staff held in the wake of Donald Trump's election. "Many in the community were distressed by this surprising outcome and you addressed [these] concerns about what this meant for all of us with grace, empathy, and a clear-eyed historical vision that expressed hope and optimism for the strength of our democracy and the American ideal. I am sure that I was not the only one there who found a great measure of consolation in your ability to absorb and fruitfully channel our anxiety about the future direction of our country."
—
Polisi teaches what will be his last semester of his American Society and the Arts class, which he once described in an interview as follows. "One of the exercises in the first two weeks of my class is to try to define art—and of course, we always fail, because people have different perceptions of things. Some people say that anything goes; others have a much tighter definition. But I turn the question around and say, 'I'm not going to give you a definition of art; I'm just going to give you the tools to be discerning. It's up to you to decide what is art and what isn't,' which is what we ask of every single student in this school. Eventually, our graduates have to come up with their own standards. Fundamentally, that's what schools do. But getting into the business of defining high art in America is a no-win situation. Better to ask, what have you done to prepare yourself to be a discerning individual?"
—
Juilliard415 has a busy touring schedule that includes jaunts to India (which included, unusually for Historical Performance, a world premiere, by alumna Reena Esmail) and what appears to be the first-ever Juilliard tour to New Zealand: 10 concerts, 10 cities, 20 days, funded by trustee Sarah Billinghurst Solomon.
—
Leadership for The Tianjin Juilliard School is announced: Alexander Brose as the executive director and CEO and Wei He, the artistic director and dean.
—
Juilliard announces its seventh president, Damian Woetzel, will take office on July 1, 2018. He retired in 2008 after 20 years as a principal dancer with the New York City Ballet and is the director of the Aspen Institute Arts Program and artistic director of the Vail Dance Festival. He's also an independent director and choreographer as well an active champion of bringing arts education to challenged school districts. Woetzel holds a Master in Public Administration degree from Harvard's Kennedy School of Government and has been as a visiting lecturer at Harvard Law School.
Year 34 2017–18
President Designate Damian Woetzel is a quiet presence at Juilliard during the year, learning the presidency ropes and getting to know the community. We get a taste of a less quiet side when he transforms a lunchtime panel discussion with Jonathan Batiste (BM '11, jazz studies), the bandleader for The Late Show With Stephen Colbert, into a "Love Riot" improv session that spills onto 65th Street and captivates onlookers and community members.
—
Woetzel isn't the only new face who'll be arriving at Juilliard in time for the 2018-19 school year. Yale Repertory Theatre veteran Evan Yionoulis will succeed James Houghton, who died in the summer of 2016, as Richard Rodgers Director of the Drama Division. And former Ailey and Dance Theatre of Harlem dancer and educator Alicia Graf Mack will take the reins of the Dance Division—Lawrence Rhodes, retired in 2017. David Robertson will become Juilliard's director of conducting studies, visiting faculty member, taking over from Alan Gilbert (Pre-College '85; MM '94, orchestral conducting). Also starting will be Lesley Rosenthal, who comes to the new position of chief operating officer and corporate secretary from Lincoln Center, where she spent 13 years as executive vice president, general counsel and secretary; she's married to jazz faculty member Ted Rosenthal. And in September, Areta Zhulla (Pre-College '04; BM '08, MM '10) will become the first violinist of the Juilliard String Quartet—in a true looking-backward, lookingforward, her appointment is announced just months after the quartet's founding first violinist, Robert Mann, dies at age 97.
—
To keep the community caffeinated and fed, Juilliard opens a Starbucks coffee counter in the lobby and a convenience store in the residence hall.
—
Alumnus John Williams announces that he's bequeathing to Juilliard his complete library of concert music and film scores as well as his sketchbooks.
—